Start-up Tips From An Experienced Business Mentor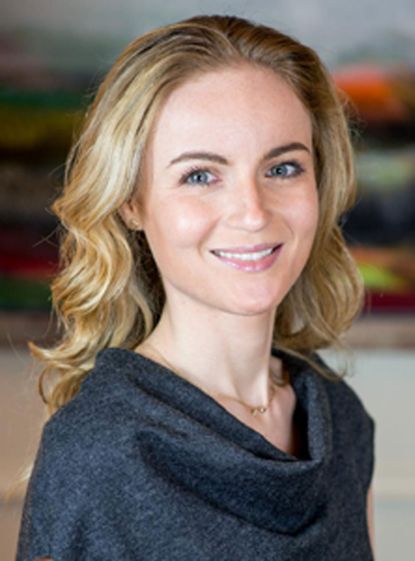 You know the moment. You're stuck sitting at your work desk, or staring out the window while the washing machine goes round, when you start dreaming about being your own boss. Launching that product you've always dreamed of making, or finally setting up that business you swear is going to make you your millions...
But for many of is, setting up our very own business is a dream not a reality.
Rasha Khawaja is one woman though, that made sure that her business dream did come true. In 2007, British-born Rasha set up Toucan, an organisation that aims to support small business owners in their journey to becoming industry leaders. She and her team meet thousands of people a year - "I get 80 enquiries a day!" - who have the seed of a business idea. Her aim? To help them grow, and become a viable, thriving enterprise too.
Toucan can connect business owners to industry leaders, and some of the most influential people in their respective fields. If you fancy being one of the people she mentors then enter the Ignite Awards here, and you could be in with a chance. It doesn't matter whether you're a lifestyle, food, or retail business, Rasha's organisation supports all sectors.
So who better to learn from than her? Take a look at her inspiring story, and commit her tips for success to memory...
How did you set up your business?
"I was born and raised in London, but I come from a diverse background - my father is Syrian. I was educated in London but did my pre-med undergraduate degree in the States, which I loved. I came back to the UK and attended Cambridge and Oxford, and was thinking about what I wanted to do with my life.
"I knew I wanted to do something entrepreneurial, because my father has always been a businessman. And my brother has a business, so it runs in the family. It's all I really knew. When I graduated, I just said, what can I set up?
"It was at a conference in Berlin with my now husband back in 2007 when I had my lightbulb moment for Toucan. The concept came to me as I was sat listening to the speakers talk about their own experiences in business. After hearing them, my mind just started whirring, and every aspect of Toucan - a business for small businesses - and what it could be became very clear to me. I came back from that conference and registered the company the same day I landed home.
"I asked a lot of my contemporaries what sort of thing they'd like in a business for business beginners, and so many of them came back and said that they wished they could pick the brains of huge influential business people.
"And I thought, wow, I could go about setting up a list of mentors, and connect them together. So I did just that.
"I went around the whole of London, knocked on people's doors, and gathered a big list, and then paired people up. Say you wanted to create a burger bar, I thought it would make sense to meet someone else who runs a successful burger bar, rather than just a generic business mentor.
"And it works, because there are specific things only people who run the business you want, know. You need to meet someone who understand your business strategies and needs. You can't meet with the founder of Pret if you want to set up a Michelin-starred restaurant.
"Toucan are here to help people understand their business better, because a lot of people haven't really thought about it. We get them to ask themselves questions like 'Who is your target audience?', and, 'Do you want to create a high-street brand, or a luxury brand?'
"We then go about helping them to execute their ideas, and that support comes in lots of different ways - mentorships, legal and IT support, everything. But it's taken a long time to get to the point of being able to do that. My business idea was all in that lightbulb moment, but it's taken seven years for all of this to come to fruition."
(Rasha and her team)
What makes a brilliant business? And how do you set one up?
"I wouldn't say there's a common thread in all of the successful business we support, but we're looking for someone who is absolutely passionate. Someone who loves their business will be a success. And they've got to be able to take on critical feedback positively, that is vital. They need to be able to say, 'that's a great point, thank you very much, I will take that on board'. There also needs to be that special spark - they need to have big visions and big plans.
"You've also got to have resilience, because it's never easy to start-up. Equally, do not let anything get you down. You have to realise that your business is bigger than you, so you can't take anything negative that happens personally.
"And I think you've got to show that you've invested in yourself. Go away and read books, do your investment plan. Take the time to invest in yourself and your company - people like that you've done that. I still read books and take courses and classes whenever I can, all the time. If you've invested in yourself, backers will do the same."
How can businesswomen achieve that elusive work/life balance?
"There is no magic elixir for establishing a good work/life balance if you're running a business, or trying to. Every day is new. It's just about finding a way to touch base with all aspects of your life, kids, life, friends, work. My day begins with the gym, getting the kids up and taking them to school, going to work, and being back again in time for bath-time and dinner. My husband and I might go out for supper.
"But don't be afraid about getting it wrong, because you're not going to get it right every day and you're doing the absolute best you can.
"And without my husband, my best friend, I couldn't function at home. Without my team, I couldn't function at work. Rely on your support system, because you need them like they need you. Find people that share your similar values to make your life easier, because life isn't easy! So try and make it easy! Invest in your network - it's worth it.
"But life isn't all about business. Do I look at my phone when I shouldn't? Guilty as charged! We're an online generation, but I'm working on it. My aim is definitely to have less dependence on the phone, in time! But I love to colour in with my children to relax and unwind. I also exercise - I do modern dance, and I'm preparing (or should be preparing) for a half-marathon. I am petrified! My husband applied on my behalf, and it's very soon, so I need to get going!"
Enter the Ignite Awards 2017, for your chance to win some invaluable mentoring support
Any final thoughts or tips...?
I've made mistakes. But those are the things that make you grow - they're the kind of things you can't learn in books. Going in to starting your own business, you make so many of those. Every successful businessperson has done them, so don't worry
Ultimately, you need to have a plan. Be open to feedback. And keep going. Surround yourself with like-minded people. And you can't go far wrong after that.
Sign up to our free daily email for the latest royal and entertainment news, interesting opinion, expert advice on styling and beauty trends, and no-nonsense guides to the health and wellness questions you want answered.
Amy Hunt is an experienced digital journalist specialising in homes, interiors and hobbies. She began her career working as the features assistant at woman&home magazine, before moving over to the digital side of the brand where she eventually became the Lifestyle Editor up until January 2022. Amy won the Digital Journalist of the Year award at the AOP Awards in 2019 for her work on womanandhome.com.