Ruth Langsford shows a glimpse into her kitchen as she shares helpful and delicious 'rationing' tip
Go, Ruth!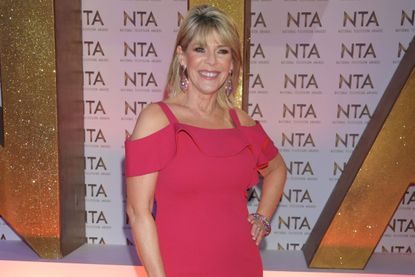 (Image credit: Getty)
Ruth Langsford took to social media yesterday to share a very helpful and totally delicious tip on how to make the most of your leftovers.
The This Morning host filmed the quick video in the kitchen of the home she shares with husband and co-host Eamonn Holmes and their teenage son, Jack.
Chatting to the camera, Ruth explained that while she has been stuck at home during the coronavirus lockdown, she has been hitting the kitchen to do some cooking.
Amid the Covid-19 pandemic, the people of the UK have been instructed to stay inside for a lockdown period and to only leave their homes for essential reasons.
Because of this, it's certainly a good idea to try and make the best out of the food you have in the house, and Ruth has shared some great tips.
READ MORE:Eamonn Holmes says wife Ruth Langsford is 'traditional' in the bedroom as he opens up about their sex life
Chatting away to her fans, Ruth explained she'd be making a hearty chicken soup from her Sunday lunch leftovers. Yum!
'Doing what my Mum (who lived through rationing) always taught me....use up your leftovers and don't waste ANYTHING! Home made chicken soup.....swipe left for method. #leftovers,' she penned beside the handy footage.
"I boiled up the bones and made some stock, I've got the rest of the bits of chicken, some bits of veg from yesterday and I'm going to add in some celery, some onions, some slightly dodgy looking carrots and a bit of potato," Ruth announced.
Going on to share snippets of a super easy looking demonstration, Ruth fried her veg in a pan with some oil before adding the stock and chicken and heating on the hob.
Lots of Ruth's fans took to the comment section to praise her recipe.
'Gonna try this thanku looks yummy ❤️,' wrote one, while a second added, 'Looks lovely Ruth, hope you both stay safe & well 💖.'