Opinion: 'Blonde' and 'Dahmer' are a reminder of the ethical issues with monetizing tragedy
'It's easy to forget about the humanity of victims when they're so often left out of the conversation,' says writer Aoife Hanna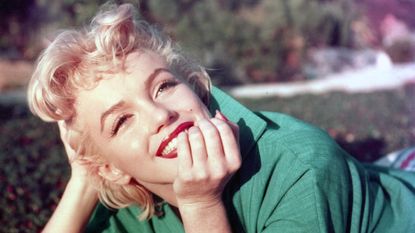 (Image credit: Baron / Stringer / Getty Images)
There's a huge ethical quandary in monetizing tragedy, trauma, and true crime with OTT lurid, gratuitous scenes of violence all in the name of entertainment. As the industry of pedaling trauma continues to boom - what does that say about us?
Schadenfreude is, simply put, taking enjoyment from other peoples' misfortunes and is theorized to be a reason that links the obsession with both true crime and the lives - and deaths - of doomed public figures. Two examples currently dividing opinion are Blonde, directed by Andrew Dominik, and Monster: The Jeffrey Dahmer Story which was directed by Ryan Murphy.
Despite being referred to by many as a biopic, Blonde is in actual fact based on a piece of historical fiction penned by Joyce Carol Oates - detailing the imagined personal life of Marilyn Monroe who died aged 36 in 1972. It's seen by many as a Freudian account of a woman whose life is marred by objectification by men - all in the quest to be loved and fill the void left by her missing father.
In the 70 years since her death, fascination with the tragic tale of her life, and death, has become so embedded in the zeitgeist that to an extent it's easy to forget that this once-living legend was just that - living. A human being with all of the hopes, dreams, ups, and downs faced by each and every one of us. Documentaries and dramas detailing her life tend to focus entirely on her pain and the worst things that befell her during her short life - almost romanticizing the life of the 'tragic blonde.'
Addressing the problems with the film, Emily Ratajkowski discussed the larger issue that Blonde flags - the fetishization of female pain. "We love to fetishize female pain," she said in a TikTok video. "Look at Amy Winehouse. Look at Britney Spears. Look at the way we obsess over [Princess] Diana's death. Look at the way we obsess over dead girls and serial killers. Watch any CSI episode, and it's this crazy fetishization of female pain and death."
In truth, there's a lot to be said about popular culture and its impact on how we feel ownership over the stories of others, relishing the traumas of these legendary pop culture icons while forgetting those impacted by it all.
Images of violent, tragic events happening to women have become a trope in movies and TV shows. Viewers are desensitized from gratuitous, gory, brutal, acts of physical and sexual violence against women. Numb to the victim resolutely being female and suggestions that it's, at least partially, her own fault. That, god forbid she has any sexual desire or autonomy of her body - it's all her own fault.
Doon Mackichan, best known as starring in Smack the Pony made the radio documentary Body Count Rising (opens in new tab), about these issues, because she was, "getting really quite angry about what I was watching, porn bleeding into entertainment, women being pulled by their hair down the stairs, followed, raped." It's not only scripted content responsible for these gruesome topics. True-life cases are also popular in podcasts, documentaries, and TV series - often detailing brutal murders of women.
It's interesting then, that true crime has a more female fanbase, according to studies (opens in new tab), and some experts are of the opinion that there's a clear reason for this. "We want some insight into the psychology of a killer, partly so we can learn how to protect our families and ourselves," says author of Lost Girls (opens in new tab), Caitlin Rother in Hopes & Fears (opens in new tab). It's as if peeking through the veil will make us impervious to something that not one person can avoid - bad things happening.
Celebrity isn't solely reserved for those who can hold a tune or tread the boards. It's also placed on the infamous, on those who commit abhorrent acts - like the Milwaukee serial killer Dahmer. Dahmer was convicted of killing 17 men, from 1978 to 1991, who were predominantly Black, Asian, and Latino men and boys - many of whom were queer. It's easy to forget about the humanity of victims when they're so often left out of the conversation. True crime fans, myself included, could surely list off the names of a dozen serial killers in under a minute, but how many victims' names could they pull from their mental Rolodex? Or their countless friends and family members who live with the pain of what happened to their loved ones?
I'm not telling anyone what to watch, I know true crime media is huge rn, but if you're actually curious about the victims, my family (the Isbell's) are pissed about this show. It's retraumatizing over and over again, and for what? How many movies/shows/documentaries do we need? https://t.co/CRQjXWAvjxSeptember 22, 2022
See more
Shockingly, according to victims' families, Netflix didn't reach out to them when making Monster: The Jeffrey Dahmer Story. Eric Perry, cousin of Errol Lindsey, one of Dahmer's victims, spoke on behalf of his family in an impassioned Twitter thread (opens in new tab). He rightly points out that shows like this are, "retraumatizing [the family] over and over again, and for what? How many movies/shows/documentaries do we need?"
Of course, this series isn't the only drama based on real criminal cases with real victims and loved ones. Examples are endless but, to mention a few, the American Crime Story series, The Staircase, Waco, I Am The Night, Des - the interest in the macabre isn't new.
Fascination in the concept of evil inside us, how it manifests, and what pushes people to do terrible things - is as old as time. Baying crowds, attending mass executions; guillotines falling; miles-long queues to the gallows pole - to see the rope pulled taught. Morbid interest in death has been around forever.
But imagine how grim it would be if something terrible happened to you or someone you love and then it was made into a film or series? None of these victims or those victimized chose their fate. They didn't consent to be characters in glossy adaptations detailing the worst things that happened to them.
It's vital we remember that behind these tragedy-laden dramas are true stories and consider the ethical issues with monetizing them and seeing them as entertainment.
Aoife is Junior News Editor at woman&home.
She's an Irish journalist and writer with a background in creative writing, comedy, and TV production.
Formerly Aoife was a contributing writer at Bustle and her words can be found in the Metro, Huffpost, Delicious, Imperica, EVOKE and her poetry features in the Queer Life, Queer Love anthology.
Outside of work you might bump into her at a garden center, charity shop, yoga studio, lifting heavy weights, or (most likely) supping/eating some sort of delicious drink/meal.