Olivia Colman leaves Oscars audience in hysterics with hilarious acceptance speech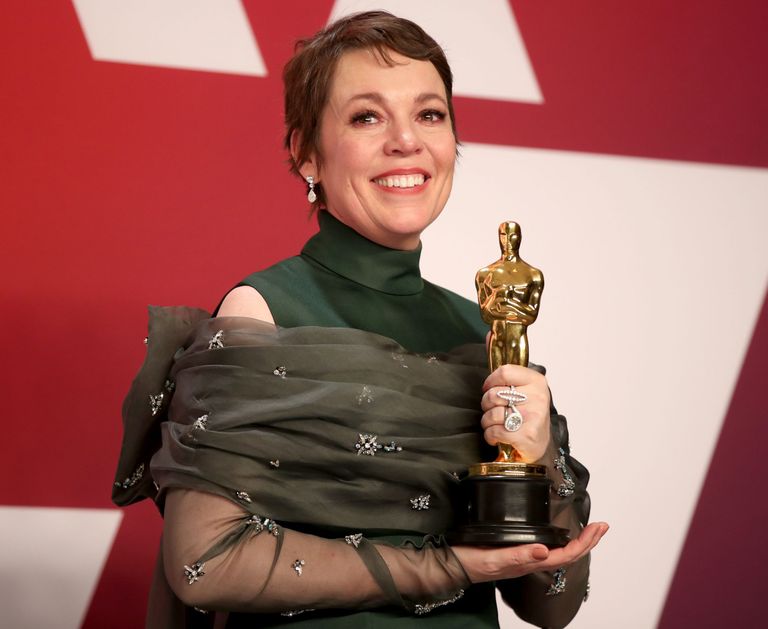 By Amy Hunt
The Crown actress Olivia Colman delighted the audience at the Oscars awards ceremony last night, after winning the Best Actress in a Leading Role category.
She took to the stage to deliver a speech, after winning the award for her role in The Favourite, a period comedy drama in which she plays Queen Anne.
Clearly surprised by her win, the popular British actress headed towards the microphone with tears in her eyes, before giving what is being called the speech of the night.
Through her tears, she smiled and said, "This is hilarious. Got an Oscar!"
Olivia then continued, paying tribute to her The Favourite co-stars. She said, "And with Emma [Stone] and Rachel [Weisz], the two loveliest women in the world to fall in love with, and to go to work with every day. I mean you can imagine, it wasn't a hardship."
The actress then reflected on her career prior to acting success, revealing, "I used to work as a cleaner, and I loved that job. I did spend quite a lot of my time imagining this."
She then left the audience, full of Hollywood stars, in fits of giggles, as, noticing the teleprompter, she said, "Oh, please wrap up, right okay", before blowing a raspberry. Could we love this woman anymore?
Olivia Colman then paid tribute to her husband of 18 years, Ed Sinclair, who is also an actor.
Getting emotional, she said, "And my husband Ed, my best friend, I love you so much. 25 years you've been my best supporter. He's going to cry. I'm not!"
Wrapping up her acceptance speech, Olivia also appeared a little overwelhmed as she looked into the crowd of famous faces. She declared, "Thank you so much.", before saying, "Ohh, Lady Gaga!", before blowing her a kiss.
But another highlight of Olivia Colman's Oscars night was her stunning, emerald green Prada dress, custom made for the special event.
According to Vogue, the actress's gown showcased two of the designers signature 'visual codes', embellishment and drapery, seen in the jewelled bows and the elegant scarf.
Reportedly, Olivia also requested a sweet nod to her upcoming role in The Crown, with the choice of the 'vertical draped bows' with apparently reminded her of the garters members of the British royal family wear. Of course, she is soon set to play Queen Elizabeth II in the popular Netflix show.
The singing superstar was clearly delighted by the mention from Olivia, returning the kisses and smiling at the actress.
And Olivia's Oscar isn't the only accolade she's won this awards season. Just a few weeks ago, she scooped two gongs at the Critics' Choice Awards, before winning a Golden Globe for her role in The Favourite.
She also won a BAFTA - so it seems it's a great year to be Olivia Colman!