Neighbours finale cast: All the stars making the last ever episode unforgettable and what they've done since the show
If you're wondering who's returning to the Neighbours finale cast then serious excitement lies ahead as plenty of famous faces are back...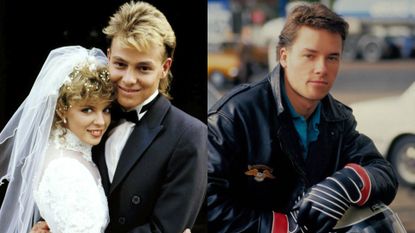 (Image credit: Future// Image 1: © Network Ten / Courtesy Everett Collection Inc / Alamy Stock Photo// Image 2: // Image 2: Moviestore Collection Ltd / Alamy Stock Photo)
The Neighbours finale cast is sure to make for an unforgettable last episode of the long-running Australian show as they bring back famous faces.
Much to the sadness of fans, earlier this year it was announced that Neighbours would be coming to an end after 37 years despite a petition to save Neighbours being launched. For anyone wondering what time Neighbours is on, there are now just a few hours left before the finale. The Neighbours final episode will air in the UK on Channel 5 at 9pm on July 29. As all long-time viewers know there are plenty of former Neighbours stars who've gone on to achieve huge success elsewhere. And the last episode of the Aussie soap opera will see many returning actors join the cast of Neighbours in 2022 to bid it farewell.
Here we reveal who's returning to the Neighbours finale cast, what they've done since and who else starred on the show as Channel 5 prepares to air the last episode...
*Warning: Neighbours finale cast 2022 spoilers ahead!*
Neighbours finale cast: who's returning for the last episode?
Alongside long-term Neighbours cast members like Stefan Dennis (Paul Robinson), Alan Fletcher (Karl Kennedy) and Jackie Woodburne (Susan Kennedy) there are plenty of returning stars back for the finale.
Returning Neighbours finale cast members:
Kylie Minogue as Charlene Robinson
Jason Donovan as Scott Robinson
Margot Robbie as Donna Freedman
Guy Pearce as Mike Young
Holly Valance as Flick Scully
Natalie Bassingthwaighte as Izzy Hoyland
Ian Smith as Harold Bishop
Mark Little as Joe Mangle
Paul Keane as Des Clarke
Daniel MacPherson as Joel Samuels
Kym Valentine as Libby Kennedy
Carla Bonner as Steph Scully
Natalie Imbruglia as Bethan Brennan
Jesse Spencer as Billy Kennedy
Benji McNair as Malcolm Kennedy
Pippa Black as Elle Robinson
Melissa Bell as Lucy Robinson
Jordan Patrick Smith as Andrew Robinson
Morgan Baker as Callum Rebecchi
Lesley Baker as Angie Rebbechi
Peter O'Brien as Shane Ramsay
Olympia Valance as Paige Smith
Delta Goodrem as Nina Tucker
Kyle Minogue as Charlene Robinson
Perhaps one of the most iconic stars returning to the Neighbours finale cast is none other than singing sensation Kylie Minogue. She played Charlene Robinson (née Mitchell) on the Australian soap opera from 1986-1988 when she departed for a new life in Brisbane after Dan Ramsay, her grandfather had bought her a house for her and her husband Scott Robinson to live in.
Charlene is connected to both the Robinsons by marriage and Ramsay's by birth, both families that are part of the original three Neighbours started out with in 1985. She's also the step-daughter of Harold Bishop (Ian Smith) who is also back in the Neighbours finale.
Since leaving the show Kylie has gone on to achieve huge success worldwide and is now best known for her music career.
She has now released 15 studio albums, seven UK and ten Australian Number Ones as well as several fragrances and furniture under the brand, Kylie at Home. She returned to Neighbours for the last ever episode and Kylie Minogue admitted there was "pressure" for her to reprise her role as Charlene in this iconic instalment.
Already fans have been teased with pictures of Kylie rocking retro 80s style curls as Charlene on set and we can't wait to see the singer back in action in the Neighbours finale cast.
---
Jason Donovan as Scott Robinson
The Neighbours finale cast wouldn't be the same without Jason Donovan, who is also back alongside Kylie as her on-screen husband, Scott Robinson. Scott is the younger brother of businessman Paul Robinson and left Erinsborough to follow Charlene to Brisbane for a new life shortly after she said goodbye to the street. The couple went on to welcome a son Daniel and daughter Madison who made their Neighbours debut as characters in 2014.
Just like Kylie, Jason has gone on to achieve huge musical success since departing the Australian soap. Releasing multiple albums as well as undertaking stage and TV projects, Jason has been in everything from Strictly Come Dancing to The Rocky Horror Show, Chitty Chitty Bang Bang and Dancing on Ice.
It was Jason Donovan who persuaded Kylie to return as Charlene and be part of the Neighbours finale cast. In a recent interview with Glamour magazine, Kylie explained that he had contacted her about it and suggested it could be a lovely way for them to both say thank you.
"Jason contacted me, and he said, 'I mean, if you're in this could be a nice way to just say thanks to people'," she explained. "We've had nothing to do with Neighbours for over 30 years? We don't kind of carry neighbours, but it's incredible that it touched people so much back then."
There will no doubt be plenty of Kylie and Jason fans out there absolutely delighted to see the return of the iconic Scott and Charlene partnership in the last episode.
---
Guy Pearce as Mike Young
Guy Pearce has also gone on to become a Hollywood actor, but he's not forgotten where it all began and is coming back for the Neighbours finale as Mike Young. Guy was on the show for some of the same time Kylie and Jason were, starring as Mike from 1986-1989.
He left the street to help care for his sick mother and though he didn't appear on screen again in the following years, other characters revealed that he was teaching in the Philippines.
Very sadly, this left his romance with Jane Harris (Annie Jones) unresolved, but this is something which could possibly be returned to in the Neighbours finale as it's rumored he could reconnect with his former girlfriend.
As reported by Radio Times, Guy also revealed that his return will see Mike given an important storyline.
"Mike moved to Perth and became a teacher there," Guy shared. "And you learn through these episodes that Mike has a child, and he and his daughter have moved back to Erinsborough."
In the years since Guy last acted in Neighbours he's appeared in The Adventures of Priscilla, Queen of the Desert, LA: Confidential, Memento, The Hurt Locker and also Mary, Queen of Scots which also starred Margot Robbie.
---
Margot Robbie as Donna Freedman
Anyone who hasn't followed Oscar-nominated Margot Robbie from the very beginning might be surprised to discover her career started back on Ramsay Street. The star joined the Neighbours cast in 2008 and remained in the show until 2011, when her character Donna Freedman departed with her father Nick after the traumatic death of her husband Ringo Brown.
Having struggled to get over his loss, he later discovered he'd applied for a place at a New York-based design school on her behalf. Shocked, Donna is accepted and eventually is persuaded to take up the place in the US and showcase her wonderful creative talents.
Now, over a decade later, Margot Robbie has become a household name after making it big in Hollywood. She's starred in everything from The Wolf of Wall Street to Suicide Squad and is currently filming the new Barbie movie alongside Ryan Gosling as Ken.
From the moment it was revealed that Margot Robbie was returning to Neighbours, fans will likely have been excitedly wondering how she would be reintroduced to the Neighbours cast.
Her role will reportedly not be an in-person one, but a filmed video clip. Opening up to The Sun, a source claimed that, "Sadly, she couldn't get to Australia for filming but recorded a special clip that will be shown in the big finale."
---
Natalie Imbruglia as Beth Brennan
Another singer to have started out in Neighbours is Natalie Imbruglia who is reported to be back as Beth Brennan for the Neighbours finale. The Sun reports that the filming took place in London, perhaps suggesting that she, like Margot Robbie, will be appearing in a video clip rather than in person in the finale episode.
Beth Brennan was a character on Neighbours from 1992-1994 and she and her husband Brad left for a new life in Perth as her departure storyline. Natalie's breakthrough single, Torn, catapulted her to singing success after her Neighbours role as Beth and she's released 5 UK top 10s.
Though Natalie didn't hang up her acting shoes completely as she's also starred in comedy spy classic, Johnny English, in 2003 and Closed for Winter in 2009.
---
Holly Valance as Flick Scully
Holly Valance is said to be returning alongside Natalie Imbruglia as part of the Neighbours finale cast and has reportedly filmed scenes with her in London. Her character, however, was from a completely different era of the show and so fans will likely be intrigued to see what lies in store for the duo in the last episode.
Holly played Flick Scully, sister of Steph and daughter of Lyn, in Neighbours from 1992-2002 and then again briefly in 2005. She left her primary time on the show as Flick got a job at the New York branch of Ramsay Street's Hotel Complex, Lassisters. Holly has gone on to appear on Strictly Come Dancing just like Jason Donovan and has also had a successful music career with songs Kiss, Kiss and Naughty Girl.
Discussing her and Natalie's return a source has claimed to The Sun, "It was quite special - the fans are going to love it. And there might be a little nod to their pop careers."
---
Delta Goodrem as Nina Tucker
Neighbours' alumni have often gone on to achieve huge musical success and another musician in the cast is Delta Goodrem. She played Nina Tucker in Neighbours in 2002-2005 and Delta's character also left the show to pursue a music career. Delta signed to Sony Music at just 15-years-old and released her debut album, Innocent Eyes, whilst she was still playing Nina on Neighbours.
---
Jesse Spencer as Billy Kennedy
Jesse Spencer also started out on Neighbours where he played regular cast members Alan Fletcher and Jackie Woodburne as their on-screen son, Billy Kennedy. Karl and Susan Kennedy's son was a key character on the show for six years before Jesse left in 2000.
After being offered a job as an apprentice woodworker in Queensland, he takes it and Karl and Susan later reveal that he went on to marry his girlfriend Anne and welcomed twins. Billy's actor Jesse is perhaps best known in the US for his role as Dr Robert Chase on medical drama, House, alongside Hugh Laurie, as well as Matthew Casey on Chicago Fire.
The other celebrities who starred in Neighbours
While there are plenty of returning actors in the Neighbours finale list, there are also a few big names who aren't back in action for the last episode. Hollywood stars Russell Crowe and Liam Hemsworth appeared on Neighbours over the years, playing Kenny Larkin and Josh Taylor respectively.
While Adelaide Kane, known for her role as Mary, Queen of Scots on Reign, played Lolly Allen, the troubled adopted daughter of Harold Bishop's friend Lou Carpenter.
Alan Dale also appeared in Neighbours as Scott, Paul and Lucy's father Jim Robinson, from the soap's debut in 1985 until 1993. He's had roles in everything from the O.C, to NCIS, Ugly Betty, E.R and Captain America. The Winter Soldier.
Fans can watch the returning Neighbours finale cast alongside the current stars in action in the last episode on Channel 5 at 9pm on July 29.
Emma is a Senior Lifestyle Writer with six years of experience working in digital publishing. Her specialist areas including literature, the British Royal Family and knowing all there is to know about the latest TV shows on the BBC, ITV, Channel 4 and every streaming service out there. When she's not writing about the next unmissable show to add to your to-watch list or delving into royal protocol, you can find Emma cooking and watching yet more crime dramas.