Plan to stop selling cigarettes in the UK within 10 years revealed by Marlboro maker, Philip Morris
Philip Morris said he wants to move the company away from smoking in the U.K.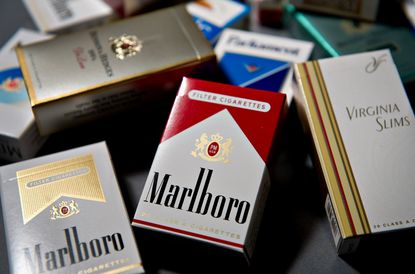 (Image credit: Getty)
Philip Morris International said it plans to stop selling cigarettes in the U.K. within 10 years. The U.K. government has similarly said it wants to end smoking in England by 2030.
The company's Marlboro brand is the best-selling cigarette brand in the world, but Chief Executive Officer Jacek Olczak said Philip Morris is ready to move away from traditional cigarettes completely.
"I want to allow this company to leave smoking behind," Philip Morris CEO Jacek Olczak said in an interview with the Daily Mail. "I think in the U.K., ten years from now maximum, you can completely solve the problem of smoking."
Anti-smoking activists and healthcare organizations pointed out that Philip Morris International has made similar statements (opens in new tab) before, yet cigarettes are still sold across the U.K. In 2016, Philip Morris former Chief Executive André Calantzopoulos said he hoped the company would stop selling cigarettes.
Philip Morris is turning to e-cigarettes and other smoke-free alternatives. A six-minute video on the homepage of the company's website features Olczak outlining a "smoke-free future." In June, Philip Morris moved its headquarters to Connecticut, where it said "a valuable mix of technological know-how, future-forward thinking, and an open-minded approach to problem-solving" would help it move toward smoke-free products.
The company recently announced it will acquire pharmaceutical company Vectura Group, which makes inhalers, as well as Fertin Pharma, a nicotine gum maker. Critics say the company is positioning itself as anti-smoking but still profiting from cigarettes and other harmful products.
Most heated tobacco products and e-cigarettes still contain nicotine, an addictive chemical. And tobacco in any form is not without risks. According to the World Health Organization's view on tobacco, it is "one of the biggest public health threats the world has ever faced." Tobacco kills up to half of its users, and when including secondhand smoke kills more than 8 million people per year. "All forms of tobacco are harmful, and there is no safe level of exposure to tobacco," the organization says.
Philip Morris was started in 1846 in London, and the Marlboro brand was registered in 1908, in the U.S. It was known as "America's luxury cigarette" and later marketed as a cigarette for women. Philip Morris International is not affiliated with Philip Morris USA. It is unclear when, if ever, Philip Morris plans to stop selling cigarettes in the U.S.
Rebecca Holland is a travel and food writer based in Chicago. She has written for the Guardian, New York Times, Architectural Digest, Food & Wine, Wine Enthusiast and more. She is currently a graduate student at Northwestern's Medill School of Journalism. When not working, you can find her eating her way through Chicago's neighborhoods, or in non-pandemic times, traveling around the world.