Jeff Daniels just got a spider-killing worm named after him, here's why...
The newly-discovered parasite has officially been named after Jeff Daniels' character in Arachnophobia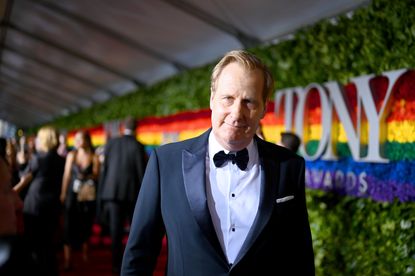 (Image credit: Bryan Bedder / Stringer)
There's a new tarantula-killing worm around town and its name is Tarantobelus jeffdanielsi, after, you guessed it, actor Jeff Daniels.
Scientists at UC Riverside recently discovered the parasite and decided to honor Jeff's leading role in the 1990 classic Arachnophobia by naming the worm after him. His character did, indeed, have a thing for killing spiders and even saved his fictional California hometown from a deadly infestation of the arthropods.
"His character in the film is a spider killer, which is exactly what these nematodes are," Adaler Dillman, a UC Riverside parasitologist who led the team behind the discovert said.
"When I first heard a new species of nematode had been named after me, I thought, 'Why? Is there a resemblance?' Honestly, I was honored by their homage to me and Arachnophobia. Made me smile," the 66-year-old actor jokingly said after hearing about the news. "And of course, in Hollywood, you haven't really made it until you've been recognized by those in the field of parasitology."
Believe it or not, naming natural wonders after celebrities isn't anything new. Back in 2017, a then newly-discovered species of spider—the araneomorph— was named after actor Andrew Garfield given his role in three Spider-Man movies. The insect will forever be known as Pritha garfieldi.
And just last week, a tropical tree related to the ylang-ylang was dubbed "Uvariopsis dicaprio" after Academy Award-winning actor Leonardo DiCaprio. The plant only grows in the Ebo Forest of Cameroon and scientists from the Royal Botanic Gardens, Kew, in the United Kingdom—who were responsible for the discovery—sought to honor Leo's crucial role in helping to stop the logging of the forest. Let's not forget that the Don't Look Up star is actually one of the most outspoken environmental activists in Hollywood.
As odd as this naming tradition is, we're sort of into it and might perhaps start thinking of it as an additional accolade sought-after by celebrities of all calibers. We have an inkling that superstar Meryl Streep might be next in line—she does win them all, after all.
Anna Rahmanan is a New York-based writer and editor who covers culture, entertainment, food, fashion and travel news. Anna's words have appeared on Time Out New York, the Huffington Post, Fortune, Forbes, Us Weekly, Bon Appetit and Brooklyn Magazine, among other outlets.