Jane Fonda shares nasty encounter with Jennifer Lopez that left her with a cut face, but it's not *quite* as it sounds…
Luckily, the two Hollywood icons are great friends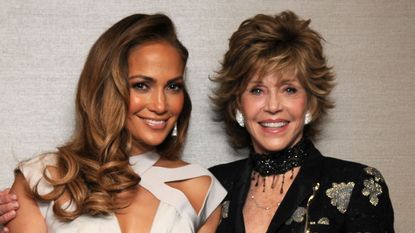 (Image credit: Mark Sullivan/WireImage)
Jlo famously told us not to be fooled by the rocks that she got, and she wasn't joking around. She is still Jenny from the Block and Jane Fonda found out the hard way.
The legendary Barbarella actress has opened up about a particularly shocking encounter with Jennifer Lopez that left her with an open cut above her eye!
Now, we're more used to seeing the glamorous Jlo rocking metallic gowns and sky high heels than looking like she's ready to throw down, so what could possibly have gone on between the pair?
Well, as it turns out, there's nothing to worry about. Grace and Frankie fans need not start plotting their revenge on the Maid in Manhattan actress.
It was just a scene gone wrong for the fan-favorite romcom, Monster-in-Law, the pair starred in together back in 2005.
Jane shared her not so fond(a) memory while appearing on The Drew Barrymore Show. Drew got Jane and guest Lily Tomlin discussing some of their past work and iconic partners they've shared the screen with.
When an image popped up of Jane and Jennifer, the crowd roared their applause, a clear sign that Jlo and Jane have many fans.
However, this was when Jane pulled out the ultimate surprise.
She explained, "The thing that comes to mind right away is we have a slapping scene. I slap her, she slaps me. Well, Jennifer -- as per Jennifer -- she had this enormous diamond ring. And so when she slapped me one of the times, it cut open across my eye, my eyebrow."
The crowd at first laughed but then things took a bit of a serious turn when Jane claimed, "And she's never apologized."
Say it ain't so, Jlo!
The two have famously remained friends, so it's fair to say Jane was just enjoying teasing the crowd.
Their closeness luckily speaks for itself. Jane, for the record, was one of the special guests in attendance when Jennifer received a huge honor.
Jlo received the 2500th star on the Hollywood Walk of Fame, and Jane was there to celebrate with her former co-star.
It was a very intimate group, too. Invited alongside Jane was Jlo's longtime manager, Benny Medina, and her twins, Emme and Max.
Jane was in a particularly sharing mood with Drew, because she also opened up about her memories working on the cult classic Barbarella and how, even though she's famed for her physique, she absolutely hated having to strip off,
"The movie opens with me doing a strip tease in space taking my space astronaut costume off and then I'm totally naked," she said. "I hate being naked in front of anybody. I hate it. I got drunk. So, we did this whole thing. My husband had promised me that my various private parts would be covered by the titles of the movie. He lied. He didn't really do that."
Then, bizarrely, she had to do it all over again because of an unlikely guest.
"Anyway, just before the end of this horrible experience a bat, of all places, flew between me and the camera," she continued. "We had to do the whole thing over again the next day. We didn't know this had happened until we saw the rushes. We had to do it over and so I had to do the whole horrible thing over again. I had a hangover."
Jack Slater is not the Last Action Hero, but that's what comes up first when you Google him. Preferring a much more sedentary life, Jack gets his thrills by covering news, entertainment, celebrity, film and culture for woman&home, and other digital publications.
Having written for various print and online publications—ranging from national syndicates to niche magazines—Jack has written about nearly everything there is to write about, covering LGBTQ+ news, celebrity features, TV and film scoops, reviewing the latest theatre shows lighting up London's West End and the most pressing of SEO based stories.