Goldie Hawn on why she didn't attend or watch the Oscars the year that she won
In 1970, Goldie Hawn didn't show up at the Oscars when she won her award but the actress still regrets the moment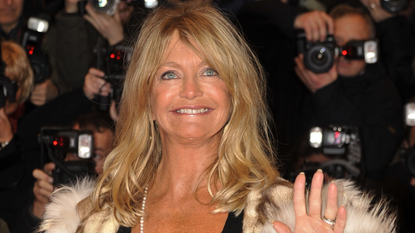 (Image credit: Eric CATARINA / Contributor)
As fans of the actress may remember, Goldie Hawn won the best supporting actress award at the 1970 Oscars for her role in the 1969 film Cactus Flower - but she never actually made it to the show.
In a new interview with Variety (opens in new tab), Goldie, whose adorable tribute to Kurt Russell on his birthday a few years ago still resonates, admits that, 53 years later, her inability to attend the Academy Awards on that faithful night still haunts her.
As explained by the star herself, at the time, the 25-year-old Goldie was actually in London, fast asleep, preparing for an early call time for her next film, There's a Girl in My Soup.
"I forgot it was on television that night," the 77-year-old actress revealed on the record. "Then I woke up to a phone call at like 4 in the morning. And it was a man's voice and he said, 'Hey, congratulations, you got it.' 'I got what?' 'You got the Academy Award for best supporting actress.'"
The late Fred Astaire presented the award, which Goldie now admits she didn't even expect to win, and fellow actress Raquel Welch accepted the trophy on her behalf.
"I never got dressed up," Goldie said. "I never got to pick up the award. I regret it. It's something that I look back on now and think, 'It would have been so great to be able to have done that.'"
Funnily enough, Goldie had never actually seen the footage of Raquel accepting the award on her behalf until a few weeks ago, while headed to a friend's party with Jimmy Kimmel, who will host this year's Oscars on Sunday.
"[Jimmy] said, 'Did you ever see the part where you're being announced by Fred Astaire?'," she recounts to Variety, "And I said, 'Fred Astaire?!' He's my idol. And I didn't know he was the one that announced my name. I got emotional when I finally saw it."
In Cactus Flower, Goldie took on the role of Toni Simmons, a 21-year-old girl who tries to kill herself by inhaling gas from her stove after being stood up by her lover, dentist Julian Winston (Walter Matthau). The screwball comedy, which was famously directed by Gene Saks, also starred Ingrid Bergman as Stephanie Dickinson, Julian's assistant, Jack Weston as the dentist's patient and friend Harvey Greenfield and Rick Lenz as Igor Sullivan, Toni's neighbor and a writer.
In her latest interview, Goldie also reveals where she keeps the treasured Oscar: in her bedroom closet.
"I don't brag much," she says. "So those things, I keep kind of quiet."
Apparently, she isn't the only member of her family opposed to gloating.
"Kurt and I are very similar," Goldie says about her partner of 40 years (the two never got married). "He doesn't consider himself a movie star. Nor do I. Neither one of us walks around thinking about that stuff."
Although the 1970 Academy Award is the only one that Goldie actually won throughout her stellar career, the actress was also nominated in 1981 for her role in the Nancy Meyers movie Private Benjamin, about "a sheltered young high-society woman [who] joins the United States Army on a whim and finds herself in a trickier situation than she ever expected," according to an official synopsis of the successful film.
We're confident that we will soon see Goldie on stage at the important award ceremony again, this time actually accepting a well-deserved award.
Anna Rahmanan is a New York-based writer and editor who covers culture, entertainment, food, fashion and travel news. Anna's words have appeared on Time Out New York, the Huffington Post, Fortune, Forbes, Us Weekly, Bon Appetit and Brooklyn Magazine, among other outlets.