Dolly Parton had the most HILARIOUS reply to claims she's selling CBD gummies
This is the most drama Dolly Parton will ever get involved in...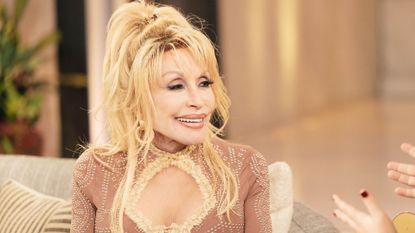 (Image credit: Getty Images)
The Queen of Country music recently posted the funniest Instagram photo responding to claims about her selling CBD gummies.
Listen, no judgment to the CBD gummy community - sometimes you need a little something to help you relax. Dolly Parton, however, wants to make it known that she is not involved in the creation or distribution of them, despite what people have been saying.
In a post she shared to her Instagram on February 1, the multi-hyphenate star rejected any claims that she has endorsed keto CBD gummies.
"Dolly Parton is not affiliated with, has not endorsed, and is not associated with any keto or CBD gummy product. She's more the cake, cookie, and cornbread type," the post reads.
According to a fact-checked post from Snopes (opens in new tab), folks had been seeing Facebook ads with the country star's face and name on them, touting a brand of CBD gummies that could "reverse dementia." After investigating, Snopes proved these allegations to be false, saying that Dolly was never associated with these so-called dementia reversing gummies.
Dolly, who is a total stranger to the celebrity drama spotlight, handled the situation in true Dolly fashion - by being kind, straightforward, and best of all, hilarious.
Dolly is known for her kind spirit and philanthropic nature. In fact, she recently made an emotional case for treating the planet better, saying that being unkind to the Earth is "like being ugly to your mama." Aside from that specific instance, Dolly always manages to capture our hearts one way or another by being a kind and humble person. That's probably why she's turned down the Presidential Medal of Freedom twice. Whether it's through her music, her movies, or her overall infectious spirit, Dolly always prevails in her status as one of the greatest celebrities - in our humble opinion, of course.
Fans of Dolly commented under her post, saying that even though she's not associated with the production or endorsement of any CBD gummies, they're begging her to release a line of CBD or cannabis products.
"Okay but imagine Dolly CBD products….. we would go crazy over that," someone commented under the Instagram post.
"We want Dollyweed!" someone commented.
Although Dolly has disputed any claims that she's selling CBD gummies, she had given endorsements for other products in the past, including a partnership she had with Duncan Hines for a new line of cake mixes. She said in a statement (opens in new tab) that, because of her upbringing in the South, she "especially love(s) that authentic Mom and Pop kind of cooking." Bring in those cakes, cookies, and cornbread for Miss Dolly!
Madeline Merinuk is woman&home's US lifestyle news writer. She covers celebrity, entertainment, fashion, and beauty news but is also obsessed with internet trends - you can find her reciting trending TikTok sounds out loud at any given time.
After winning multiple student journalism awards for her investigative work, she graduated from Hofstra University in 2021 with a B.A. in Journalism. After graduating, she worked at today.com, the digital site for the Today Show, where she wrote pop culture news and interviewed big-name personalities like Emily Ratajkowski, Haley Lu Richardson, Emma Corrin, and more.
Her personal interests, in no particular order, are: cheese, Joni Mitchell, reading, hot yoga, traveling, having multiple chapsticks in every handbag at all times, and dancing to ABBA songs as if she were in the Mamma Mia movies.