Diane Keaton explains why she's done with dating (and doesn't regret being the 'only single' one for the last 35 years)
The iconic Diane Keaton thinks she's done with dating for good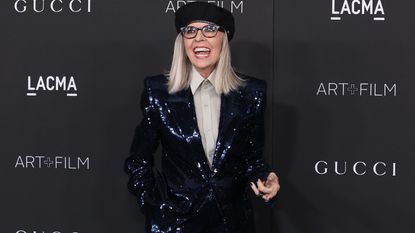 (Image credit: Taylor Hill/WireImage)
The world has been in love with Diane Keaton for decades, but her own love life isn't quite as active.
And she's perfectly fine with that.
The Annie Hall icon was interviewed by AARP on her enduring legacy and career, but it was talk of her personal life that have made headlines.
When the conversation moved on to what life looks like for the Oscar winner now her children are married or moved out at college, Diane explained, "I don't date."
On whether one could be on the horizon, she answered, "Highly unlikely. I don't remember anyone calling me, going, 'This is So-and-So. I'd like to take you out.' They don't happen. Of course not."
But that's not to say she shies away from reliving her high-profile romances.
Earlier this year, for Valentine's Day, the Something's Gotta Give favorite posted a montage of some of her steamiest make-out scenes, dedicated to "all the men who were paid to kiss me."
Collaborator and director Nancy Meyers was one of the many fans to respond to the viral clip, pointing out that, despite Diane's self-deprecating humor,"…those guys always wanted one more take."
While she might have said nobody is calling to ask her on a date these days, Diane isn't feeling sorry for herself. In fact, she's been vocal about her decision to stay single in the past.
Previously, to People, she said, "I'm 73 and I think I'm the only one in my generation and maybe before who has been a single woman all her life. I don't think it would have been a good idea for me to have married, and I'm really glad I didn't, and I'm sure they're happy about it, too."
There's a powerful reason Diane has remained steadfastly single.
In an interview with actress Lisa Kudrow, Diane shared, "It goes back to my mother, because, for me, most everything does. I love my dad, of course—that goes without saying—but she was always there, and he was always working. He was working hard, and he was really interesting."
"She had four kids, and I was the firstborn. I saw how much she gave up. I mentioned watching her get that crowning glory and being Mrs. Highland Park. After that, we moved down to Santa Ana, and it was over. There was no more trying things out. I feel like she chose family over her dreams. And she was just the best mother, but I think that she is the reason why I didn't get married."
But don't think giving up on dating means giving up on fun. On her Instagram – which has amassed a cult following – Diane recently went viral when dancing around to Miley Cyrus' Flowers.
The post received nearly one million likes, and among them were celebrity admirers like Lindsay Lohan, Alicia Keys, and Kerry Washington.
"It was just one of those days when I thought, 'I'm going to do something stupid,'" she says of the now iconic post. "The music was on, I was outdoors and thought, 'What the heck.' It happened out of nothing."
Never change, Diane!
Jack Slater is not the Last Action Hero, but that's what comes up first when you Google him. Preferring a much more sedentary life, Jack gets his thrills by covering news, entertainment, celebrity, film and culture for woman&home, and other digital publications.
Having written for various print and online publications—ranging from national syndicates to niche magazines—Jack has written about nearly everything there is to write about, covering LGBTQ+ news, celebrity features, TV and film scoops, reviewing the latest theatre shows lighting up London's West End and the most pressing of SEO based stories.