Bob Saget discussing the concept of death after Betty White's passing will give you the chills
In his tribute to Betty White, the late Bob Saget speculated about the afterlife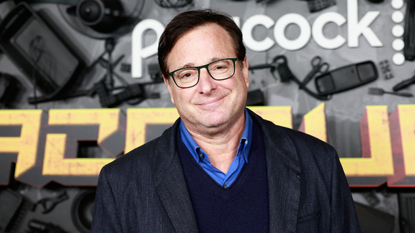 (Image credit: MICHAEL TRAN / Contributor)
Just a few days after the world lost the remarkable Betty White, we're now mourning the untimely passing of actor Bob Saget. Strangely enough, the Full House actor—who was found dead in Orlando yesterday at the age of 65—made his thoughts about the afterlife known when honoring Betty and remarking on her death on December 31.
Celebrities including Michelle Obama and Sandra Bullock paid tribute to the Golden Girls superstar after she passed away a few weeks shy of her 100th birthday. Among them was Bob, who posted a long homage to the actress on social media.
"This amazing woman was exactly who you wanted her to be: razor sharp wit, smart, kind, hilarious, sincere and so full of life," the post begins. "From the first time I snuck into The Mary Tyler Moore Show at 15 years old and watched her hit everything she said out of the park, to decades later, getting to hang out with her on several occasions, I had a small peek into what a remarkable talent and human being Betty was."
The actor then dives into a personal anecdote, recalling the time the duo was sipping on Bloody Marys while on an ABC jet for a junket. "We had been laughing for hours," he writes. "I looked into her eyes and faux romantically said, 'How 'bout it, Betty, you and me in the bathroom? Mile High Club?' She answered me before I had a chance to finish the invite. 'Of course, Bob, you go in there first and I'll meet you as soon as I finish my drink.'"
Bob then brings up Betty's late husband, Allen Ludden. According to reports, Betty actually called out for him before her passing. "[Betty] always said the love of her life was her husband, Allen Ludden, who she lost in 1981," Bob wrote on Instagram. "Well, if things work out by Betty's design—in the afterlife, they are reunited. I don't know what happens when we die, but if Betty says you get to be with the love of your life, then I happily defer to Betty on this. My deepest condolences to her family and friends. Betty White. My God we will miss you."
Needless to say, as meaningful and beautiful as the post was when first published, the words written by Bob have added resonance given his shocking death.
To paraphrase his own sentiments: Bob Saget. My God, we will miss you.
Anna Rahmanan is a New York-based writer and editor who covers culture, entertainment, food, fashion and travel news. Anna's words have appeared on Time Out New York, the Huffington Post, Fortune, Forbes, Us Weekly, Bon Appetit and Brooklyn Magazine, among other outlets.