Paris Hilton shuts down pregnancy rumours, 'first the wedding then the babies'
Page Six reported that the socialite is expecting, but Paris says it's not true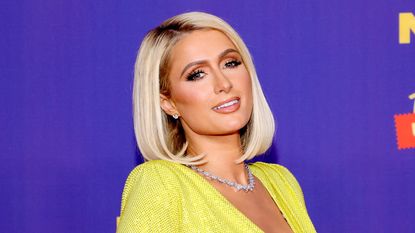 (Image credit: Amy Sussman/Getty Images)
Paris Hilton has shut down circulating pregnancy rumors after Page Six said it has "exclusively learned" that Paris is pregnant.
Taking to Twitter, the heiress revealed she woke up to thousands of congratulations texts after Page Six ran their piece.

"Woke up to thousands of texts about all the pregnancy news this morning. I want you to hear it all directly from me."
The tweet links to Paris' iHeartRadio show, This is Paris, where she discusses the fake news in greater detail.
Woke up to thousands of texts about all the pregnancy news this morning. I want you to hear it all directly from me. Listen now: https://t.co/H0k86nnjU2 pic.twitter.com/1Q4dBK7kdJJuly 27, 2021
See more
"I am not pregnant, not yet. I am waiting until after the wedding. My dress is being made right now so I want to make sure it looks gorgeous and fits perfectly so definitely waiting for that part," she confirmed, before joking, "the only thing in the oven at the moment is my Sliving Lasagna!"
Page Six claimed Paris Hilton was pregnant with her first child, four months after announcing her engagement to Carter Reum. In January, Paris revealed that she had started IVF treatments with the same doctor used by Kim Kardashian. "We talk about [planning a wedding] all the time and planning our baby's names and all that," she said on the Trend Reporter podcast. The couple got engaged in February.
Paris' sister Nicki had previously denied the rumours too, "It's not true," she told Avenue magazine Editor-in-Chief Ben Widdicombe.
Nicki was on a photoshoot for the magazine at the Waldorf Astoria when Widdicombe received a notification about Paris's pregnancy and wished her congratulations. "They have the story wrong," Nicki said.
On set with Nicky Hilton right now for an @AVENUEinsider shoot. Her reaction to the @PageSix Paris Hilton baby scoop? "It's not true" pic.twitter.com/xvpdBTLM7bJuly 27, 2021
See more
Although Paris isn't pregnant right now, it's clear she wants children.
"I am really excited just to move on to the next step of my life and finally just have a real life because I really do believe that having a family and having children is the meaning of life," Paris said on the Trend Reporter podcast. "I haven't gotten to experience that yet because I don't feel that anyone really deserved that love from me and now I finally found the person who does. So, I cannot wait for that next step."
She said with IVF treatments she could choose to have twins. Ideally, she said she wants twins who are a boy and a girl, and ultimately to have three or four children.
Earlier today, Paris also announced her new Netflix cooking series, Cooking WIth Paris, premiering on Netflix on August 4. Kim Kardashian, Demi Lovato, Nicky Hilton, Saweetie, and more will guest star as sous chefs.
Rebecca Holland is a travel and food writer based in Chicago. She has written for the Guardian, New York Times, Architectural Digest, Food & Wine, Wine Enthusiast and more. She is currently a graduate student at Northwestern's Medill School of Journalism. When not working, you can find her eating her way through Chicago's neighborhoods, or in non-pandemic times, traveling around the world.