Learn To Cook With The Best Celebrity Chefs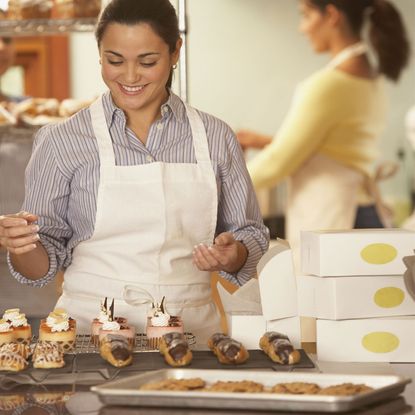 Learn from the experts with our pick of the best celebrity chef cookery courses around this Christmas
Ever wondered what it would be like to cook with your favourite celebrity chefs? We spend hours watching their TV programmes and pouring over their cookery books, but just imagine how fantastic it would be to spin sugar with Michel Roux Jr or slice up some veggies with Hugh Fearnley-Whittingstall.
For any budding cuisinier, the chance to learn from the experts would be unforgettable, and it's not as far fetched as it seems. In fact, there are a host of cookery courses hosted by the greats of the food world. From Eric Lanlard's decadent desserts masterclass to Gizzi Erskine's culinary crash course on all things Swedish, there's a surprising variety of choice ripe for the booking.
So if you're looking for the perfect gift, or just on a personal mission to brush up on your cookery skills, now is the time to make it happen.
Katy McClelland
Leiths, London
Renowned cookery school, Leiths, offer a range of expert classes from professional diplomas to relaxed evening classes, with a range of fabulous foodie tutors. Get some great tips on cooking game in Valentines Warner's class, or sample Swedish baking with Signe Johansen, learn the art of Indian cuisine with Anjum Anand or try your hand at delicious seasonal vegetable dishes with Bryn Williams. The Duchess of Cambridge herself, Kate Middleton, has attended this prestigious cooking school. Kate completed a two week cookery class alongside celebrity chef Rachel Khoo to sharpen up her culinary skills. Prices range from £90, visit Leiths.com (opens in new tab) for more details about courses.
Cactus Kitchens, London
This really is a once in a lifetime opportunity to spend the day cooking with Michel Roux Jr himself. Enjoy a glass of Champagne as you learn several of his key dishes, ending the day with a delicious meal and glass of wine with your host. The company also offers classes with Monica Galetti, Rose Prince and Adam Byatt among other top names. The class, titled 'A taste of Saturday Kitchen' gives fans of the show the chance to have a lesson from one of the shows stars on the set and even try the omelette challenge. Course prices range from £60, to £995 for the Michel Roux Jr experience. Visit Cactus Kitchens (opens in new tab) for more details
Cake Boy, London
Learn how to create stylish sweet treats with the master patissier himself, Eric Lanlard. Choose from chocolat class - where you will learn three mouthwatering recipes from his newly published book 'Chocolat' - or baking for a glamorous Christmas, traditional spring or signature French bakes. Classes start at £95 per person. Visit cakeboy.com (opens in new tab) for more details.
Mark's Kitchen Table, Charmouth
This intimate class is held with Mark Hix in his Charmouth home, and with only eight places per class you'll have plenty of time to chat to Mark as he demonstrates a British seasonal feast in front of your eyes. Mark cooks the dishes, which are served as part of a 4-course lunch with wines to match each course. The class costs £175 per person, which includes a signed copy of Mark's cookbook, HIX on Baking. Visit Hix Restaurants (opens in new tab) for more details
Hobbs House, Bristol
Learn the skill of baking perfect bread with master baker and one half of The Fabulous Baker Brothers, Tom Herbert, in this day-long masterclass. Or try the butchery and BBQ classes with the other half of the duo, Henry Herbert. The artisan cookery tutorials are taught in the perfect setting of a beautiful house, which was once the boy's family home, above the original Hobbs House bakery. Price range from £145. Visit hobbshousebakery.co.uk (opens in new tab) for more details.
Jean-Christophe Novelli, Novelli Academy, Tea Green, Hertfordshire
French chef, Jean-Christophe Novelli is opening up his house for intimate cooking classes aimed at everyone from those who are passionate about cooking to those that just enjoy eating! Novelli wishes to pass on his passion of cooking to others and show that food is an experience, not just a means to survive. Classes start at £350 per person, for more details visit jeanchristophenovelli.com (opens in new tab)
Theo Randall's Masterclasses
You can now join award-winning chef Theo Randall for seasonal masterclass to learn all of the tips and tricks that Theo has picked up from twenty years of experience in top kitchens all over the world. The masterclasses cover a range of dishes from simple to the more advanced and the class eat as they cook. Masterclasses are £200 per person, wine tasting and a copy of Theo's first cookbook 'PASTA'. Visit theorandall.com (opens in new tab) for more details.
Aldo Zilli's Cookery School, Chelsea, London
Celebrity chef Aldo Zilli is now offering Italian cookery classes at his new cookery school in Chelsea. A masterclass with Aldo truly is the full experience, your day will start at 6:30am when Aldo will take you to Billingsgate fish market for a lesson in what to look for when buying fresh fish before heading to Aldo's kitchen for the masterclass. The classes are £300 per person, visit aldozilli.com (opens in new tab) for more details
Waitrose Cookery School, Goldhurst Terrace, London
Supermarket giant Waitrose also offer their own cookery school, based in London it is open to those of all abilities with recipes ranging from standard puddings to MIchelin star meals. By the end of the hands-on cookery class you'll have your own freshly prepared meal and a few glasses of wine. Courses range from £50-£180, visit waitrose.com (opens in new tab) for more details.
Nathan Outlaw at The St Enodoc Hotel, Cornwall
Nathan Outlaw runs regular masterclasses demonstrating inspiring and imaginative seasonal dishes in his Cornwall restaurant. Other guest chefs include Angela Hartnett, Mitch Tonks and Ashley Palmer-Watts, executive head chef of the Fat Duck group. Each class begins in fabulous style with Champagne and canapés served before the lesson. Prices range from £185. Visit nathan-outlaw.com for more detials.
Katie McLelland is a food stylist, chef, recipe developer, home economist, eater- and everything in-between. She specialises in creating recipes for social media channels to editorial and advertising content as well as the occasional bread, cake, pudding and menus in real life.
Katie is also a home economist for film and TV. Current projects including Cooking with the Stars (South Shore), Matilda (Poppet Productions), Landscapers (Sister), This Sceptered Isle (Revolution Films) and The Great season 2 (Yekaterina Uk ltd).