Jojo Moyes On The Success Of 'Me Before You'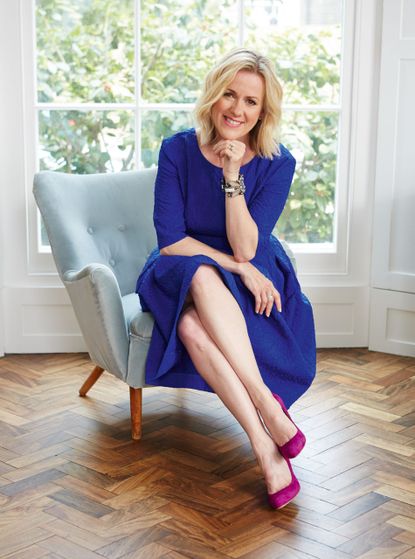 Jojo, 46, lives in a remote Essex farmhouse with her husband, journalist Charles Arthur, their three children aged 17, 14 and ten, and an assortment of animals. Her early career was as a journalist until shortly after she got her first book deal for her novel, Sheltering Rain, when she became a full-time novelist. She has now written 12 more.
Her first international superseller, Me Before You, has been made into a film starring Emilia Clarke and Sam Claflin. Jojo wrote the screenplay herself and the film is out in cinemas on 3rd June...
I had written seven novels before Me Before You and never troubled the bestseller lists. When I wrote it, I hadn't a clue that it would be the book to change things. My husband and I used to joke that it would probably be the book that killed off my career but luckily it went the other way.
I had read a news story about a young rugby player who had persuaded his parents to take him to Dignitas. I couldn't understand how a parent could agree to do that. The more I looked into it, I realised they were in an impossible position. I had to put myself into his shoes, into his parents' shoes, the people who love him, the medical staff - the story was different whichever way I looked at it. That was what inspired the novel.
It only hit me about a year ago when a friend said, "You've written one of those books." People do seem to have a personal connection to it. Every day on Twitter, they tell me it changed their lives or it affected them.
The success of Me Before You has been life-changing, not just for me but for my family. Generally things are much easier in a financial sense. We've paid off our mortgage and we've been able to send our youngest son, who's deaf, to a school with very small classes - that makes a huge personal difference to him. For the most part, our children couldn't care less about my success, but filming Me Before You was a big thing for them. I managed to sneak them on to set at Pinewood Studios one day and they got to sit in directors' chairs, wear earphones and watch the shooting going on. Meeting the stars, Emilia Clarke and Sam Claflin, was a pretty big deal. Then they were impressed!
Being on set of Me Before You was the best experience of my working life by a country mile. I've worked by myself for 15 years now but, walking on set every day, I was with 120 people all involved in the same project. Watching people who are all so skilled at their jobs is an incredible thing. The first day on set was mind-blowing. Suddenly the characters that had only existed in my head were out there walking and talking and everybody else knew what they should be doing. I was no longer the expert on my own people, and that felt very strange.
The fun bit has been learning a new skill in my mid-forties. To learn screenwriting initially, I just read every script I could from every film I had admired and tried to deconstruct it. I also had great advice from a couple of very good screenwriters. Once I'd written the screenplay for Me Before You, I had feedback from the producers, studio executives and director as we went along - and for a short period worked side by side with another screenwriter.
For the best part of three years since Me Before You was published, so many people have asked me what happened to Lou, the heroine. I've spent the last two years on the script, so the characters were in my head the whole time and I started to ask myself the same question too - what would she do next?
Most of my books start with an image in my head. Me Before You started with the image of Lou dancing with Will in his wheelchair at his ex's wedding. This time, I had this image of her standing on a rooftop. I had this vision of her being perfectly together in her professional life but coming home and being unable to hide her own hurt. Once I had the image I could start.
Writing After You was the most nerve-racking experience. I was so conscious of people's expectations for Lou. But then I saw Marian Keyes, who said I had to put myself in a bubble and believe that people will just be glad to revisit her. It was brilliant to have someone who's really good at their job just going - "No, get a hold of yourself" - so thank you, Marian!
I partly wanted to show that it's never too late to make the most of your life. But the book's also about how easy it is for us to trap ourselves. Lou realises about three-quarters of the way through the book that the only thing holding her back is her.
After You by Jojo Moyes (Michael Joseph) is out now
Jane Kemp is the Features Director for Woman & Home, Woman's Weekly, Woman and Woman's Own. She's worked in journalism for many years, mostly in Women's consumer magazines, and enjoyed a long stint at Practical Parenting while her own four children were little. These days, her interests are more focussed on gardens and books, and she has taken great pleasure in seeing the expansion of books coverage in all the titles, as well as big-name authors writing exclusive fiction for Woman & Home and Woman's Weekly.