Behind The Scenes On Home Fires: Part II
Woman and Home meet the real women behind the new period drama about the Women's Institute in wartime...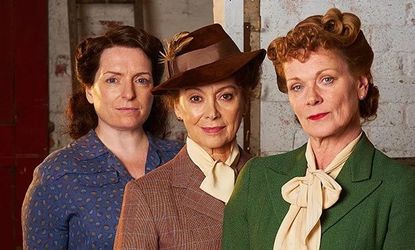 (Image credit: ITV)
Executive producer Catherine Oldfield
Executive producer Catherine Oldfield, 43, who also produced Foyle's War, lives in Wiltshire:
"The Second World War is an era of history I find really interesting, and I know how much the audience love stories about the home front because I worked on the TV series Foyle's War for four years.
We've tried to ensure Home Fires doesn't come across as twee. It's quite a bit darker than just thatched cottages and cake. In fact, a colleague at ITV calls it 'Desperate Housewives in the war', which will give you an idea of the twists and turns.
Authenticity is something we've strived for. We've worked with the RAF Museum and the Imperial War Museum and we have consultants for things I never knew you could have them for - from farming to telephone exchanges. Julie is our go-to woman for anything to do with the WI.
I hope this will be the first series of many so I've been a bit of a control freak to make sure we get everything right. For the first eight weeks of filming, I was on location full-time. We shoot four minutes a day we're on set filming for ten hours because you're looking for that perfect scene when every department comes together in a moment of perfection.
One of the things I love most about them - they drive all the stories and it's all from their point of view. They are women in their own right and each one has depth and nuance and character.
I've worked in TV for over 20 years and I still think I'm lucky to do this job. I got here by accident after working as secretary for BBC Radio 2's new writer's competition. From there, I set myself up as a freelance scriptwriter then I got my break - a television script-editing job working on dramas like Tipping the Velvet and Fingersmith.
Nowadays, I can have 20 shows in development at once so sadly I can't stay with them all - some won't be commissioned and some that do, I have to pass on to other producers, but I always knew I'd never let Home Fires go. It has a special place in my heart because it shows the wonderful spirit that these women had and I wanted to shine a light on the remarkable things they did for the country."
Actress Samantha Bond
Actress Samantha Bond, 53, lives in St Margarets, London, with her husband, the actor Alexander Hanson. She has two children, Molly, 23, and Tom, 22.
In Home Fires, I play Frances. She feels that local WI has become too elitist. The premise of the WI is egalitarian, a pacifist movement that is supposed to encompass all women in the area. Frances is quite a modern woman for the time.
The biggest surprise for me about the role of WI in the Second World War was the reliance of the Government on them. Because you don't think that Westminster is going to call the village hall and go, 'Excuse me, where can I put three young children?' The Government went to the WI because they had the local knowledge, so it was absolutely a practical response to the war effort.
I was brought up by a mother that had lived through the war, so I'm good at making do and mending. We used to make our own clothes, and my mother used to knit the jumpers. I find this modern thing of just dispensing things terribly difficult.
Sign up to our free daily email for the latest royal and entertainment news, interesting opinion, expert advice on styling and beauty trends, and no-nonsense guides to the health and wellness questions you want answered.
Miranda McMinn is the editor of woman&home magazine, the brand that prides itself on celebrating, supporting, and inspiring midlife women. Previously she has worked on magazines and newspapers including Marie Claire, Red, The Times, the Observer, and the Daily Mail.
A midlife warrior herself, Miranda has three children and has a passion for country walks, log fires, and winter swimming—she swims all year round in the Hampstead Ladies Pond and heartily recommends it—nothing like a dip in a 4 degree pond to get you ready to face the day!