See how a tower fan can improve your cooling without impacting your home's style
Dreo offers a subtle tower fan with a powerful breeze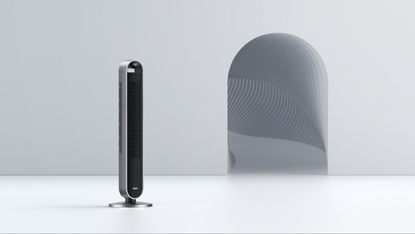 (Image credit: Dreo)
Our homes are carefully curated. The aesthetic choices we make are important, and it's hard to face the fact that occasionally we have to make sacrifices to the style in order for the space to actually be livable. Appliances aren't always the most tasteful additions, but we need them. The appliances we turn to for summer heat can be especially damaging to the elegance of our space. Fans don't tend to be terribly aesthetically pleasing, but then again, there's nothing elegant about being hot and sweaty. There is an alternative to the typical and pedestal fans, though: Dreo's Pilot Max tower fan.
This compact tower fan takes up just about a square foot of space but uses its height, power, and oscillation to provide a ton of utility. It can be set up somewhere subtle in a room, where its sleek metallic frame and black grille help it blend in with its surroundings, and yet it will still be able to offer ample airflow for the room.
Now, fans sometimes get thought of as noisy solutions. The big, spinning fan blades can sometimes kick up a racket, and not all of us are willing to sacrifice the comfort of our ears for the comfort of our body, especially when central AC might do the job more quietly. This can be a tough thing to balance especially when it comes to sleeping, where temperature and noise are both major considerations for how easily to fall asleep and how well you rest.

The 42-inch impeller inside the fan can certainly whirl up a storm for intense cooling with 26 ft/sec airspeeds, ideal for beating the summer heat or keeping cool when a hot flash hits, but it can also provide a subtle breeze with operation that's so quiet you'll hardly know the fan is on. The fan can oscillate 120 degrees, letting it provide wide coverage for large rooms from wherever you set it up.
Dreo's powerful fan isn't just built to look elegant right out of the box but also to stay elegant as you use it. Your typical fans will gather a ton of dust as they pass air through them. With the ability to move 1,475 cubic feet of air through every minute, this fan is no exception, but Dreo has built it to be incredibly easy to clean. The grille of the fan can come right off for dusting. Having appliances that are easy to clean can make a big difference in the look of your home in the long run.
It's not just a modern design you ought to get from your new appliances but also modern conveniences. In Pilot Max's case, the fan includes a remote control, so you can dial in its settings for tailored comfort from wherever you're sitting. It supports a sleep timer up to 12-hours long, and it's light enough for you to easily take from room to room. All that capability and performance comes at little cost for your energy bill, too, taking just a little over a dollar in electricity to run non-stop for the whole summer.
You can see how an elegant tower fan fits into your home now, with the Dreo Pilot max available directly from Dreo or from Amazon or from Walmart.