BetterMe proves that a healthy body starts with a healthy mind
BetterMe is paving the way in the the health industry.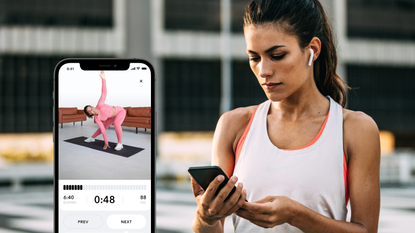 (Image credit: BetterMe)
woman&home newsletter
Sign up to our free daily email for the latest royal and entertainment news, interesting opinion, expert advice on styling and beauty trends, and no-nonsense guides to the health and wellness questions you want answered.
Thank you for signing up to . You will receive a verification email shortly.
There was a problem. Please refresh the page and try again.
Every diet we have ever tried comes back to the same simple formula: eat less and exercise more. It sounds easy enough, right? The truth is that as many as 80-85% of those who lose weight will gain back all the weight they lost and more within 12 months of meeting their goals. Quick fix punishing workouts and diets are losing their steam as they prove to be both difficult to maintain and exhausting.
Health and fitness apps are listening to the frustration that comes with short term weight loss plans that often end in frustration and are providing sustainable alternatives. BetterMe is one such app that is leading the way in the 'healthy mind, healthy body' space. This easily accessible health and fitness app focuses on more than just physical health. It prioritizes mental health, as well.
With over 100 million users worldwide, BetterMe offers a behavior change program that supports you for 6-12 months. The app offers a psychology-based plan that takes no more than 10 minutes to complete. With a range of infographics, quizzes, diaries, and tests, the app helps you create long-term sustainable healthy habits. Using a new psychology-based program, mental health experts have developed a truly sustainable holistic approach to health. The app also offers guided meditations to help you tap into your calm zone whenever you find yourself needing a mental break.
Using mindfulness techniques created with psychologists, the app helps spark change through conscious decision making and tools to help manage stress triggers. The app begins by asking questions that prompt users to shift their existing mindsets around food, their relationships to their bodies, and their beliefs about healthy habits. The app then uses behavioral therapy techniques to identify negative thoughts that get in the way of achieving goals and helps you shift your focus from physical appearance to physical health.
BetterMe's commitment to inclusion and diversity sets it apart from other healthy habit apps. The app includes prenatal yoga workouts tailored to pregnant mothers, wheelchair accessible strength workouts created by physical therapists, and a program specifically designed for older adults that are safe and offer a range of easily adaptable exercises.

BetterMe also offers family workouts that get everyone up off the couch and engaged in exercise. With workouts available in English, German, Chinese, Italian, Russian, Spanish, and Portuguese, BetterMe reflects its commitment to diversity from every angle.
Body Positivity
Based on the belief that beauty has no size, BetterMe also focuses on body positivity. While many fitness apps exclusively feature thin models, BetterMe includes a diverse range of sizes in their workouts.
The app also operates under the premise that true self-love and body acceptance will not be achieved through negative self-talk or punishing workouts and diets. BetterMe helps the user utilize self-compassion and acceptance to achieve a healthy body and mind.
Ideal for the woman who doesn't necessarily see herself ever becoming a gym rat, the app provides accessible workouts that will both guide and motivate regular workouts. Consider this app one surefire way to maintain your health goals long after the New Year's dust settles. It's all the motivation without any of the shame.
Food Preferences
BetterMe caters to absolutely everyone, no matter what your food preferences or aversions might be. With meal plans that cater to everything from vegan to keto, lactose-free to gluten-free, and paleo to vegetarian, BetterMe is committed to devising a healthy meal plan that suits your needs. The app also includes a calorie counter complete with a barcode scanner to help you scan food on-the-go.
The app enables users to create personalized meal plans and offers tracking, tips, and guidance. There is also a built-in water tracker to ensure you meet your hydration goals as well as tools for intermittent fasting and other lifestyle habit changes. When you sign up for the app, you will be asked a range of questions that will help BetterMe create a nutrition plan tailored to your unique needs.
Community
The journey to a healthier body and mind can often be a lonely one. Creating a sense of community plays an essential role in reaching your goals and keeping your spirits high. BetterMe offers a socialization feature that helps you connect with others on the same journey. Troubleshoot, cheer one another on, and connect with other health-focused individuals all within the app.
Diet culture has many of us confused about our relationship to food and exercise with no idea where to start. BetterMe offers a safe space to discover your own mental and physical strength with a supportive community behind you.
Get started with BetterMe: Health Coaching, and visit BetterMe on Facebook at @betterme.health.