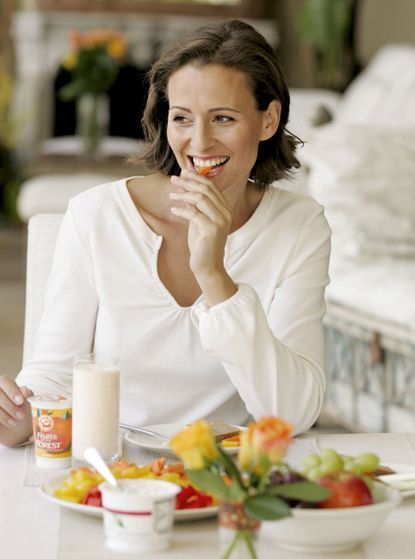 woman&home newsletter
Sign up to our free daily email for the latest royal and entertainment news, interesting opinion, expert advice on styling and beauty trends, and no-nonsense guides to the health and wellness questions you want answered.
Thank you for signing up to . You will receive a verification email shortly.
There was a problem. Please refresh the page and try again.
The foods to eat and avoid for your unique gut flora
Are you struggling with unexplained weight gain, depression, IBS or inflammatory skin conditions? It's probably because of your gut bacteria.
If you think all bacteria are bad, think again. Your gut is made up of hundreds of millions of bacteria, some of which is necessary for digestion, and some of which cause ailments like inflammatory bowel disease. Increasingly, scientists are claiming that having diverse gut microbes is the key to good health. Eating the right types of food for your gut can help the good bacteria thrive and reduce bad bacteria - but not all guts are created equal.
Dr Axe, author of Eat Dirt, (opens in new tab) identifies five different gut types and what you can do to improve everything from poor digestion to insomnia to depression.
Click through our guide to learn your gut type and the beneficial foods and supplements for your gut flora...
Candida Gut
Symptoms – loose stools, unexplained weight gain, yeast infections, exhaustion, cravings, white coating of the tongue, join pain, brain fog, bloating. Causes – a high-sugar diet, birth-control pills, stress, diabetes, overuse of antibiotics, eating too many cold foods, dairy. What to eat – swap cold salads and smoothies for warming soups, broths, garlic, grapefruit, herbal teas and fermented vegetables like kimchi. What to avoid – alcohol and caffeine. Helpful supplements - probiotics containing selenium, gingseng or liquorice.
Stressed Gut
Symptoms – difficulty waking up, insomnia, low sex drive, depression, muscle weakness. Causes – high levels of the stress hormones cortisol and epinephrine, which halt the growth of beneficial gut bacteria. What to eat – calming herbal teas like chamomile, grass-fed beef, wild-caught salmon, fermented dairy like yoghurt, dark berries, purple cabbage, nuts, avocado, olives, leafy green vegetables. What to avoid – caffeine, alcohol, sugar and grains. Helpful supplements – Vitamin B, L-glutamine powder, fish oils.
Immune Gut
Symptoms – IBS, Crohn's disease, ulcerative colitis. Causes – food allergies and intolerances such as gluten or dairy. What to eat – bone broth can help heal this type of gut, as can healthy fats from avocados, nuts, seeds and olive oil. What to avoid – the foods that are causing the sensitivities. Keeping a food diary and noting your symptoms to different foods can help identify the trigger. Helpful supplements – L-glutamine, probiotics.
Toxic Gut
Symptoms – skin conditions such as rosacea, feeling angry or frustrated Causes – a diet high in fatty foods, which puts pressure on the liver and gall bladder. When these organs become overloaded, this affects the small intestine's ability to break down fats. What to eat – high fibre foods like leafy greens, apples and pears, and wheatgrass. What to avoid – fatty foods including healthy fats, refined carbohydrates and non-organic dairy which is likely to contain hormones that add stress to the liver. Helpful supplements – green superfood powders, dandelion, turmeric.
Gastric Gut
Symptoms – bloating, acid reflux after eating, gas, feeling emotional all the time. Causes – overeating, not chewing food properly, sluggish digestive system. What to eat – small portions eaten mindfully, apple cider vinegar before meals to lower pH of the stomach. Dr Axe also suggests drinking only between meals, as drinking while eating can hinder digestion. What to avoid – coffee, processed foods, eating when stressed. Helpful supplements – L-glutamine, ginger and liquorice.
How to get a flatter stomach
Dieted and exercised, but still can't shift that last bit of tum? Hard work is often no reward - so if you have the cash and motivation, try salon treatments that get rid of fat from a focused area for good. Unfortunately when you hit the big 4-0, any excess weight seems to make a beeline straight for your stomach - leaving your once flat tummy more wobbly. One reason is hormonal factors: declining levels of oestrogen and increased production of the stress hormone cortisol direct fat to the areas you want it least. Loss of muscle tone, a sluggish digestion and bloating, which are also more common as you get older, only make matters worse. What's your tummy type? Read through our expert advice for the best treatments to help you achieve a flatter stomach... Pouty Tum It's acknowledged to be the last place to 'go', even for successful slimming and fitness types. Choose your touch type Like it gentle? Then a treatment that uses ultrasound to jiggle fat cells, 'encouraging' them to spill their load, could be the one for you. How does it feel? UltraShape is a gentle treatment with a massage head that gets worked over your tum and feels pretty good - maybe a little tingling at first, but relaxing. The result? It takes two weeks to see results as the body deals with eliminating or using the cell content - so be patient - but some have dropped as much as 5cm. The goods UltraShape costs around £500. See syneron-candela.com for clinics. Prefer something stronger? Love the feeling of a massage, but want techy tightening? Give MedContour a whirl, which combines ultrasonic and lymphatic massage. How does it feel? A little like a hot stone treatment followed by a deepish tissue massage, but not so deep that you need to brace yourself. The result? They're raving over this in the US for skin tightening and inch loss after the first treatment. The goods MedContour costs £149 per session. See med-contour.co.uk for clinics.
Bloated Tum
You know it - that over-inflated, tight-as-a-drum feeling - seriously no fun at all. Why bloated? 'This is such a problem, particularly for women', says nutritionist Marilyn Glenville, author of Natural Solutions To IBS (Macmillian). 'You feel fine when you wake up, but as the day goes on, you feel more and more uncomfortable, with clothes feeling tighter and tighter.' Bloating can be down to anything from stress and antibiotics to food sensitivity and IBS, but the new FODMAP diet could help ease tummy angst. Nothing to do with losing weight, it's all about easing pain, gas, unhappy bowels and bloat. What's a FODMAP? It stands for fermentable oligosaccharides, disaccharides, monosaccharides and polyols - carbs and sugars in food that down break down well in the gut. Undigested, they become food for bacteria, trap water and create lots of gas! How do I do it? It's all about replacing high FODMAP foods with those that are lower. Which foods? Out go the usual windy suspects, such as cabbage, cauliflower and onion and also wheat and milk, but surprising foods too - honey, apples, pears, cherries, artificial sweeteners and avocado, to name a few. Bursting to try? A nutritional therapist can give you the low-down, as it can be tricky to negotiate. Find one at bant.org.uk. The goods Look out for The Complete Low FODMAP Diet by Dr Sue Shepherd and Dr Peter Gibson (Experiment). The York Test IBS Diet Programme includes a test for 158 triggers, a diet plan and personal advice; yorktest.com (opens in new tab)
Apple Tum
When you're unsure where your muffin top ends and your bust begins, apple is your shape of the day - but it doesn't have to be your post-menopause destiny! Why apple? We love to blame our hormones, and this time we can! 'As the levels of oestrogen fall, delicate hormone balance is displaced, which leads to more fat being deposited around our tummies,' says expert Margo Marrone. 'Also, as we age, we have less muscle and more fat, which adds to the problem.' Yikes! Things sound hopeless. 'But all is not lost', reckons Margo. What's the plan? Don't look for a wonder pill. 'Controlling stress and eating well makes a huge difference', says Margo. So tune into that smart combo? De-stress For starters, put the brakes on stress - it fuels your loss of shape, triggering hormones that spark glucose and fat around the middle. What helps? Supplements can help and there's one biggie?'Magnesium', says Margo. 'It relaxes the body and mind , helping you cope with stress and insomnia.' We agree. Try taking a magnesium and calcium complex (the two work together regularly) regularly - especially before bed. You'll notice the difference! Detox No groaning, stress strokes the cravings for stimulants such as caffeine and sugar - so if coffee, cake and chocolate are hard to resist, a craving-killing detox is a neat idea. 'I'd recommend it every three months to cleanse the system, help give you more energy and boost metabolism,' says Margo. How do I detox? 'It's common sense eating really', says Margo. 'Drop all sugar, wheat, processed foods, caffeine and alcohol, and replace them with fresh water, herbal tea, fruit and vegetables, whole grains and lean protein. Ten days of detox and you'll break bad eating habits and replace them with good ones!' For post-menopausal gals, it's worth revisiting as it promises to sort mood swings, tiredness and insomnia - our signature symptoms. Detox, why did we ever doubt you? Keen to get cracking? Follow all of the above, but if you want a specific plan and the right supplements to support it, you'll need help. The goods Go to theorganicpharmacy.com (opens in new tab) for everything detox, from detox supplements at £29.50 for 60, to complete kits with detailed detox plans.
Wobbly Tum
You can tackle that tum, but sweating through sit-ups isn't the answer! Why wobbly? This is an all-age tum, where liquid pounds settle around your middle - and yes, it's back to the H word! 'Hormones unbalanced by the wrong diet, stress and lack of effective exercise can build unwanted fluid and fat stores on areas such as the stomach', says Max Tomlinson, nutritionist and author of Target Your Fat Spots (Quadrille). What do I do? Exercise alone isn't going to cut it. A trio of smart eating, tailored exercise and supplements will crack it. Here's how? 1. Eat new. 'Half the battle of stomach fat spot reduction is won by keeping your blood glucose levels stable,' says Max. So following a low-GI diet where you dump foods that send glucose rocketing is an easy way to get cracking.' 2. Move better. The squat: stand with feet shoulder-width apart, holding weights at shoulder height. Bend your knees, push your bottom back and down, chin parallel to the floor - inhale. Keeping your body upright, push through your feet to stand tall as you exhale. Repeat 20 to 15 times. 3. Supplement smart. Max suggests a cocktail of supplements for those who gather tummy fat - to energise, calm and support.
A multivit with lots of B vitamins; 3,000mg of organic omega-3 fish oil; 400mg of Asian ginseng; 300mg of Rhodiola; and 300mg of magnesium. Find them at all good health stores.
Click through for flat tum recipe ideas...