How To Start Again After A Long Relationship Ends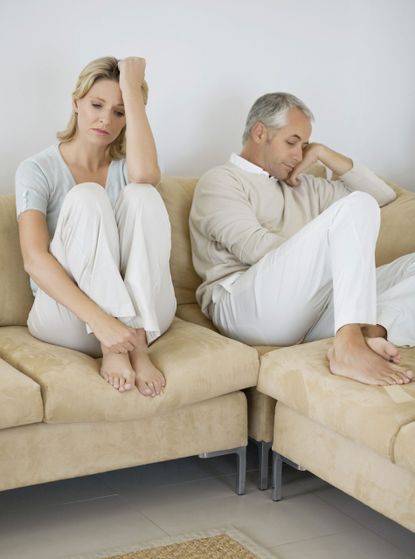 (Image credit: Rex)
January is widely regarded as the most popular month of the year in which to get a divorce, owing to people crediting a new year with wanting a new start - in, or out, of their relationship. And this is true for the Sherlock couple Amanda Abbington and Martin Freeman, who recently announced their divorce after 16 years of marriage. Despite the breakdown of their relationship, the pair appear to have split as amicably as possible, allowing them to carry on their friendship. Amanda recently admitted that there is no bad blood between the two, saying "It's all totally fine. Martin and I remain best friends and love each other, and it was entirely amicable, but we realised we'd come to the end of our time together."
So we ask, what is the best way to carry on, and move on, after a long relationship comes to an end? We spoke to Relate counsellor and relationship expert Barbara Bloomfield, who filled us in on the best ways to keep going...
What do I do if my relationship does come to an end?
Don't rush in to anything. Give yourself time to get over whatever has come before the split, whether it's divorce or bereavement. Make sure that you are in a comfortable and confident enough place before looking for a partner in later life, because it can be really tricky. If you do want to meet someone again, perhaps don't rush into joining a dating agency, but get your friends on board instead. Tell them that you're interested in having some dates, and see if they know anyone! Because they know you, they like you, so they're often the best people to help find you somebody.
You could try the w&h dating site... (opens in new tab)
How can I get back to my best after a long relationship?
In my book, The Mature Guide to Relationships, Love and Sex, I suggest that after a split, you give yourself plenty of time to heal and steady yourself. Then, when you are ready, ask a trusted friend to spend a day with you, giving positive advice on your strengths and on the way you present yourself. Of course, it has to be someone who really cares about you and who is positive, rather than critical. How do you want to be seen by others? Which outfits make you feel good about yourself? Might a friend come and help you to repaint a bedroom or clear out a kitchen in or to start the process of "New You?" Never underestimate the power of a haircut! Also, don't forget that counsellors are helpful to the process of building self esteem.
What if we want to get back together?
Barbara says: "As a Relate counsellor, I see a lot of couples who have broken up because they lacked the skills to solve their problems and maybe were too embarrassed to ask for help from a counsellor. What we notice at Relate is that, when separated couples take the big step to ring for an appointment, no matter how bad things have been, their desire to try and heal the split means that the majority of those couples will end up reuniting.
Should we get back together straight away?
I'm a great believer in couples taking a short time apart if they can do this. It is an acknowledgement that they have been unable to resolve their differences and it's time to reflect separately and cool things down, and perhaps to see how much you miss each other. However, when children are involved, a physical split may not be the right thing as it's important to put the children's needs first.
My husband cheated on me. How can I get over his infidelity?
If you and your partner have separated due to an affair, and want to reunite, it's important to think about why the affair happened? What was not working well in the relationship? And what is the status of the affair? We believe it can take up to two years to trust your partner again, after an affair has taken place.
When couples get back together again after a split, they are often keen to 'forget' about what went wrong and simply enjoy the thrill of reconciliation. The trouble is that this can leave the problems unresolved and waiting to pop up. Talking about what happened and trying to understand is a good basis for heading off any future repetition. I suggest couples set aside ten minutes, twice a week. Make yourself comfortable, listen carefully to your partner for five minutes without saying anything, even if you don't agree. At the end of five minutes, swap and your partner will listen to you for five minutes. Don't interrupt or try to solve anything. Just listen! If you can understand their point of view, it's the greatest gift you can give your partner.
Barbara Bloomfield is a Relate counsellor and Supervisor and the author of several books about relationships, including 'Couple Therapy: Dramas of Love and Sex'. Relate: 0300 100 1234
Amy Hunt is an experienced digital journalist specialising in homes, interiors and hobbies. She began her career working as the features assistant at woman&home magazine, before moving over to the digital side of the brand where she eventually became the Lifestyle Editor up until January 2022. Amy won the Digital Journalist of the Year award at the AOP Awards in 2019 for her work on womanandhome.com.