Guillain-Barré Syndrome: 'The Frightening Trigger That Finally Made Me Lose Weight'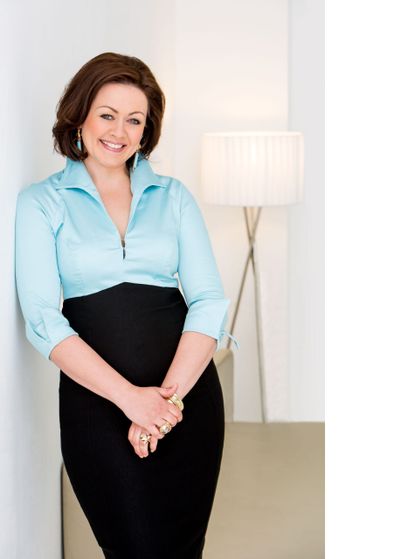 Guillain-Barré syndrome affects about 1,200 people in the UK every year. The condition affects slightly more men than women and can occur at any age, including during childhood, but it is most common in adults who are between 30 and 50 years old.
Although the cause of Guillain-Barré syndrome is unknown, about 60% of cases occur shortly after a viral or bacterial infection.
Judith Cowan, 32, lives with her husband, Colin, and their four-year-old son, Rhys, in Surrey. She works as a legal administrator. 'I've always been prone to gaining weight, so when I found out I was pregnant with Rhys, I expected to gain extra - but I never dreamt I'd end up six stone heavier. At 5ft 9, I'd been a size 14-16 for as long as I could remember, but after Rhys was born I was shocked to find I was a size 20 and weighed 18 and a half stone. I could barely look at myself in the mirror. I was miserable, but broken nights and coping with a newborn baby meant losing weight was something I put off. Little did I know that four months later, I'd be diagnosed with a condition that would change everything.
The first signs came walking home from a local park with Rhys in a buggy. It was only about a mile, but my legs felt they'd turned to wood. When I finally got home I was in such agony I collapsed in a heap on my bed. Fortunately Colin was there and I remember him saying, "You've probably just overdone it", but within a few hours, I could hardly feel my legs at all. I was so panicked that I used my mobile to ring Colin, who was downstairs, from my bed - and that's when he said, "I'm taking you to hospital."
By the time we arrived, I had excruciating pain all down the lower half of my body. At first, doctors said it was probably nerve pain caused by a back problem. But over the next few days, my whole body began to seize up, I was struggling to speak, and found it increasingly difficult to breathe. When the consultant gave me the news that I had Guillain-Barré syndrome, a disorder in which the body's immune system attacks part of the peripheral nervous system I was in so much pain that I could hardly understand what he was saying. I just remember thinking, "When am I going to wake up from this nightmare?"
I was sent to intensive care almost immediately and put into a medically-induced coma - the idea was to shut down parts of my body and make treatment easier. It sounds crazy, but a part of me felt relieved because I thought at least if I'm asleep, I won't be in pain anymore.
It was two weeks before they brought me out of it, and it was one of the most terrifying moments of my life. The only movement I could make was opening my eyes. I was desperate to shout, "What's going on?, but all I could do was watch the sea of sympathetic faces around me. It felt as if I was under water with someone's foot on my head I was completely helpless.
The hardest part was seeing Rhys - he was only four months old and when I heard him cry I was desperate to cuddle and sooth him. When the doctor said it could be several months, or even years, before I was back to normal, it all seemed too much to take.
But I was lucky my supportive family were by my side every day. They'd constantly say, "You'll get through this, Judith" - and I never once saw Colin without a smile on his face - even though now, he says all he wanted to do was cry.
My dad created a speech chart, so I could learn to communicate by clicking and I had intensive physiotherapy sessions to get my movement back. In the beginning, every attempt to move felt like I had hundreds of bricks piled onto my body and I'd just say, "I can't do this." But as soon as I started noticing a difference, like when I moved my foot for the first time, I thought, "You can do it, Judith!"
After two months I'd recovered my speech and I was allowed to go home in a wheelchair. My step-mum and dad moved in and became my full-time carers looking after both me and Rhys, which was amazing of them, but also strange to adjust to. I had to take voluntary redundancy, another terrible blow. I'd lost my identity and I was desperate just to feel like me again. That was when I thought about the one thing I could try and control from the confines of my wheelchair; my diet.
Before I got ill I have to confess my diet was terrible. Too many takeaway pizzas and very little fruit and vegetables, which my body was now craving. My dad started growing vegetables in the garden, and my step mum would wheel me into the kitchen and we'd chop them together at the table. I discovered how easy it is to make fresh sauces and homemade soups and for the first time in my life, I actually enjoyed cooking.
I was having physio to try and walk again and by now my son Rhys had turned one and begun to pull himself up and try and take a few steps too. We were learning together! We'd have little sessions in the living room, and I ever I craved junk food I'd think about the extra steps I'd be able to take if I didn't. He was my biggest inspiration.
As I lost more weight, friends and family began to comment and say, "You look incredible!" - and I started to feel it too. Recovery was very slow but two and a half years after I became ill I was finally able to walk to the park with Rhys where I'd had the first symptoms. It was a magical moment.
I was able to find a new job as a legal administrator but although I'd lost five stone, my weight had plateaued - and I felt like shifting the last bit was the final step.
After researching online, I signed up to Slimming World and arrived at my first session incredibly nervous. I kept thinking how humiliating it would be if I ended up losing nothing at all. But there were around 30 men and women of all different ages there, and I couldn't believe how honest and open everyone was. We all discussed tips, slimming pitfalls, recipes ideas and gave each other advice and support, and after an hour and a half, losing my goal seemed more achievable than ever.
There's no weighing and measuring of foods. The focus is simply on eating the right foods, like plenty of proteins, salads and soups. The plan encourages you to do exercise too and though it took me a while I finally plucked up the courage to join a gym where I could go swimming in the evenings. Now I've got quite good on the exercise bike and the cross-trainer too! I'm determined to try and move on to running and who knows, one day, I might even complete a marathon.
I've finally managed to lose another stone - and I'm now the same size I was when I got married 10 years ago. I recently tried on a gorgeous dress I wore on my honeymoon in Italy - and it fit to perfection! Colin has noticed the difference in me too. He says I've got a twinkle in my eye again, and just hearing him say, "That dress looks really nice on you" feels amazing. I feel like we're closer than ever now and we've just started trying for second baby
When I woke up from my coma, I thought I'd never recover my old life and it is possible the illness could recur, which is worrying, but I try to stay positive. My experience has made me realise that the right attitude is so important. I feel so appreciative of what my body can do now that I don't want to waste another minute taking it for granted.'
WHAT I'VE LEARNT ABOUT WEIGHT LOSS
1.
Make mealtimes count. If you're distracted while eating, like watching TV, it's easier to consume more because you don't notice when you're starting to feel full.
2.
Experiment with exercise. I tried most machines at the gym before I discovered the exercise bike was for me - and I always thought I hated cycling! You never know what exercise you'll stick to.
3.
Fill the fridge. I used to only keep a handful of food in the fridge to stop me eating but then I'd be tempted to run out and buy an unhealthy snack. Now I keep it full of fruit and vegetables, so when hunger strikes, I've got plenty of diet-friendly food to choose from.
For more information on Guillain-Barré syndrome, go to NHS.uk (opens in new tab)
Natalie Whittle is a British journalist specialising in celebrity content in the women's lifestyle sector. She previously held the role of Celebrity Director at Woman & Home and has also worked at Prima, Red & Good Housekeeping.