Do you know your portion sizes? How to tell what counts as a portion for fruit and veg, plus other popular foods
Do you know what counts as one of your five-a-day?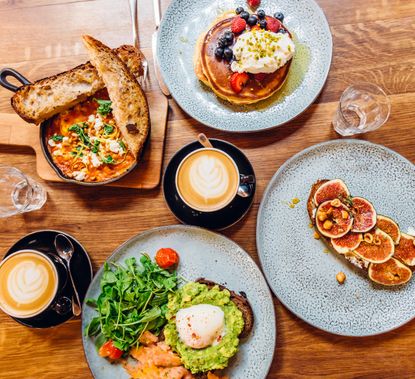 Being mindful of portion sizes is the key to weight loss, but often, no one is quite sure how much we're actually meant to be putting on our plates.
We're all guilty of pouring a fraction too much pasta in the pan for dinner, or helping ourselves to a few squares too many of chocolate as we relax on the sofa in the evening. So do you know what scientifically counts as a 'portion', and how much should we be eating of each food?
Read on below to find out, and it could very well clear up all of your confusion...
Which foods count as one of your five-a-day?
Yes, we all know that we should be eating our five portions of vegetables, fruit and salad everyday, but short of shovelling another piece of lettuce into our salad, it can be hard to squeeze in those much-needed healthy foods. And with a 2012 study from the World Cancer Research Fund reporting that only one in five of us get our five-a-day, it's clear that most of us are pretty terrible at doing so. But did you know that it's actually much easier to get in those all-important nutrients than you think?
Generally, your fist equals one portion of fruit and vegetable. But let's get a bit more specific. Just 5cm of cucumber counts as one of your five-a-day while, remarkably, half a tin of spaghetti hoops could also help you towards filling your quota!
Plus, what are the correct portion sizes?
A normal sized dental floss = 30g piece of chocolate Next time you tuck into a chocolate bar, remember a 30g serving is only 4 squares and the same size as a packet of dental floss. Put the Twix down or half it.
A cheque book = serving of fish To make sure you are getting the correct amount of omega 3's and not going over your calorie count, the fish in your supper should be around the same size as your cheque book.
A CD or DVD disc = one pancake Whether you serve them up hot, cold, scotch or American style, pancakes are fast becoming a one of our favourite brunch-time treats. Rustle one up no bigger than a CD disc if you are making them at home.
A golf ball = 2 tbsp (30ml) of jam Although we're deep into winter, we're craving some semblance of a sunny spring day - and so our attention has already turned to our favourite homemade jam recipes. But before you load your scones remember a golf ball sized amount is the equivalent to the recommended 2 tbsp.
A computer mouse = A jacket potato When choosing a baked potato for lunch envision your computer mouse. The closest match wins!
A tennis ball = 1 cup of pasta or serving of ice cream A tennis ball is exactly the same size as a cup of pasta and a serving of ice cream.
A deck of playing cards = A serving of cooked meat Surprisingly a serving of cooked meat should be no larger than a deck of playing cards. -Nutritionists advise opting for smaller cuts and shredding your meat to make it go further. We'll be adding ours to a tasty salad.
Lauren is the former Deputy Digital Editor at woman&home and became a journalist mainly because she enjoys being nosy. With a background in features journalism, Lauren worked on the woman&home brand for four years before going freelance. Before woman&home Lauren worked across a variety of women's lifestyle titles, including GoodTo, Woman's Own, and Woman magazine.