Could Glynis Barber's Diet Be The Secret To A Leaner You?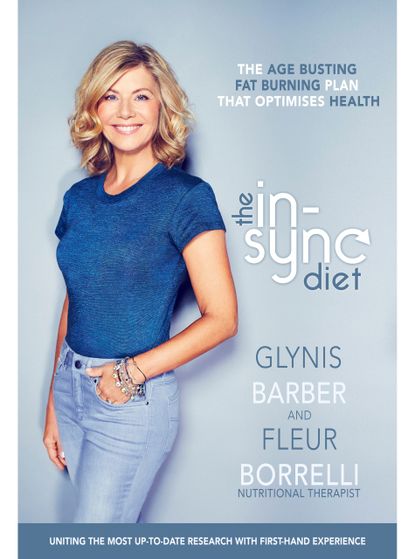 Get In-Sync with actress Glynis Barber's age busting and fat burning plan
You'll probably recognise actress Glynis Barber as one half of the 1980s hit cop series Dempsey & Makepeace, or for her recurring role in TV dramas like Eastenders and Emmerdale. But what you might not know is that Glynis is a self-professed health nut, dedicated to being and looking youthful. Just one look at the beautiful star and it's clear to see that whatever it is she's doing - it's obviously working!
'Remaining healthy, free from illness, fit, youthful and being the best I can be at whatever age I am, has become integral to my life,' she says.
So, what is the secret behind Glynis Barber's youthful glow? It's called The In-Sync Diet and now you too can reap the rewards of this revolutionary eating plan. Glynis has teamed up with renowned nutritionist Fleur Borrelli to create the age busting and fat busting The In-Sync Diet (£6.99) (opens in new tab). Forget what you think you know about weight loss and get ready to say goodbye to yo-yo dieting and change the way you eat, drink and exercise forever.
The name of The In-Sync Diet comes from the idea that most of us are currently out-of-sync. This is why so many of us feel tired and stressed, are unable to sleep, eat even when we're not hungry and are prone to weight gain, heart disease and so many more health problems. Being out-of-sync is why other diets have failed.
Why are so many of us out-of-sync? With so much confusing diet information out there, it's hard to know what's healthy for us and what could be damaging our bodies.
But no more - The In-Sync Diet will help you dispel common diet myths, shed the extra pounds and feel full of energy. It's not just about eating less and exercising more; The In-Sync Diet will show you which foods will optimise your health, plus when to eat and when not to eat. By following these principles, you'll finally break down fat instead of losing lean tissue - resulting in a lean, toned, and healthy body.
Keep reading to discover the common diet myths and principles behind Glynis Barber's anti-ageing eating plan...
Buy The In-Sync Diet (opens in new tab) by Glynis Barber and Fleur Borrelli, £6.99.
Myth 1: Water should be sipped through the day to keep you hydrated
We've been told to stay ahead of thirst and sip throughout the day for years. 'The problem with drinking little and often is that instead of being well hydrated, we actually become depleted,' says Fleur. 'This is because we never drink enough at one time four our cells to really amass sufficient liquid,' she adds. By drinking when you're not actually thirsty, you can also trick your body into thinking it's hungry and get food cravings.
Myth 2: Grains, especially whole grains are healthy and non-fattening
We've only been consuming large amounts of grains and cereals for the last 10,000 years or so (not very long in the grand scheme of human history). But in that period, research has shown that our brains are getting smaller, we're losing muscle mass and becoming fatter. Glynis Barber's The In-Sync Diet argues that this is because processed refined-grains (like white bread and pasta) have no natural fibre and contain damaging substances like bleaching agents, synthetic vitamins and artificial colourings. Meanwhile whole grains can also contain chemicals and moulds that can damage the gut, cause inflammation and negatively impact weight loss.
Myth 3: Eating fat makes you fat and damages your health
Think low-fat is the key to losing weight? Think again! Low-fat diets actually make you gain weight. That's because if you're not eating fats, you're probably eat too many carbohydrates instead, which will get converted to fat that sits around your middle. Eating moderate amounts of healthy fats, like olive oil, won't get stored as fat. Instead, it's important for your brains and cells to function properly. It will also keep you fuller for longer and help stop cravings.
Myth 4: Eating lots of red meat should be part of a weight loss diet
Whether it's Atkins or Paleo, many diets encourage dieters to eat high amounts of meat to shed extra pounds. Although this is based on the right idea that increasing protein and reducing grains will help you burn fat, red meat is still off limits on The In-Sync Diet . 'The problem is that meat reared nowadays is very different from that which your ancestors would have eaten. They would have eaten meat from animals that had had proper exercise,' says nutritionist Fleur Borrelli. Meat from animals that have had little exercise and been grass fed have too much unhealthy fat and not enough protein. Get your protein from grass-fed and organic meat, eggs, fish and nuts instead, suggests Glynis.
Myth 5: Breakfast is the most important meal of the day and will stop you from overeating
'Breakfast coincides with our cortisol circadian peak. Cortisol is an activity hormone, necessary to get us going in the morning. Its job is to promote the release of sugar into the bloodstream so that we have enough energy to move,' says Fleur. In other words, you don't need food at this point because your body is already taking care of the problem. By eating breakfast, you're putting twice the amount of sugar into the bloodstream, which is bad for your health.
Myth 6: We should eat 'little and often'
We tend to eat many smaller meals and snacks throughout the day in order to avoid low blood sugar dips. 'But we can train our body to behave in the way it should and in doing so, the weight will fall off,' says Fleur. The In-Sync Diet will teach you that it's ok to feel hungry, because this sends a signal that it's time to move and find food. Glynis Barber often skips breakfast and opts for a later brunch meal instead, and then dinner.
Myth 7: Fasting can be done on a regular basis without exercise
Fasting can help burn fat, stabilise blood sugar levels and improve our vitality, says Fleur. The problem is that instead of burning fat, fasting may instead break down healthy lean tissue. You might see a drop in the scales but ultimately this will mean that you'll gain weight once you stop fasting. The In-Sync programme shows you how to fast healthily and how to burn fat and not lean tissue.