VIDEO: How To Make A Christmas Wreath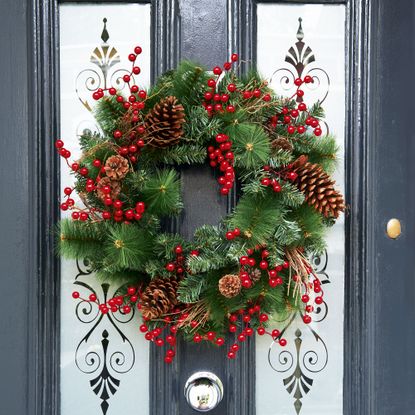 When people come to your home at Christmas time, a door wreath is one of the first things they see. It is therefore an ideal piece for setting the scene. I have created two different looks - the first one uses lights, baubles and a glittery star garland, creating an eye-catching, glitzy look. The second one features a more neutral design using orange slices, cinnamon sticks and pine cones. These are all easy to find online, alternatively you could make your own orange slices by simply drying them in the oven. You can find cinnamon sticks in the herbs and spices section of most supermarkets. I have used realistic looking fake wreaths for both of these styles, but in the run up to Christmas there will be plenty of real ones to choose from! Have a look in your local garden centre.
While wreathes are commonly used as a festive decoration at Christmas time, most people are unaware of their history. Wreaths have long been used by many different religions and cultures for all sorts of occasions. The shape of a Christmas wreath is often associated with the crown of thorns worn by Christ, and the the green is said to symbolise eternal life. The word 'wreath' derives from the old english word 'writhe', which means 'to twist'. Wreathes were originally hung on doors by the Ancient Greeks, and were used as a symbol of power and victory. They were also placed on the heads of Ancient Greek sporting winners, and the wreath symbol is still used today in the Olympic Games. Nowadays, the Christmas wreath is a symbol of welcome and festivity.
Christmas wreathes make a fantastic festive addition to your home, or they can make a thoughtful gift for friends or family.