How Prince William hopes to 'evolve' past his father, King Charles, with this bold move
It's reported that Prince William wants his coronation to be vastly different than that of King Charles'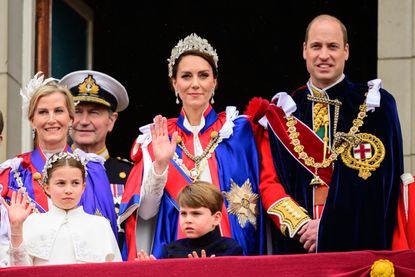 (Image credit: Leon Neal/Getty Images)
We might have just had the first coronation in 70 years, but there's already talks of the next one. Prince William, it's reported, wants to completely "evolve" his own coronation, and get rid of many of the elements witnessed in his father's coronation on May 6.
Prince William has his sights set on becoming a king for the modern era, wanting to get rid of many traditions
It's reported that William wasn't consulted with the planning of King Charles' coronation, and he found many elements incorporated as out of touch
---
Fresh from the Coronation of King Charles III last week, it's reported that Prince William is already thinking ahead to the day when his own historic ceremony will take place.
And, interestingly, it's thought that William is incredibly keen to do things differently.
According to reports in The Times, the Prince of Wales wants his coronation to "look and feel different" from the King's service so that it looks "modern" and "relevant."
It's understood Prince William is planning to remove the historic Homage of the People, something which drew much criticism when announced for Charles' coronation.
Indeed, anti-monarchy group Republic labeled it "offensive, tone deaf and a gesture that holds the people in contempt."
The homage was supposed to ask the public to swear their allegiance to the King, his "heirs and successors."
The public response prompted the King to approve toning down the pledge.
In the original version of the coronation liturgy, published by Lambeth Palace, the Archbishop of Canterbury, Justin Welby, was due to "call upon all persons of goodwill . . . to make their homage". Instead, the wording was changed for Welby to "invite those who wish to offer their support to do so".
The divisive element of the ceremony was toned down after a last-minute change reportedly approved by the king.
But this is just one example of why Prince William is reportedly looking to completely change the tone of his coronation.
The source close to William told The Times, "There is no way he will go down that route or anything like it."
"He is really thinking, how do we make his coronation feel most relevant in the future? He is mindful of the fact that in 20 years' time, or whenever his time comes, how can the coronation be modern but also unifying to the nation and the Commonwealth? I think his coronation will look and feel quite different."
"You can see it in how he has taken having an investiture off the table, and his thinking on how to leave a legacy in communities rather than just going in [to] do ribbon cutting. You can see it in how he is running an environmental prize with Earthshot that is not just about handing cash out, but about the long-term impact globally. He is thinking about his coronation in the same way."
Jack Slater is not the Last Action Hero, but that's what comes up first when you Google him. Preferring a much more sedentary life, Jack gets his thrills by covering news, entertainment, celebrity, film and culture for woman&home, and other digital publications.
Having written for various print and online publications—ranging from national syndicates to niche magazines—Jack has written about nearly everything there is to write about, covering LGBTQ+ news, celebrity features, TV and film scoops, reviewing the latest theatre shows lighting up London's West End and the most pressing of SEO based stories.