Why this 50-something is happy to be booze free
Writer Lambeth Hochwald on sobriety in a booze-soaked world, why alcohol focussed socialising is a bore and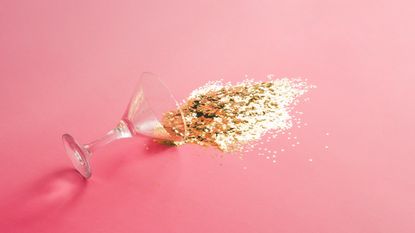 (Image credit: ivan101/Getty Images)
It seems to me that in our alcohol-soaked culture, the implication is that you're no longer fun if you prefer cappuccino to chardonnay. As a sober 50-something who's just not into alcohol, I'm tired of this implication. Actually, I'm bored of it—and here's why.
It still shocks me, as a lifestyle writer covering lots of topics, how often my email queue feels like an overflowing liquor cabinet. We're talking catchy one-liners from PR people offering me info on the latest, "boozy gifts for tequila, wine, and whiskey drinkers," and advice on how to, "celebrate Friendsgiving with your favorite wine."
When I'm off the work clock, my text chains from friends are just as punctuated with references to alcohol. I've been invited to more bottomless brunches than I can count, I've been asked to do cocktails between 3 and 6, and advised, "we'll need a big bottle of wine for that chat." It's enough to make me roll my eyes to the back of my head.
---
Recently, a friend nervously asked me if there's a reason I've gone dry while passing the most gigantic bottle of red wine I've ever seen to another pal. The interaction was a little awkward because I don't think it should warrant a comment whether I'm sipping seltzer or Scotch.
It's important, however, to state that I will never judge someone for the beverage in their cup. Instead, I want to scream, "you do you!" from the rafters.
But please don't look at me sadly when I decline that glass of wine, tell you I don't feel that happy at happy hour, or share my truth, which is that I'd rather pair a hot dog with an iced tea than a cold beer.
And can we please stop with dumb sayings like 'Rose All Day,' 'It's Wine O'Clock Somewhere' and banish the word 'mocktail?' Calling something a mocktail makes a mockery of those of us confident enough to hang out in a bar with friends minus a virgin drink served in a martini glass that's accessorized with way too many edible garnishes.
The cold hard truth is that drinking never played a central role in my life. I wasn't the designated driver in high school nor was I called 'one-can Lam' in college and in my 20s for nothing. While I used to enjoy a drink or two in my younger years, I can't trace back to the exact day I took my last sip of something boozy.
Sure, my face and neck would get bright red and itchy when I sipped a chilled glass of white wine, but there wasn't a conscious moment when I said to myself, "you know I don't like how I feel the morning after a gin and tonic," or, "I think I'm pretty fun even without booze."
My evolution to an alcohol-free life just kind of happened as I grew into middle age. Drinking just doesn't have a place in my life anymore—which isn't exactly a bad thing. Just look at recent studies that increasingly show no amount of alcohol is healthy and that it can be cancer-causing, according to the National Cancer Institute.
If that's not enough of a reason to stay dry, quite frankly, it's way less expensive when you go out to eat and there are no rounds of drinks to tally up at the end of the night.
Luckily, we teetotalers are tracking with some pretty interesting societal trends. The Sober Curious and Cali Sober movements are trending among millennials who have embraced the notion that you don't have to abstain from alcohol entirely but can, instead, commit to beneficial 'dry out' periods.
A walk through a supermarket is even more proof of this shift. For example, alcohol-free alternatives from companies like the botanical heavy and delicious Seedlip, 'the world's first non-alcoholic spirit.'
and Kin Euphorics, sparkling beverages made from citrus, hibiscus and ginger (these even claim to 'awaken your mind and uplift your mood'), are on the rise. Even Molson Coors is in on the trend, recently debuting Huzzah, a seltzer powered by probiotics and 'feel-good ingredients.'
---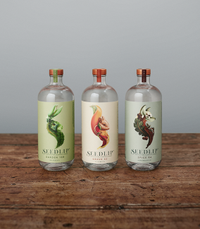 Seedlip Special Offer Trio | $89 (£78) | Seedlip
The Seedlip Special Offer Trio is a perfect way to explore the full Seedlip range in the comfort of your own home. Discover the aromatic Spice 94, the fresh & herbal Garden 108 & the citrus Grove 42. 1 full-size 700 cl bottle of Seedlip makes 12-14 cocktails.
And, while everything old is new again, alcohol-free bars are back! These sober spaces were first introduced in the UK in the late 19th century during the temperance movement. The last one of its kind, Fitzpatrick's Pub in England, is still open and thriving.
Today, some bar owners are committed to creating gathering places that will serve only alcohol-free drinks. One such establishment, Listen Bar, is an alcohol-free New York City bar founded in 2018 that has been operating virtually of late. I personally can't wait until they reopen so I can go check out a place that's, "All bar. No booze."
The list goes on. Sober daters are flocking to apps like Loosid that are geared to sober dating and, despite increased drinking during the pandemic, alcohol sales are actually down when compared to alcohol-free options.
Could it be that people are beginning to realize that nursing a hangover isn't as fun as it once was? Or that the trending hashtag #soberissexy is actually kinda accurate?
As for me, go ahead—call me boring or no fun at all if I'm not cradling a vodka martini. I think it's cool that I'm completely confident sidling up to a bar and ordering a cranberry seltzer spritz, especially since I'll be the one raring to go the next morning—not cradling a killer headache or wishing I had just said no to that last tequila shot.