'We're becoming desensitized to donation bins in supermarkets'—why food banks aren't the solution to hunger in the UK
The UK is the sixth richest economy in the world—food poverty campaigner Sabine Goodwin explains what can help as the cost of living crisis rages on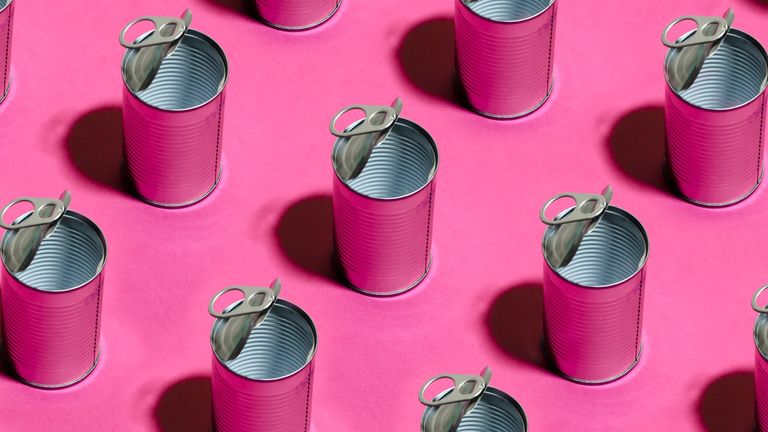 (Image credit: Elizabeth Fernandez)
I've been campaigning to end the need for food banks in the UK for over five years and this is the bleakest moment I've witnessed. At a recent meeting in my role running the Independent Food Aid Network (IFAN), which supports 550 food banks, the sheer magnitude of the disaster that is unfolding was clear.
Food bank managers have told me of the desperation that people are facing up and down the country because they can't make ends meet. "We are volunteers and cannot meet the levels of need we are seeing," said Kathy Bland of Leominster Food Bank in Herefordshire. "A bag of food is not sufficient—people need benefits to be enough to be able to live on and to offer their children a basic standard of living."
This week anyone having to rely on the UK's threadbare social security system will effectively see a cut to their benefit payments. Against a backdrop of the energy crisis and a cost-of-living crisis spiraling out of control, the food banks IFAN know that this can only mean one thing—yet more people will have nowhere else to turn but to a food bank.
Food bank demand is growing relentlessly
Shockingly this is an all too familiar pattern. We've seen food bank demand grow relentlessly over the last 12 years because of Government policies that exacerbate poverty and hunger - such as the cut to Universal Credit in October 2021, the five-week wait for Universal Credit, the two-child limit, the benefit cap, the sanctions system, and No Recourse to Public Funds status.
Despite the extraordinary efforts of countless volunteers and the generous donations made in communities across the UK, more people than ever are needing the help of a food bank simply to feed themselves and their families.
"Our numbers have risen dramatically in recent months as more and more families are struggling to meet basic needs," explains Barbara Drummond of Croftfoot Parish Church in Glasgow. "We are a small independent group that depends on donations from church members. They give generously but with the prices of produce increasing greatly, our funds are diminishing rapidly so that we will find it difficult to continue indefinitely to support those living in poverty."
And it's vital to point out that someone will usually turn to a food bank as a last resort. More often than not, people struggling to afford food won't seek out help at all. In England, Wales, and Northern Ireland, 4% percent of people reported using a food bank in the 12 months up to June 2021. However, more than three times this number of people were 'food insecure'—eating less or going without food, but not necessarily using a food bank. Unfortunately, the data on food bank use is just the tip of the iceberg.
An emergency food parcel can only ever act as a temporary 'sticking plaster' to the problem of poverty. Despite this, the provision of food aid has become a default response for people unable to afford food. We're becoming desensitized to the donation bins in supermarkets and the idea that, in the sixth richest economy in the world, people are turning to charity just to get by.
But despite the incredible input of food banks and their volunteers, emergency food support will never 'fight hunger'—without tackling the root causes of poverty driving food bank use, hunger can only ever be temporarily alleviated.
There's a terrible human cost to poverty and the normalization of charitable food aid. We recently published a report with Tom Pollard and the Joseph Rowntree Foundation on the devastating mental health impact of poverty.
The terrible human cost of poverty
Pushed to the Edge: Poverty, Food Banks and Mental Health found people were felt, "trapped, hopeless, and a burden on others" while the benefits system let them down. The impact of poverty and food insecurity on both people's physical and mental health is hugely damaging and inevitably impacts public finances through the NHS and other support. There's no doubt that the long-term cost to society of allowing health inequalities to grow unchecked will be enormous.
Apart from failing to address the root causes of hunger and widening health inequalities at speed, charitable food aid provision is also unsustainable given it relies on donations, unpredictable surplus food supplies and a voluntary work force.
This became increasingly clear as food banks struggled to support people last Autumn when national food supply issues impacted surplus food stocks. Recently, this has become more obvious than ever as former food bank donors have started to need to access support themselves and volunteers are no longer able to help due to having to attend to their own household bills or because they are simply exhausted.
So how can we turn this alarming pattern around?
People will often be able to identify or access advice and support to potentially improve their incomes at a food bank and many distribute IFAN's cash first referral leaflets. However, anyone struggling to afford food desperately needs this help and any income that it might lead to before they ever reach the doors of a food bank.
IFAN advocates for what we call a 'cash first' response to food insecurity. We've just published a letter from our members including over 550 independent food banks to the Prime Minister and the Chancellor and we're urging the Government to take immediate action to increase people's incomes.
We're asking that anyone who donates to or volunteers for a food bank also writes to their MP urging them to address the root causes of poverty. IFAN has provided a template to make this process easier.
Imagine the momentum for change we could build if every donated tin of food meant another letter to a local MP asking for sustainable, cash first solutions which would end the need for charitable food aid in the first place?
Many of our member food banks simply don't know how they will cope when yet more people need their help while their resources dwindle. There's never been a more critical moment to make these calls and to urge the Government to stop turning a blind eye to growing levels of poverty and destitution.
As a food bank volunteer in 2016, Sabine Goodwin became aware of the scarcity of information available on independent food banks working outside of the Trussell Trust network. She compiled a list of UK independent food banks that was first published in The Guardian in May 2017. Sabine has been running the Independent Food Aid Network (IFAN) since 2018 and leads the organization's research and advocacy work. In November 2019 she won the Caroline Walker Trust 30th Anniversary Media Campaigner of the Year Award and in January 2020 was listed as a Top 100 Changemaker for 2020 by The Big Issue.