'I was struggling to breathe': Lorraine Kelly praises airline staff after taking 'bad turn' mid-flight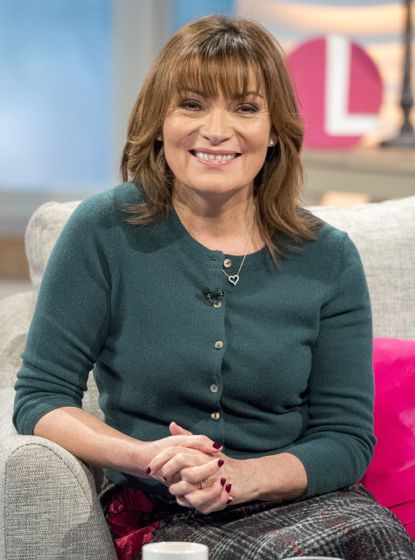 (Image credit: Ken McKay/ITV/REX/Shutterstock)
Lorraine Kelly has revealed an mid-flight scare she suffered, while praising the 'hard-working' crews of airplanes all over the world in her latest column for The Sunday Post.
Sympathising with the various tricky situations flight attendants find themselves in, she began, 'They have to deal with drunks, badly behaved brats, rowdy hen and stag parties and grumpy, stroppy adults who turn into tantrum-throwing toddlers when they step over the threshold of an aeroplane.
'In extreme cases they have to deal with every kind of medical emergency, and have even been known to have to deliver babies!'
She then went on to explain that she suffered her own medical issue on a plane, 'Once on a long-haul British Airways flight I had a bad turn due to a chest infection and was struggling to breathe.
'The crew were amazing. They lay me down in the galley and gave me oxygen, but much more importantly, were calm, caring and reassuring throughout.'
More: Lorraine's gorgeous Zara dress is under £20! (opens in new tab)
Continuing, she explained how the crew kept their professionalism at all times. 'They continued doing their jobs, serving food and drink and sorting out many passenger requests and worries with real style and aplomb.
'They completely defused a scary situation and I can't praise them highly enough.'
Lorraine also mentioned Sid Owen, the ex-Eastenders star who was removed from flight after getting into an altercation with another passenger.
'Apparently there was some sort of bust-up when the passenger in front of Sid reclined his seat, probably a little too far.
'A fellow passenger claimed Sid then stormed up the aisle and complained that he had been slapped.'
She explained that after, 'no solution could be reached", the two men had to be removed from the plane.'
Lorraine clearly sympathised with Sid to a certain extent, saying that it is "annoying" when someone reclines their seat on a plane with very little room.
However, she lamented that it had reached the stage of the two men being taken off the flight, saying that she wondered, 'if it would have all kicked off if they weren't on a plane but in a restaurant, cafe, cinema or a shop, or any other public space instead?
'I honestly think people check in their common sense at the same time they check in their luggage before they go through security and board their flight.'
We couldn't have said it better ourselves!
Mollie worked as a junior reporter across Women's Lifestyle brands, focusing on news, with a particular fascination with all things royal.
Mollie started out doing work experience across digital websites, before taking up a role as a digital intern, working mainly on woman&home, where she excelled at sourcing original stories for the woman&home audience, but also wrote up fashion, beauty, and general lifestyle features. She now works in marketing for a creative media recruitment company.
Mollie is a candle, film, and food fanatic, who also makes a mean margarita.