I tried the Ribble Urban AL e-bike and here's why I'm never going back
Ribble's Urban AL e-bike is designed to take you from town to trail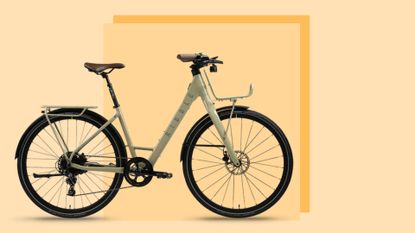 (Image credit: Ribble/Future)
I'm definitely no newcomer to cycling, having ridden around London's streets to keep fit and as a commuter for about six years now, but there were two things I just wouldn't take on willingly: hills and longer distances. That all changed when I took the new Ribble Urban AL e-bike, one of the several options in the brand's new range, out for a spin.
As a British heritage brand of 125 years, I was excited to see what Ribble's new commuting bike could do. Straight away, I noticed how stylish the bike was. While Ribble offers a complete bike fitting, with the option to customize your hand-built e-bike from a choice of 4 million colors and textures, the classic cream colorway is stylish and cool.
Built to take you further, with the touch of just one simple button on the handlebars while pedaling, you can zip along with ease from the center of town to the trails. Want to give yourself a bit more of a cardio workout? Another button takes the power assist down so you can pedal under your own steam. There's no need to compromise between a regular bike and an e-bike with this range, you can have the best of both worlds.
Also, I will never underestimate the value of comfort when riding again with the range of subtle features fitted into the bike to make your ride as smooth as possible. The incredibly comfortable saddle is supported by the dampening post for instance, which absorbs any lumps and bumps in the road so you don't feel a thing, and there's palm support on the handlebars, a unique feature that offers another level of comfort in every ride.
My daily commute to work was also made easier thanks to the Urban AL e's design, as Ribble has created one of the lightest e-bike ranges in the world. For those looking for the ultimate stealth e-bike, there's the Endurance SL e. Along with just looking like a regular pushbike, perfect for fitting in with a crowd, it weighs in at just 10.5kg when fully built with the integrated battery. That's incredibly light compared to the traditional e-bike which tends to be between 20 to 30kg. So whether you're having to lift your bike up the stairs, onto a car rack, or just through your front door, you can do it without worrying.
Perhaps I shouldn't have been too surprised about this though, considering that Ribble uses the same technology for their pro-team bikes across their whole range.
Whatever you're looking for when it comes to an e-bike, Ribble has it. Whether you want to make your daily commute that little bit easier or finally tick off a bike-packing trip from your bucket list, there's something in the range for everyone. Take the Hybrid, for instance, just one of the other types of bike in the range. That comes in three different models: the AL e, designed for a daily rundown commute or to the shops, the AL e Step Through, which makes for the perfect companion if you're looking to go green and ditch the car for the weekend, and the Trail AL e, ready to take you from the town to the trail before you know it. There's also a whole range of great non e-bikes for anyone wanting to travel with a regular pushbike.
With all the benefits that cycling has, from the health benefits of low-impact exercise on your joints and the advantages of fresh air on your mental health to the serious savings both on your purse and the environment post-purchase, Ribble's range of e-bikes is ideal for anyone keen to get into cycling as a beginner, looking to make a return, or a seasoned cyclist out for an easier ride.