Don't be put off by the anchovies in this recipe, they melt into the sauce and give it a real depth of flavour. The pasta is delicious served with a salad of thinly sliced fennel and rocket dressed with lemon juice and a little olive oil.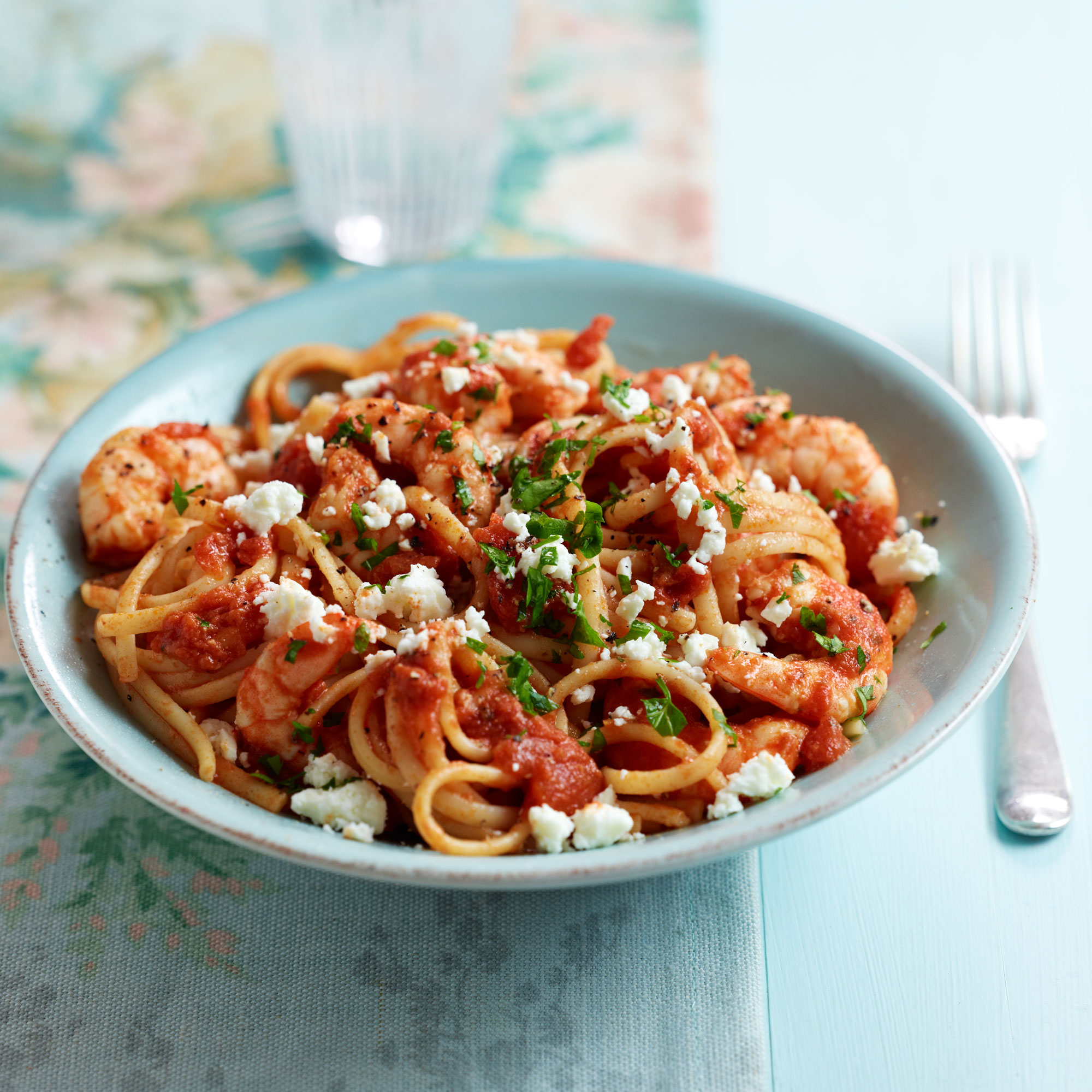 Ingredients
2 tbsp olive oil
6 anchovy fillets, chopped
2 garlic cloves, finely chopped
1 tsp dried oregano
Good pinch of chilli flakes
2 heaped tsp tomato puree
100ml white wine or vermouth
400g tin chopped tomatoes
350g (12oz) frozen raw, peeled jumbo prawns, defrosted
500g (1 lb 2oz) linguine
150g (5oz) feta cheese, crumbled
1 tbsp flat leaved parsley, chopped
Preparation
Heat the oil in a large saucepan, add the anchovies, garlic, oregano and chilli flakes and cook on a gentle heat for 5 minutes until soft. Add the tomato puree and white wine and cook for a further 5 minutes until the wine has reduced by half. Add the tomatoes, season and simmer for 20 minutes.

Bring a large saucepan of salted water to the boil and cook the pasta according to the packet instructions.

Meanwhile add the prawns to the tomato sauce and cook on a gentle heat for 5 minutes until they are pink and thoroughly cooked through.

Drain the pasta, add the tomato sauce, and stir well so that the pasta is thoroughly coated with the sauce. Divide between four warmed bowls. Scatter over the feta cheese and parsley and serve immediately.