The 11 best waterproof jackets for women—stay dry and stylish during a downpour
Our edit of the best waterproof jackets for women was created by our whole fashion team, who spent weeks testing dozens of coats from reputable brands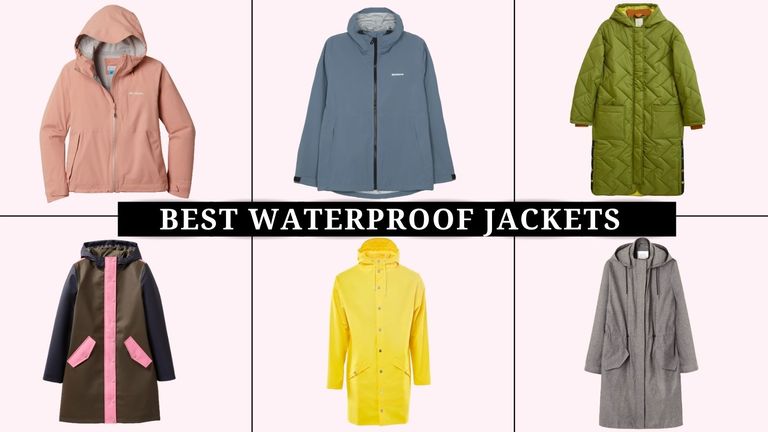 (Image credit: Future)
Whether you're heading for a hike in the countryside or having to endure a soggy commute, the best waterproof jackets for women are a wardrobe essential for many of us.
Not only will a waterproof jacket keep you dry in a deluge, but many styles are also designed to battle all the elements, from gusts of wind to an icy spell, making them a strong contender for one of the best winter coats too.
And when it comes to choosing the best waterproof jacket, it really is better to splash out—excuse the pun. Although most jackets will keep you dry and comfortable, the higher-end jackets are often guaranteed to withstand the most torrential of downpours.
Of course, style will come into play too, and there are plenty of options that are functional and fashionable so you can rock your waterproofs with everything from your best jeans and fancy dresses for evenings out, to your hiking boots on walking breaks.
Who we selected and tested the best waterproof jackets for women
If you're on the lookout for a waterproof jacket that delivers on style and substance then we've got you covered. These waterproof jackets have been tried and tested for several weeks by our fashion team during heavy downpours and sudden showers. Who said fashion was glamorous?
When we testing we considered:
Waterproofing technology (some designs will specify how much water the coat can withstand with a measurement in millimeters like "10,000mm." The higher this number, the more waterproof it is.)
Breathability (as some waterproof fabrics can feel stuffy and sweaty once wet)
Practical features (like mesh detailing, ventilation, and fabric weight)
Design (how did we look in it? And more importantly, how did we feel in it?)
The best waterproof jackets tried and tested by our fashion team
1. Mountain Warehouse Alaskan Womens 3 in 1 Jacket
Best overall waterproof jacket
Specifications
RRP: $249.99/£199.99
Sizes: US 0-24/ UK 4-24
Material: 100% Polyester
Reasons to buy
+Very waterproof+Versatile
Reasons to avoid
-Not as stylish
This 3-in-1 parka is one of the best parkas around this season and is a real game-changer. We loved the quilted lining that could be removed for warmer days, making it wearable all year round. It's 100% waterproof and the adjustable cuffs and hood ensured we were fully protected from rain and wind. We were surprised how easily it packed down too, considering its size. It's a good length for keeping almost all of you dry, covering your bum and some of your thigh (depending on your height). The only downside is it's not particularly fashion-forward, but if it's practicality you're looking for, then look no further.
2. Columbia Women's Ampli-Dry Waterproof Shell Jacket
Best for hiking
Specifications
RRP: $150/£135
Sizes: XS-XL
Main Material: 100% Nylon
Lining Material: 100% Polyester
Reasons to buy
+Lightweight+Good for exercise
Reasons to avoid
-Not overly warm
The underarm venting and lightweight fabric meant this one felt really breathable, managing to keep us bone dry without any stickiness. It's an excellent option for light exercise, as the stretchy fabric moves with your body. Fully seam-sealed and finished with a coated zipper closure, it protects against any sudden gusts of wind. We didn't find it overly warm, but there's plenty of room to layer knitwear underneath. Available in three colors: red, black, and pink. We love the lovely soft pink hue.
3. White Stuff Sloane Padded Coat
Best for everyday
Specifications
RRP: $218/£140
Sizes: US 2-18/UK 6-22
Main Material: 100% Polyamide
Lining Material: 100% Polyester
Trim Material: 98% Polyester 2% Elastane
Wadding Material: 100% Polyester
Reasons to buy
+Stylish+Very warm
Reasons to avoid
-Pockets aren't secure
The ideal waterproof for going about your day-to-day business, this is the perfect combination of practicality and style. The design feels considered, there are small details that enhance its use and also add a stylish twist to the functional design. For example, the roomy hood is easy to slip on and off while the ribbed inner cuffs help keep arms and sleeves dry. The longer length is also a plus, offering extra protection from the elements. The fit is oversized so you may want to size down. The padded design is light and comfortable to wear; it's also incredibly warm. The one drawback are the pockets. Although a decent size and fleece-lined, so perfect for keeping hands warm, they are uncovered and their contents do get wet in a downpour.
4. Merrell Women's Whisper Rain Jacket
Best for traveling
Specifications
RRP: $160/£190
Sizes: XS-XL
Reasons to buy
+Brim on hood+Deep pockets
Reasons to avoid
-Can come up big
This one packs down neatly into its own left-hand pocket, making it easy to pop in your bag as you dash out of the house. 100% waterproof, the fabric is lightweight and soft with a 4-way stretch for easy movement, making it a good choice for exercise (if you're updating your gym kit, you might also be interested in our guide to the best leggings). The pockets are pretty deep, allowing plenty of room for the essentials. We loved the slight peak on the hood which helped to keep our face dry too. It can come up quite large so you may want to downsize or stick to your usual size if you want to layer up underneath. Available in eight different colors, the burnt orange was our fave.
5. Boden Morris Waterproof Mac
Best stylish waterproof
Specifications
RRP: $198/£150
Sizes: US 2-22/ UK 6-22
Outer Material: 100% Polyethylene
Other Material: 100% Polyester
Reasons to buy
+Super stylish+Cheery colors and prints
Reasons to avoid
-Quite stiff fabric
If it's a stylish mac you're after, then this one is a front-runner. We love the quirky color combos and eye-catching prints for a modern take on the classic raincoat. It's waterproof too in all but the most torrential of downpours, and the zipper and snap closure helps give extra protection against wind and rain. The fabric is quite stiff making it better suited for a damp commute rather than a rainy hike. The light internal quilting is a nice touch for added comfort and warmth. To keep belongings dry, there is a handy internal pocket. This one is certainly the most stylish of the bunch, whilst still remaining practical too.
6. Jack Wolfskin JWP Shell W Rain Jacket
Best lightweight waterproof
Specifications
RRP: $129.95/£130
Sizes: XS-XXL
Material: 100% Polyester
Reasons to buy
+Packs down easily+Premium-feeling fabric
Reasons to avoid
-Not as warm
Crafted from recycled fabrics, this one has some serious eco-credentials as well as being an excellent light waterproof jacket. It packs neatly into its pocket, so you can stash it easily, making it a good choice for the daily commute and weekend adventures. The design is pretty basic with a simple hood and two hand pockets, but it still delivered on all the technicals, keeping us dry and comfortable during a downpour. We were impressed with the lightweight premium-feeling fabric which is breathable too. It won't keep you warm, but perfect if you want an extra waterproof layer on warmer days.
7. Finisterre The Rainbird Waterproof Jacket
Best all-rounder
Specifications
RRP: $149/£110
Sizes: US 4-12/ UK 8-16
Material: 100% Recycled Waterproof Fabric
Reasons to buy
+Super soft fabric+Exceptionally waterproof
Reasons to avoid
-Zip can be slightly tricky
This waterproof jacket has heaps of rave reviews from customers so we were excited to see what all the fuss was about and we were seriously impressed. The first thing we noticed was how unexpectedly soft the jacket was with no noisy rustle, making it a joy to wear. It has a 10,000mm Hydrostatic Head waterproof rating, making it exceptionally waterproof and it has taped seams throughout, guaranteed to keep the water out. It has a little stretch so a strong contender for exercising too. The matte finish and chic colors (we love the blue!) make it stylish enough for everyday. To top it off, it's crafted from recycled materials. Win-win.
8. Thought Clothing Rachael Waterproof Organic Cotton Chambray Coat
Best for sustainability
Specifications
RRP: $232/£170
Sizes: US 2-14/ UK 6-18
Main Material: 100% Organic Cotton
Lining and Padding Material: 100% Recycled Polyester
Reasons to buy
+Sustainable+Flattering fit
Reasons to avoid
-Not suitable for exercising
If you've yet to discover Thought Clothing, now's your chance. The Australian brand prides itself on considered and contemporary clothing, all designed with sustainability at the forefront, making it one of the best sustainable clothing brands. This chic waterproof mac is made from organic cotton chambray with a fluorocarbon-free water repellent finish—the most sustainable method. It was by far the most flattering coat with a drawstring elasticated waist to cinch you in. Details such as storm cuffs, taped seams and a double ended zip make this a stylish and practical choice.
9. The North Face Dryzzle FUTURELIGHT Jacket
Best breathable jacket
Specifications
RRP: $230/£200
Sizes: XS-XL
Material: Recycled Polyester
Reasons to buy
+Regulates body temperature+Uses recycled materials
Reasons to avoid
-Not very long
The North Face has really pulled it out of the bag with this iteration. Made using Futurelight technology, the waterproof fabric provides an excellent moisture barrier, whilst remaining breathable too, regulating body temperature, keeping us comfortable and sweat-free. Not only that, it's made from recycled materials to reduce landfill waste. Other plus points include a snap-locking storm flap to keep the wind out, secure zip pockets and adjustable hem and cuffs.
10. Berghaus Women's Hinderwick Waterproof Jacket
Best for warmth
Specifications
RRP: $266/£190
Sizes: US 4-16/ UK 8-20
Reasons to buy
+Warm and waterproof+Premium quality
Reasons to avoid
-Limited colors
Not all waterproofs keep you warm as well but this one manages to do both and we're very impressed. With a layer of insulation underneath a waterproof shell fabric, it kept us delightfully dry and toasty. We could hibernate for winter in this one! The hood is adjustable for a more snug fit and there are inner cuffs to keep the cold out, plus there are two zipped hand pockets for your essentials. It's more functional than fashionable, but if you're after a sensible coat then this is it. We just wish there were more colors.
11. Rains Long Jacket
Best for commuting
Specifications
RRP: $125/£95
Sizes: XXS-XL
Material : 64% Polyester, 36% Polyurethane
Reasons to buy
+Lots of colors+Longer length
Reasons to avoid
-Not suitable for exercising
Getting caught in the rain has never looked so chic, thanks to Danish brand Rains' achingly cool waterproof coat. The Long Jacket is an extended version of the ever-popular Urban Jacket and we love the longer length for extra coverage. It has the same unstructured silhouette for a fuss-free finish and the matte texture adds a more luxe appearance. It can withstand up to 4000 millimetres of water, so not as waterproof as some others but it still managed to hold during a heavy downpour. It's pretty lightweight and has an elegant appeal that's perfect for dashing about in town.