An easy guide to dressing for an apple body shape
Dressing for an apple body shape is easy once you know the basics.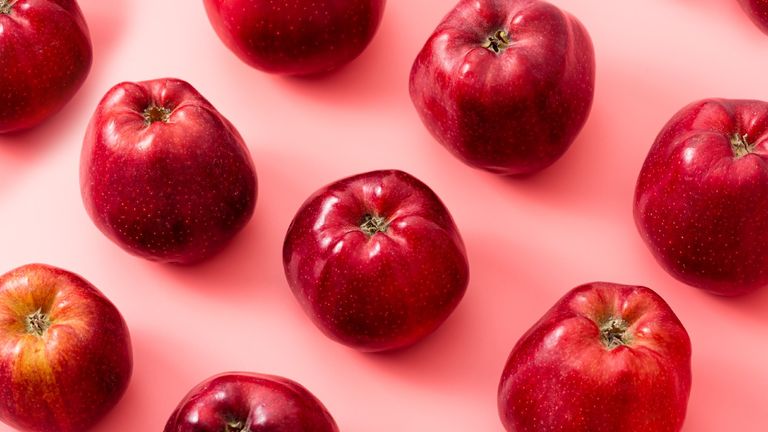 (Image credit: Getty)
Good news - dressing to flatter an apple body shape is surprisingly easy. It's all about making the most of your body type - starting with showing off those enviable arms and legs. 
Key features of an apple body shape 
Apple body shapes tend to carry most of their weight on the top half of their bodies, with an ample bust and a curved stomach. They have slender arms and legs and a relatively small bottom. So far, so simple. However, apples can be confused with an hourglass silhouette. 
"The apple and the hourglass are very similar," explains stylist Susie Hasler. "The main difference being that the hourglass has clear waist definition, and the apple tends to gain weight easily on their tummies. Apples also have a much smaller frame, so their shoulders and their hips tend to be narrower than those with an hourglass figure."
Remember - body shape isn't dictated by clothing size. You could be a size 6 apple, a size 26 apple, or somewhere in the middle. 
Which clothes look best on an apple body shape?
Enhance your apple body shape by dressing to accentuate your curvy bust, slim hips, and slender legs while minimizing your tummy. By highlighting your best bits, you'll naturally draw attention from the parts of your body you might feel less confident about. 
Open-collared, scoop and V-neck tops, tunics, and dresses will all work to create the illusion of an elongated torso, showcasing your bust at the same time. Drop-style earrings, draping scarves, vertical stripes, and handbags with long shoulder straps will make you look taller and leaner too. 
You're lucky enough not to have to worry about the dreaded bingo wings, so wear short-sleeve and sleeveless tops with confidence. The same goes for slightly shorter hemlines too. 
As for your slim hips and legs, emphasize them with tops and jackets that finish at the hipline. Anything longer, and you run the risk of making your legs appear shorter.
Key pieces to shop if you have an apple body shape
To get you started, here are some of the most flattering pieces of clothing to shop for an apple body shape:
V-neck tops
Longline tunics
Wrap dresses
Empire line dresses
Waterfall cardigans
Skinny jeans
Bias-cut skirts 
Mid-rise, slim leg trousers
It pays to invest in the best shapewear, too - smoothing any lumps and bumps for a more streamlined silhouette. 
What should apple shapes not wear?
As an apple body shape, there's nothing that you strictly shouldn't wear. If it makes you look and feel fabulous - buy it! That being said, there are a couple of styling missteps that crop up time and time again.
Firstly, avoid the temptation to buy bigger. Sizing up might mean the fabric breezes over your stomach, but it'll make the rest of your body look larger in the process. "Instead, try to go for a heavier and natural fabric that doesn't cling too much," advises aesthetics specialist Dr. Galyna Selezneva.
If you choose the right cut, you shouldn't need to size up. Clothes with plenty of movement, like bias-cut skirts and empire-line tops, are your friends here. As are softly gathered wrap-style midi dresses and flowing maxi dresses. They all suit curvier tummies, while semi-fitted waterfall-style coats and jackets are particularly flattering. 
Secondly, don't try to create a waist with a belt or detailing. It'll not only serve to make your stomach look larger but be uncomfortable to wear too. Draw attention to the narrowest parts of your figure instead, with a statement sleeve or jazzy trouser.