Monica Lewisnky wants Beyoncé to remove her name from an old song, here's why...
Monica Lewinsky's request follows Beyoncé's decision to get rid of an ableist word from a track on her new album Renaissance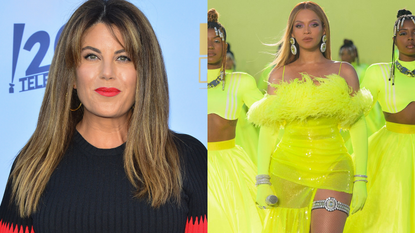 (Image credit: Jerod Harris / Stringer and Handout / Handout)
Just a few days after its much-anticipated release, Beyoncé's latest album, Renaissance, was criticized for featuring a term that many deemed to be offensive and ableist. Specifically, the song Heated, track number 11 on the album.
Beyoncé, who recently made a rare statement to thank fans after album leak, agreed to change the lyric but, now, the Grammy-winning artist is yet again under scrutiny for her choice of words, this time in connection to the song Partition from her 2013 album Beyoncé.
Activist Monica Lewinsky, whom President Bill Clinton admitted to having an affair with while serving his White House term in 1995 and 1996, tweeted her concerns over the track earlier this week.
"uhmm, while we're at it... #Partition," Monica wrote on Twitter while sharing a link to a story regarding Beyonce's decision to remove the ableist term from one of her newest songs.
In Partition, Beyoncé sings about a man that "popped all my buttons, and he ripped my blouse / He Monica Lewinsky-ed all on my gown." The pretty on-the-nose reference hasn't gone unnoticed in the past decade, a clear call out to the much-talked-about affair between the President and the then 21-year-old Lewinsky.
Monica's followers were quick to point out that, in her Twitter profile bio, the personality refers to herself as a "rap song muse," a fact that may indicate her being okay with the reference.
This also wasn't Monica's first time addressing the track. In fact, back in 2014, she wrote a first-person essay about the affair on Vanity Fair (opens in new tab), in which she also discussed the song Partition. "Thanks, Beyoncé, but if we're verbin, I think you meant 'Bill Clinton'd all on my gown,' not 'Monica Lewinsky'd.'"
When faced with commentary about the seeming shift in her attitude towards the reference, Monica, who recently opened up about the Depp v Heard 'courtroom porn,' replied, "learning to laugh about things which hurt or humiliated me is how I survived."
For what it's worth, Monica also admitted that she never directly reached out to Beyoncé to ask her to make the change.
"i did mention it in the first vanity fair article i wrote in 2014… which was the first public thing i'd done in 10 years," Monica tweeted to a follower who asked her whether she had reached out to the artist about the matter before this latest lyrics-related controversy. "but you make an interesting/fair point..."
Beyoncé has never addressed the issue, at least not in public, which leads us to believe that she has no intention of changing the lyrics of an almost decade-old song.
As they say: you win some, you lose some.
Anna Rahmanan is a New York-based writer and editor who covers culture, entertainment, food, fashion and travel news. Anna's words have appeared on Time Out New York, the Huffington Post, Fortune, Forbes, Us Weekly, Bon Appetit and Brooklyn Magazine, among other outlets.