Best books 2021—the reads to look out for this year
It's time to add to that To-Be-Read list—here are the best books 2021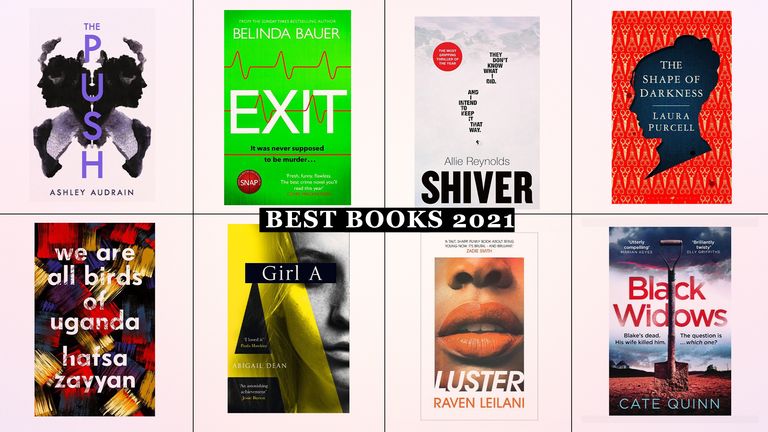 (Image credit: Future)
In another year that is likely to see us reading more than ever, woman&home's Books Editor, Zoe West, chooses the best books in 2021 that you should be adding to your literary list.
From supernatural murder mysteries to poignant page-turners, sweeping historical fiction books, and highly anticipated best thriller books, we predict another stellar year for books.
Some of these you may have to wait for, but we assure you they'll be worth it. So whether you're looking for a gripping book club book, a swashbuckling best romance book or tantalising, sex stories, keep checking back. We'll be adding to this list with more exciting and hotly tipped reads for the whole year ahead. Grab your eReader and happy reading…
Best books 2021
The Push by Ashley Audrain
The arrival of baby Violet was supposed to be the happiest day of Blythe's life – the chance to become the kind of mother she'd like to be, not the kind of mother she had grown up with. But can you ever really break the cycle? Motherhood may be harder than Blythe thought, but as she holds Violet in her arms, she knows something isn't right. In fact, something feels very wrong. This nuanced, complex, psychological book will make you question the notion of nature vs nurture, whether a mother's love is enough and the preconceived ideas we have about being a parent. It's disturbing, painful and brilliant, holding a mirror up to society, and will render you speechless.
---
Exit by Belinda Bauer
It's a crime novel, but not as we know it. When Felix Pink lets himself into a house to keep a dying man company in his last moments, little does he know that 15 minutes later he'll be on the run from the police. An offbeat, comic crime with such endearing characters – this is a truly unique story we know you're going to love!
---
Shiver by Allie Reynolds
Buckle up – this chilling thriller will have you feeling like you're hurtling down a black run. Milla, a former snowboarder, is invited to a reunion in the French Alps. The friends haven't seen each other for 10 years since the disappearance of the beautiful Saskia. With a broken ski lift, a blizzard setting in and a group turning on each other, secrets are about to emerge – and it isn't pretty. An unforgettable debut.
---
The Shape of Darkness by Laura Purcell
Silhouette artist Agnes is struggling to make ends meet in Victorian Bath. But someone is murdering her clients shortly after they've sat for her. Seeking help from a child medium, Pearl, to identify the killer, Agnes embarks on an eerie, gothic trail, leading to dark and hidden corners of people's lives. With atmospheric seances, a cast of quirky characters and a hint of the supernatural, this will have you guessing until the end.
---
We Are All Birds of Uganda by Hafsa Zayyan
This moving book follows two families whose fates are linked. In modern London, lawyer Sameer experiences casual racism as he's on the cusp of a big break – a theme that's superbly developed. Switching to 1960s Uganda, businessman Hasan fails to anticipate the impact of political upheavals. A stirring exploration of love and displacement.
---
Girl A by Abigail Dean
With film rights already snapped up and praise pouring in for this exciting new author, Girl A is one of the most highly anticipated books of the year. It's a story about Lex, a child who escaped a 'house of horrors', freeing her six siblings. When her mother dies in prison it's time to face up to the past she has run away from and come to terms with what happened. Despite the subject matter, this is a hopeful book – definitely one to look out for.
---
Luster by Raven Leilani
Razor-sharp and darkly comic, Raven Leilani's debut novel Luster follows the chaotic life of Edie, a young black artist struggling to make ends meet in New York. Her unlikely affair with a middle-aged white man comes to a head when she moves into his suburban family home, navigating his uneasily open marriage and befriending his adopted black daughter. Brimming with sly wit, unbridled desire, and quiet desperation, Luster is an utterly irresistible read.
---
Black Widows by Cate Quinn
In nature, the female black widow spider is notorious for turning on the male after mating, and may even kill and eat him for good measure. While these women don't go quite that far, it's clear that each of the three polygamous wives has excellent reasons for bashing their shared husband to death with an ax. But which one was responsible for Blake's grisly death and dismemberment?
 Set in a grim homestead in the arid Utah desert, the story unravels the realities of life for women in the branch of Mormonism that accepts polygamy. Desperate poverty, isolation, and truly awful food are among their many trials. There are some very disturbing accounts of life for young girls and women within a cult, and the lifelong trauma that accompanies anyone who has been immersed in that world from childhood onwards. Black Widows is also a riveting murder plot, and delicate analysis of the relationship between 'sister' wives who have to live together, despite all the attendant jealousies and privations. An amazing achievement.
---
The One Hundred Years of Lenni and Margot by Marianne Cronin
You may need a hanky to hand for this exquisite story of friendship between 17-year-old Leni and 83-year-old Margot. Leni is living on the terminal ward and has dealt with the fact she is going to die, only she still feels very much alive – even more so when she meets Margot at an art class. They bond instantly and realize that between them they have lived an astonishing and eventful 100 years. To celebrate, they paint their life stories, and their story is the most beautifully written love letter to friendship, managing to make you laugh and cry uncontrollably. It's quite simply brilliant!
---
Ruthless Women by Melanie Blake
Who better to write about the ruthless women on the set of a TV program than celebrity agent and queen of the binge-read Melanie Blake? Her new page-turner sees us on the location of the world's most popular soap opera, Falcon Bay, but ratings are falling and new network owner, Madeline Kane, will do anything to get the show back to where it should be. Only there are also other ambitious women who are trying to save the show and stay on top – and they'll do anything to make that happen. With not one but two shock twists at the end, this seductive thriller will keep you on your toes.
---
The Lamplighters by Emma Stonex
In this tale set in Cornwall in the winter of 1972, three lighthouse keepers seemingly vanish from a locked-on-the inside tower 15 miles out to sea during a storm. But, what really happened? Inspired by a true story, this beautifully written, gripping, and haunting novel alternates between the narratives of the three men in the lighthouse tower and those of their wives and girlfriends left behind, as a novelist sets out to uncover the truth. This genre-defying mystery has it all, including an eerily accurate insight into relationships and marriage – and a haunting look at love, loss, and guilt. We loved it.
---
While Paris Slept by Ruth Druart
Historical fiction fans rejoice. A new voice has entered the arena and we think she's one to watch. When Jean-Luc flees Nazi-occupied Paris he is not alone. Working as a railway worker, he is taken by surprise when a young woman train-bound for Auschwitz entrusts him with her baby. Now living in Santa Cruz, California, in 1953 with his new family he thinks he has escaped the horrors of his past – until the past comes knocking at his door. A heart-rending story told from the perspectives of two families living very different lives, it is also one of hope amid tragedy. Perfectly paced and plotted, and evocatively written.
---
Watch Her Fall by Erin Kelly
Set in the cut-throat world of ballet, Kelly shows just how far dancers will go to get the part they've always dreamed of. Ava Kirilova has worked her whole life under the watchful eye of her father, director of the London Russian Ballet, to finally take her role as the poster girl for Swan Lake. But, there's someone ready to watch her fall... A complex plot where no one is as they seem – and an ending that will leave you breathless for a good few minutes. One to watch!
---
The Best Things by Mel Giedroyc
As one would expect from the popular comedian, Mel's first work of fiction is brimming with hilarious scenes and one-liners. But it is also a redemptive book, and one of hope. We meet its protagonist, Sally Parker, at a time in her life when she's wealthy – and because of that has pressed the snooze button on her life. But what happens to an ordinary woman, wife, and mum when the bottom falls out? A warm, honest and humorous look at a family and what really matters in life.
---
Until Next Weekend by Rachel Marks
On the back of her fantastic debut, Saturdays At Noon comes another compelling book from Marks. Primary school teacher Noah has made mistakes in his life and continues to do so, but his biggest regret is the day his wife Kate walked out with their two boys, who he now sees only at weekends. He decides he will do whatever it takes to get her and his boys back. The only problem being, she is due to get married in six weeks. As with Marks' last novel, this emotional story has such sad moments, but her lightness of touch – and authentic dialogue – propel you forward, as will the characters. Already eagerly awaiting her next book, we're pretty sure Rachel Marks is a name to watch.
---
Love In Five Acts by Daniela Krien
A bestseller in Germany, this exquisite portrait of five middle-class women's lives is utterly captivating. Each chapter is devoted to one woman – her hopes, love, and losses – and each life overlaps with another. Paula finds love after losing her child and eco-fanatic husband. Judith trawls online for a partner, while Brida struggles to combine writing and family life. Sisters Malika and Jorinda seek happiness where they can against a backdrop of post-unification divisions and their father's untoward behavior. A beautifully written masterclass in human frailty.
---
The Wolf Den by Elodie Harper
There's nothing like being transported to a different place and time and wholeheartedly believing you are there - here we are on the dusty, noisy streets of Pompeii in this no-holds-barred novel of what life must have been like for the 'she-wolves' of this great ancient city. Amara was once a beloved daughter of a doctor. Now she is a slave in Pompeii's most famous brothel, Lupanar. Sharp and clever, she has become used to hiding her talents but determined to escape she never stops looking for opportunities for a way out. Despite its themes, this novel is never gratuitously harsh but is instead a compelling story of survival, friendship, and courage. Amara and her fellow she-wolves are vividly drawn in a fascinating depiction of women at the time. Utterly spellbinding.
---
Circus of Wonders by Elizabeth Macneal
From the writer of the bestselling The Doll Factory, this is a story about betrayal, power, and fame. It's 1866, and a young woman called Nell sells violets to make a living. But Nell is different from other girls – her body is covered in birthmarks. When a traveling circus comes to town, her father sees an opportunity to make some money and he sells his daughter to the circus owner, Jasper Jupiter. Nell is to become a sideshow attraction – the leopard girl. However, Nell's fortunes change when she finds a home among the circus oddities. Fans of dark, gothic fiction will love this spellbinding journey into a world filled with jealousy, love, and obsession.
• Circus of Wonders by Elizabeth Macneal from Amazon for US$27
---
Malibu Rising by Taylor Jenkins Reid
Plunge into this perfect beach read for full-on glamour and intrigue. Supermodel Nina Riva is holding her annual end-of-summer party in Malibu. It's 1984, and everyone who is anyone wants to mingle with Nina and her three siblings – her brothers Jay and Hud, and younger sister Kit. But, by midnight, as the alcohol flows and the party spirals out of control, secrets come bubbling to the surface. By the next morning, the house has burnt to the ground. An utterly compelling read filled with believable characters that tear away the starry veneer of the filthy rich to reveal raw human conflict and emotion.
• Malibu Rising by Taylor Jenkins Reid from Amazon for US$21
---
The Husbands by Chandler Baker
Every once in a while there's a book that stays with you - whether the subject resonates, makes you think, or quite simply shocks. Husbands does all that, and more. When successful attorney, Nora's, house-hunting takes her to a small neighborhood where women aren't the only ones making sacrifices in life - one where men remember birthdays and do the ironing - her eyes are opened. But, when she's pulled in to help solve a wrongful death case, she realizes just what it might take in order to 'have it all'. From the author of the bestselling, The Whisper Network comes this brilliantly written novel that will truly make women everywhere feel seen.
• The Husbands by Chandler Baker from Amazon for US$17.63
---
Mrs England by Stacey Halls
We loved Stacey Halls' wonderful debut novel The Familiars, and this, her third, doesn't disappoint either. Filled with brooding menace, the story takes us to isolated Hardcastle House in West Yorkshire. It's 1904, and newly graduated nurse Ruby May has taken a position looking after the children of a wealthy couple – Charles and Lilian England. But something is amiss with the beautiful and mysterious Mrs England and soon Ruby is forced to confront her own demons. This enthralling read is a powerful examination of an Edwardian marriage, and the underlying currents of control, courage, and power.
---
The Missing Sister by Lucinda Riley
Lucinda Riley's thousands of fans worldwide have been waiting for this one – the latest installment of her bestselling series, The Seven Sisters. The series, inspired by the mythology of the Pleiades, the Seven Sisters star cluster, tells of the loves and devastating losses of adopted sisters. In this, the seventh book, we are taken on a thrilling quest across the globe – crossing continents and oceans and revealing the sisters' hidden secrets along the way. Once again, Lucinda Riley has showcased her incredible talent for storytelling with this addition to her sweeping epic saga.
---
A Slow Fire Burning by Paula Hawkins
It's a while to wait yet, but we're already pretty excited about Paula Hawkins' new novel. The author of the bestselling phenomenon The Girl on the Train has come up with another nail-biting thriller. A brutal murder brings three women into conflict – and just because one of them is seen leaving the scene covered in blood doesn't mean she is the killer. Or does it? With a plot that hits the ground running, this will leave you breathless as you take in the twists and turns. It's everything you'd expect, and more, from an expert at white-knuckle-ride storytelling.
---