How to use a diffuser on curly hair
Drying curly hair needn't be complicated – here's how to use a diffuser to achieve bouncy, beautiful curls at home, according to the experts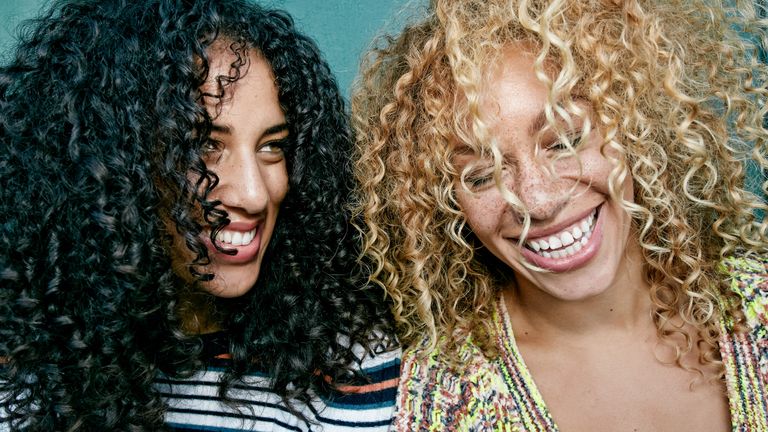 (Image credit: Getty images)
Whether you already own a diffuser, or are on the lookout for the best hair dryer and diffuser for curly hair, it's undeniable that diffusers have countless benefits for curly and textured hair types. If you're after defined, luscious curls but not sure where to start, read on to discover the secret techniques that will keep your curl pattern intact and deliver volume and shine, with next to no effort. You're welcome! 
1. Don't towel dry 
Celebrity hair stylist, curly hair specialist and founder of her very own afro hair texture cutting course, Jennie Roberts knows a thing or two about the dos and don'ts of using a diffuser. It turns out that the fundamentals begin before you've even left the shower:
"It might be tempting to towel dry hair if your curls are dripping after you've washed them, but resist the urge. Towel drying will pull your gorgeous natural curls apart, plus hair needs to be very wet to really mould your curls. Gently squeeze excess moisture out of your hair in the shower instead."
It's when your hair is saturated that you can truly capture the curl,  according to Jennie. 
2. Prep like a boss 
The right products applied to wet hair will give curls weight and guts. Without products, Jennie explains, curls are liable to "dry out or get blown out". The perfect curl-capturing lotion or potion depends on your curl type and hair texture – Jennie prescribes a few curl enhancers to consider.
"You need to 'cast' the curls before diffusing for them to really last. Curl types 2 and 3 (wavy and curly) might need a spritz of leave-in conditioner topped with a mousse or a glaze – I love Paul Mitchell Super Sculpt.
"Curl types 4 (coily hair) will require a heavier product, such as a coiling custard or soufflé. Afro textured curls especially need more hydration as well as glossy topcoat – I especially love Mielle Organics Twisting Soufflé for creating both hold and nourishment."
Director hair stylist at Billi Currie and Evo ambassador Tom Smith also advocates nailing your moisture-to-hold ratio, depending on your hair's needs:
"If your hair has a very strong and resilient curl, a product with a higher moisture content but lighter styling hold will achieve the best results (Tom rates Evo Liquid Rollers Curl Balm). If curls stretch out more easily, you need more hold from the start – apply curl cream to soaking wet curls using your fingers or a very wide comb." 
Finally, before reaching for the diffuser, Jennie advocates a liberal spritz of heat protection spray to minimise heat damage and keep curls healthy and happy in the long run.
3. The bigger, the better
Size is Jennie's criteria for choosing a curl-maximising diffuser. Here's why she recommends going XL:
"The best diffusers have a wide dish in which to dry hair quickly and evenly without you having to touch, move or manipulate curls with your hands. Look for lots of air holes within the diffuser bowl and bear in mind that your diffuser is only as good as the hair dryer it's attached to – look for variable speeds and heat settings to achieve the best results."
Jennie's favourite combo is a Parlux hair dryer teamed with a DIVA diffuser. Read our full Parlux Alyon hair dryer review here.
Jennie favours the DIVA XXL Pro Diffuser owing to the generously sized dish and the fact that it's both ergonomic and universal – it fits most hairdryer models. 
4. Tip your hair – don't touch it
Jennie has a "don't touch" policy when diffusing – here's why:
"Scrunching hair with your hands as you dry, or moving it around too much, will destroy the integrity of the curl. Diffuse your hair with as little movement as possible, tipping hair into the diffuser bowl as you go. Gently work your way around your head until each section of your hair is dry. Allowing hair to fall into the diffuser, rather than forcing it, will help you to retain your lovely curl texture." 
Your heat and speed settings of choice depend on your curl type – Jennie explains that afro hair benefits from a lower heat setting, while Tom states that curl types 2 to 3 spring to attention on a low speed but medium-to-high heat setting. 
5. Twist and shake 
Hair high and dry? Now's the time for some handiwork, according to Michelle:
"Once you've finished diffusing the hair, you can softly scrunch and break it up with your fingers to create more volume."
Jennie notes that "a head massage is ideal for zhuzhing roots and bigging up fullness". If your hair is especially heavy, she has another styling trick up her sleeve:
"Lift hair up gently with an afro pick to allow air to get into hair and create body without disturbing your natural curl."
Tom suggests a quick shake and scrunch of hair post-diffusing to break up any crispiness and identify stubborn damp patches that might need another once over with the diffuser. From there, you're done. If you have afro hair that feels or looks dry, a mist of oil will add final stage shine and help to lock in moisture (try Charlotte Mensah Oil Finishing Mist).
That's your lot – you're officially a curl boss.