Congratulations are in order for Princess Eugenie and her long-time boyfriend Jack Brooksbank, who are engaged.
Buckingham Palace announced the news on Monday morning, revealing that the couple got engaged in Nicaragua earlier this month.
The official announcement read, "The Duke and Duchess of York are delighted to announce the engagement of Princess Eugenie to Mr. Jack Brooksbank.
"Her Royal Highness and Mr. Brooksbank became engaged in Nicaragua earlier this month."
The posts were accompanied on Twitter by a loved-up picture of the bride-to-be and her fiancé.
The Duke of York has confirmed that the date of the wedding will be 12th October 2018.
And now, Eugenie's mother, Sarah Ferguson, Duchess of York, has shared an emotional message over Twitter to wish her daughter congratulations.
The official royal family twitter account have also shared these images of the happy couple.
Eugenie wore a black flowery dress for the occasion, while Jack was equally as smart in a suit and red tie. The pictures also show off her engagement ring, which contains a padparadscha sapphire surrounded by diamonds.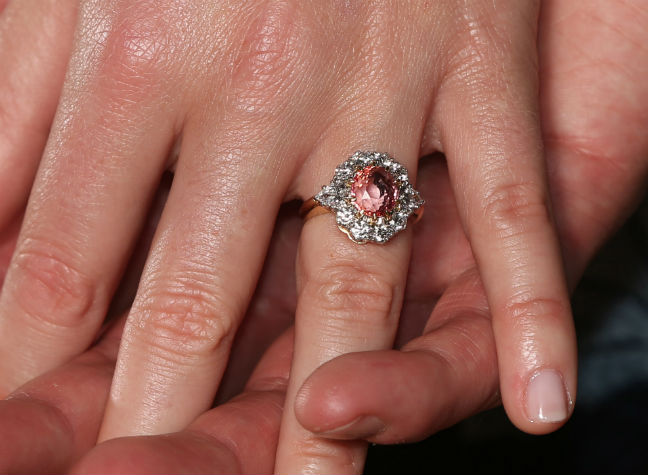 Prince Andrew's former wife shared a sweet image of the couple, alongside an official statement.
She wrote, "A total embrace of goodness and joy. We love Jack and I am so excited to have a son, a brother, and a best friend. Eugenie is one of the finest people I know and so together it will be pure harmony.
Sarah shared further messages following the exciting news, featuring adorable never-before-seen images of the couple.
She captioned one picture, "They float with laughter and love .. although a boat helps! #engagement #eugieandjack @TheDukeOfYork @yorkiebea"
The Duchess captioned another image, "I always say that the river flows well to it's destiny because of the guidance of a solid rock #engagement #eugieandjack @TheDukeOfYork @TheDukeOfYork"
Eugenie and Jack will say 'I do' in the same venue as Harry and Meghan – St George's Chapel in Windsor.
The chapel has played host to many of the most important Royal events, most notably Prince Charles and Camilla's wedding in 2005.
It is also the burial place of monarchs including Charles I and Henry VIII, as well as the Queen Mother.
With such a rich and important royal history, it's no wonder that both happy couples were keen to tie the knot in the grand venue.
Eugenie met Jack – the manager of swanky London nightclub Mahiki – whilst skiing in the Swiss resort of Verbier. The pair have dated for over six years, managing to withstand the pressure of a long-distance relationship when Eugenie moved to New York a few years ago.
Speaking on Monday morning, Jack's parents, George and Nicola Brooksbank, said: "We could not be more delighted with the news of the engagement."
They added that they were "completely over the moon" and "very excited" for the couple.
Hear, hear!