Be Inspired By Flower Power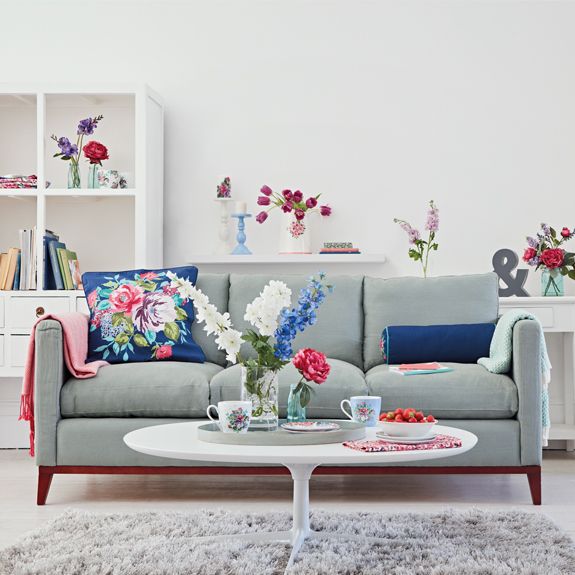 This is a woman&home advertorial
Bring your home alive with floral prints and create a fresh, new look with a distinctly vintage vibe.
The collection takes its inspiration from Britain's traditional flower markets that still flourish in London.
Bursting with vibrant colours and textures, the range mixes the best of old and new, with vivid floral prints featuring everything from dramatic full-blown roses in watercolour-style profusion, to ditsy prints with their own nostalgic appeal.
The palette is pure British summertime, with a rich mix of soft pinks and subtle blues on cream or white backgrounds – a blend to complement most decors.
Everyone loves flowers, so it's a style that will work its magic in contemporary and period homes alike. In the sitting room, scatter bright floral cushions with contrasting trim for an instant style refresher. Add bright visual highlights with faux flowers in retro bottles, or fill a flower-print vase with the real thing! A retro knitted throw brings extra interest to your sofa or armchair.
Little touches around the house will all make a difference. Guests can put their glasses on printed coasters – and hang up their coats on numbered hooks in toning colours.
In the bedroom, floral prints feature on bedding, with subtle piping detail.
Your kitchen is the perfect place for floral plates, and tableware, like a pretty enamel jug. When it's time for tea, serve it in delicately patterned mugs and bring out a floral two-tier cake stand with cake forks and plates, to make it a really special occasion.
Warm summer nights are an ideal opportunity to entertain outdoors or just enjoy an al fresco dinner, and the Flower Market collection includes gorgeous candles to provide scent and atmosphere.
It's the freshest, prettiest collection – and we're blooming loving it…
* The new Flower Market homeware range is available at selected Sainsbury's stores from 3 July. To see more of the new collection and to find your nearest store, visit sainsburyshome.co.uk.