All the books to read before they come to our screens this year
Books that you need to get your hands on ASAP before the big 2021 book adaptations come to screens...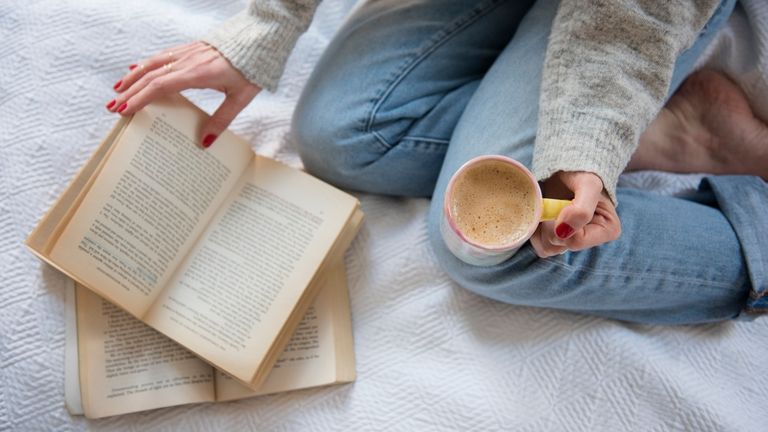 (Image credit: Jamie Grill/ Getty Images)
Do you love settling down with your best eReader and getting lost in an enthralling novel? 
Do you love being that person who watches a film and confidently says 'yeah the film is good, but the book is much better'? Well look no further, the new year brings a host of new film and TV show 2021 adaptations that are based on the best books of the last decade.
2021 book-to-film adaptations to add to your reading list
So here is a rundown of all of the book adaptations that are coming to our screens in 2021...
Conversations with Friends by Sally Rooney
Sally Rooney's novel Normal People was a huge hit and the TV adaptation that came out this year was spectacular, so the expectations for this adaptation of Rooney's novel Conversations with Friends are high. Set in Dublin, the plot follows best friends and poets Francis and Bobbi who enter a tangled relationship with an older married couple.
Nine perfect strangers by Liane Moriarty
Starring Nicole Kidman, Melissa McCarthy, Luke Evans in main roles, this adaptation on Liane Moriarty's Nine Perfect Strangers will be adapted into a miniseries for Hulu. 
From the writer of Big Little Lies, the plot of this series follows nine strangers who meet at a luxury wellness resort that hides a dark secret agenda.
The Dig by John Preston
Starring Carey Mulligan (The Great Gatsby), Ralph Fiennes (The Grand Budapest Hotel), and Lily James (Mamma Mia: Here we go again) this film is an adaptation of John Preston's The Dig. The plot focuses on the excavation of the Sutton Hoo ship from the dark ages. 
The White Tiger by Aravind Adiga
Starring Priyanka Chopra and Rajkummar Rao, this adaptation is based on the book of the same name that won the man booker prize in 200. This story follows the narrator's turbulent life path, growing up in impoverished rural India and ultimately becoming a successful businessman and entrepreneur.
Cherry by Nico Walker
Starring Tom Holland, this film adaptation of Walker's novel Cherry focuses on an army medic whose drug addiction leads to a life of crime. The film is directed by the Russo brothers who were celebrated for their directing of Avengers: Endgame and Avengers: Infinity War.
Cruella - based on The Hundred and One Dalmatians by Dodie Smith
Starring Emma Thompson (Love, Actually) and Emma Stone (La La Land), this film adaptation of Dodie Smith's novel focuses on the attempted puppy killer villain of the story: Cruella De Vil. This adaptation focuses on her early life, with Emma Stone playing the eponymous character Cruella. 
Nightmare Alley by William Lindsay Gresham
Starring Bradley Cooper (A Star is Born) and Cate Blanchett (Ocean's 8) this film directed by Guillermo Del Toro (The Shape of Water) is an adaptation of the American psychological thriller, Nightmare Alley by William Lindsay Gresham. 
According to IMDD, 'An ambitious young carny with a talent for manipulating people with a few well-chosen words hooks up with a female psychiatrist who is even more dangerous than he is.'
Mothering Sunday by Graham Swift
Olivia Coleman (The Favourite), Colin Firth (Briget Jones' Baby) and Josh O'Connor (The Crown) star in this film adaptation of Swift's period drama. This film, set during WW1 focuses on a forbidden love story between an orphan maid Jane and her secret lover, a wealthy man engaged to another woman.
The Pursuit of Love by Nancy Mitford 
Starring Andrew Scott (Fleabag) and Lily James (Rebecca) this TV adaptation - The Pursuit of Love - is based on the love story between Lord Merin (Scott) and Linda Radlett (James). The show was commissioned by the BBC and set to air at some point in 2021, the filming has yet to finish due to the COVID-19 outbreak interrupting filming. 
Where the Crawdads Sing by Delia Owens
This adaptation of Delia Owen's Where the Crawdads Sing stars Normal People's Daisy Edgar Jones in the lead role as Kya Clark. This mystery romance was picked up by Reece Witherspoon's production company Hello Sunshine. 
In light of the success of Witherspoon's last adaptation Little Fires Everywhere, expectations are set high for this feature film.