12 Affordable Shoes That Will Put A Spring In Your Step!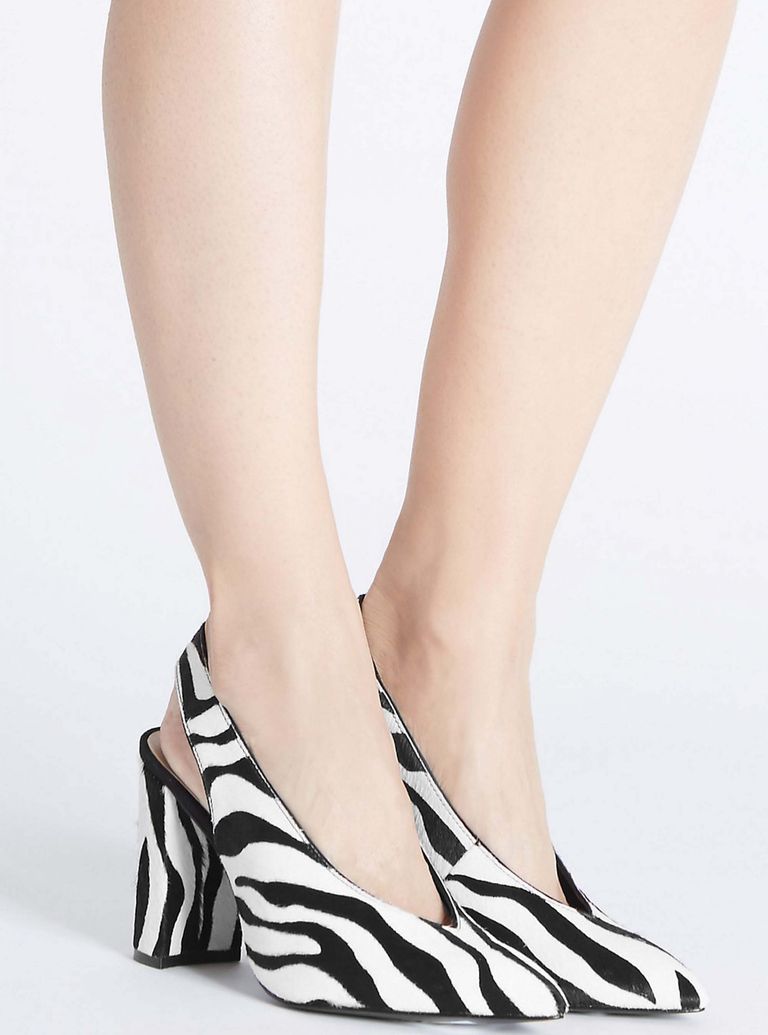 The weather is certainly changeable, but there's no denying Spring has officially sprung. What better excuse then, to spruce up your wardrobe with a pair of new shoes. This season's styles range from graphic seventies prints seen on the likes of Prada's catwalks, to sandals so gloriously floral that butterflies will flock to you. Metallics and embellishments are still on trend and heels range from flatform to kitten.
Stan Smiths Power Red Floral Canvas Trainers, Adidas
The classic 70s shape of Adidas's Stan Smith trainers never seems to go out of fashion. This Spring's re-work sees floral fabrics used to great effect. Wear with denim or a floaty skirt.
BUY NOW from Selfridges for £69.99
Rose gold leather sandals, Palmairas
Simple, styish and reminiscent of sun-soaked holidays, these sandals are made to a traditional Menorcan design (avarcas) on the island of Menorca and have been granted an authentic seal of approval. The leather moulds to your feet, resulting in a supremely comfortable shoe.
BUY NOW from Palmaira SandalsDe Menorca for £48
Norah floral slipper shoe, Boden
Like the very essence of springtime distilled into a shoe, Boden have created the ultimate design. A slip-on style that takes you easily from day-time to dinner, it's comfortable and cool and very very stylish. Wear with whatever makes you happy!
All-star Pink Leather Chuck Taylors, Converse
So pretty, so pink! The classic Chuck Taylor gets a fabulous makeover for this season in pink leather, or 'Orchid', as Converse have named it. Sigh. It's a shoe of great beauty.
BUY NOW from Office Shoes, £64.99
Black flatform espadrilles, Zara
Adds height without sacrificing stability. The flatform shoe is still going strong and this classic black style adds a touch of ballerina elegance with its velvet ankle ribbons.
Embellished mid-heels, Zara
Tapping into the trend for embellishment as seen on Balmain's catwalk, these mid-heeled Zara shoes have a wonderful diamante pineapple to add a touch of sparkle to your wardrobe.
Blue Suede Boots, Finery
Blue skies, blue waters, blue suede boots: all things that speak of spring. Finery's boots, in a jazzy cobalt blue shade will go well with neutrals or prints.
Velcro Strap Sandals, Cos
One for those who are fans of the ultra-modern utilitarian look, Cos' thickly-strapped leather sandals have a formed back and a slightly padded sole.
Leather Court Shoes, Marks and Spencer
Wide-fitting and with an on-trend seventies shape, these court shoes will add a touch of animal magic to any wardrobe.
BUY NOW from Marks and Spencer, £55
Embroidered Sandals, New Look
Like wearing a tapestry on your feet, these sliders from New Look are the perfect 'anywhere shoe', just slip them on and go. They're an absolute steal too!
Block-Heeled Court Shoe, Karen Millen
Karen Millen's classy and grassy green court shoes will add a touch of fun to your work ensemble. In a smart, seventies-inspired shape, with a block heel, they're perfect to take you from day to evening.
Melon-print sliders, Office
A bit of fun for your holidays, these printed, cross-strap sliders are great for the beach or pool. Juicy watermelon slices adorn the silver straps and are sure to be a talking point!