How to Contour: The Trick To A Slimmer Face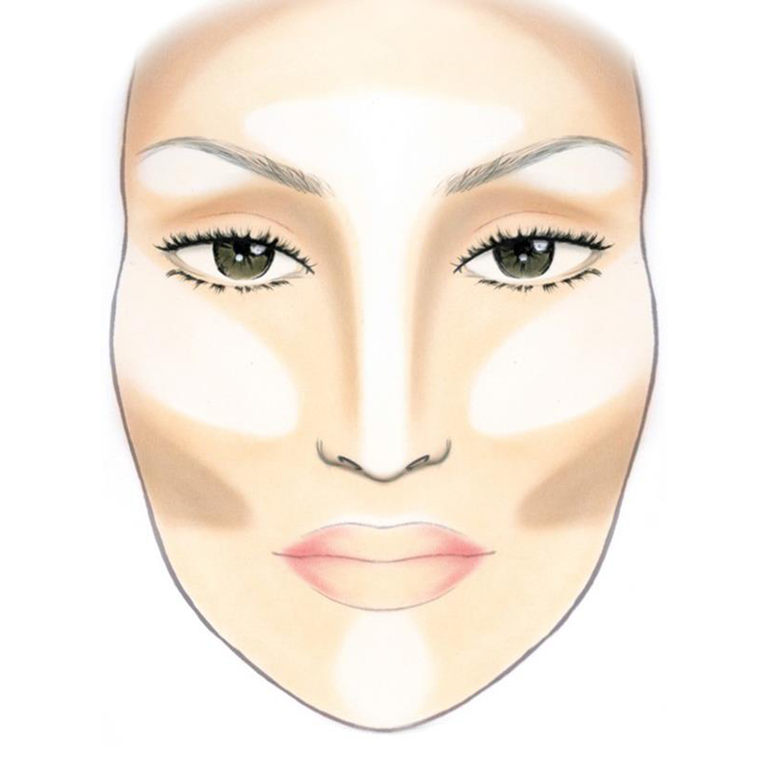 Make-up tips and trips that will enhance your features
The trick to slimming down the appearance of your face lies in strategically placed light and dark shadows - a technique coined contouring by the world's best make-up artists.
Providing A-listers with chiselled cheekbones for decades, this method of applying make-up is fiddly but if applied well, completely face transforming!
To start contouring, apply your normal foundation (one that matches your skintone exactly) across the whole of your face as you usually would. Then select a second foundation which is at least two or three shades darker than your original one and apply it to the darkened sections outlined on the accompanying image. It might look a little strange at first, but trust us – once everything has been blended, you'll love the amazing definition that contouring gives.
Using two contrasting shades of base is the quickest way to streamline your features and can even dramatically change your face shape. Dusting a darker shade along the hairline can transform any face shape into a desirable oval or even shorten a long forehead. Similarly adding lighter shades to the centre of a small forehead will make it appear larger and you can even use contouring to slim down larger noses. What's our favourite trick? Getting rid of those pesky double chins!
It may sound a little tricky, but once you learn the basics of contouring, you'll never go back. Whatever the dimensions of your face we have devised a step-by-step guide to help you look your best. You can choose to follow as many or as little hints as you like. Plus, we have included some great dual purpose products for those who are short of time or skill.
Keep reading to discover more about transformative beauty tip that insiders swear by!
For more tips on how to apply make-up click here...
How to make a double chin disappear
First feel for your jaw, then use a brush to trace the darker shade of foundation just below the jawbone. Be careful not to apply colour directly on it, as this will leave a noticable line - ideally you want to create a shadow underneath to sharpen your face shape and disguise any soft lines around the jowls.
Slim down your nose
Rhinoplasty, the common nose job to you and I, consistently ranks in the top 5 of cosmetics procedures undertaken each year - simply because one small change to our nose can make a dramatic difference to the entire face. But it's not necessary to go under the knife to achieve a slimmed down, more proportionate nose that better serves your other features. Instead try your hand at some pain-free expert make-up trickery. Take a small brush such as bareMinerals Tapered Shadow Brush, £12 to softly line both sides of the nose with the darkest of your foundations, or for a super easy option a couple of swipes of Clinique Sculpting Contour Chubby Stick, £19 down either side will do the trick. The creamy texture blends in seamlessly and it's compact so you can carry it everywhere. 'If you have a long nose you may also want to apply a little under the tip to shorten the appearance,' advises bareMinerals make-up artist Sarah-Jane Froom but 'keep the applications concise.'
Where you should actually apply the all-important blusher
Smile at the mirror to find the 'apple' of your cheek - where you want a healthy flush. For cream blush, dab on with your middle finger and blend. With powder, shake off excess and brush lightly over the apple of the cheek, moving towards the ear. Your blush colour will depend on the rest of your make up. Bold lips need less blush, while smoky eyes and pale lips can take a bolder blush. Remember to keep bronzing powder subtle - don't overdo it!
Choosing your perfect shade
When it comes to blush choose a colour that matches your cheeks when you're flushed after exercise or have been out in the cold. Generally, fair skin looks great in rose, olive skin in peach, and dark skin in apricot or even red. Powder is typically best on oily and combination skin, while creamy blush is great for dry, more mature skin. For longer-lasting finish, add powder blush over cream blush. 'It makes the finished look appear more luminous,' says make-up artist Laura Mercier.
Define your cheekbones
Once you've hightlighted your contouring, you need just a hint of subtle bronzing powder brushed along the cheek contours underneath the apple. Blend up into the hairline by the ears, as the colour fades. Try Maybelline New York Dream Sun Glow, £4.99 for a natural touch of colour.
Bring the best bits forward
The luminous light-reflecting optic pigments in Clinique Sculpting Highlight Chubby Stick, £19 bring your best features forward. Swipe the creamy texture across the top of your cheekbones - starting at the apple of your cheek and carrying through to the hairline. The crayon format is perfect for precison application but do blend with your fingertips to blend any obvious lines afterwards.
Don't forget to highlight your best bits
'To give your conturing look even more of an impact sweep Bare Minerals Well Rested highlighter pen £22 down the centre of the nose, centre of the forehead, across the brow bone, under the eyes and along the tops of the cheeks,' says Bare Minerals International Make-up Artist Sarah-Jane Froom. This will bring all of those flattering area's forward. Top Tip: Charlize Theron's favourite make-up artist, Shane Paish, always uses a highlighter to add the finishing touch to the actresses look. 'Apply a sheer highlighter in a C-shape from your temples to the tops of your cheekbones.' he recommends. Practice in the mirror with Nars The Multiple in Copacabana, £27.
Time saving options
If you are short of time or skill - let's face it make-up contouring is a tad on the fiddly side, invest in a dual colour blush. Dior's Glowing Color Blush collection, £27.50, have an array of different colour combinations for every skintone. Once you've selected a compact to suit yours blend the darker matt blush below the brighter iridescent shade to find your perfect cheek-plumping colour.