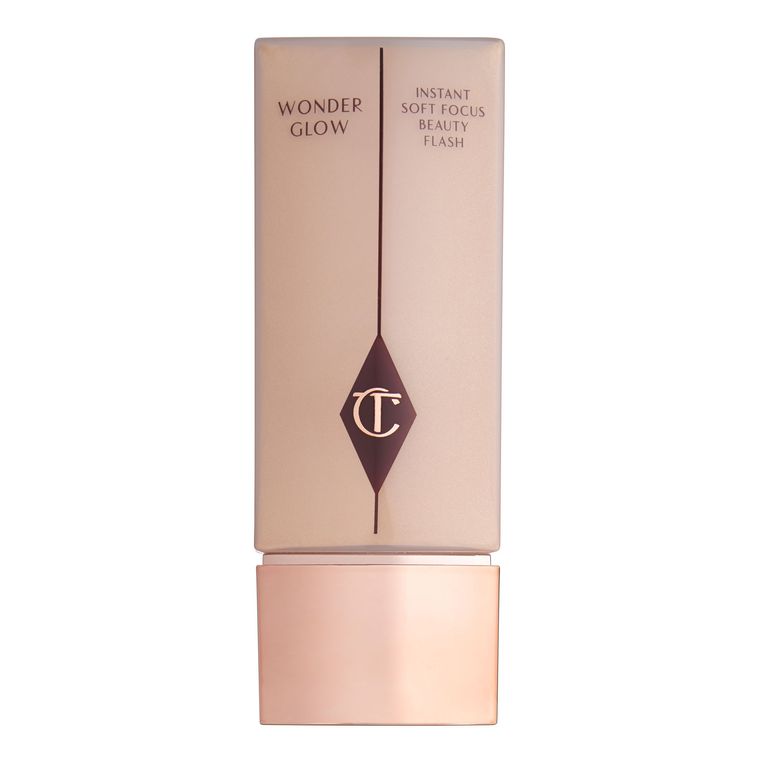 Look flawless every day with these quick-fix emergency make-up tips
You can't turn back the clock and call it a night two cocktails earlier, but with you can rescue dull, dry, pore-pocked skin quickly with one user-friendly product.
Resist the urge to pile on bronzer or shimmer on top of a face full of make-up, and instead rub a few generous blobs ofCharlotte Tilbury Wonderglow, £38 over your entire face under your foundation. This pearly liquid diffuses light and smooth pores to make skin look lit from within, and if you add a few dots over the tops of cheekbones, brow bone and cupid's bow, you'll look like a new woman.
How to stop new shoes rubbing
Pre-emptive action is the key to defeating a blister, because by the time you can feel it, it's already too late.
Carnation Blister Stick
, an ingenious push up bar that looks a bit like a lip balm, provides a hydrating barrier on heels, toes et al, that stops blisters in their tracks. If you're caught out on the go, a good old tub of Carmex makes a handy temporary fix too.
How to fake a facial
You didn't have the time, foresight or inclination to book yourself in for a facial before a big event, but nobody has to know that.
Look to spa brands, like Thalgo, who use the same potent ingredients in the products you can take home as they do in their treatments. Our current skin saver?
Prodige des Oceans L'Essence
, £130. It may not be cheap, but a little goes an astoundingly long way - take two minutes to massage this supercharged serum into your skin with quick upward strokes and you'll be rewarded with a post-facial plumped and glowy complexion.
How to do a two minute manicure
Forget colour - scraggy painted nails look less polished than neat bare ones, so instead spend those precious few minutes getting your cuticles in order. LA's Deborah Lippmann is the queen of nail care. Use The Stripper to remove old flakes of polish, paint Cuticle Remover around the base and side of your nail, leave for 30 seconds then push away dead skin, then rub in The Cure, a creamy cuticle repairing lotion. If you've got 30 seconds left, buff nails until they gleam.
How to stop mascara smudging
Essentially, what you need is to start off with a budge-proof mascara in the first place - CODE VLM is the only one our Assistant Beauty Editor has ever found that never transfers onto her eyelids, it gives great length and sooty black colour too.
Once you're out and about moisture, sweat or sebum can cause product to slide around onto your skin, so keeping the area dry and matte is key to staying smudge free. A dusting of translucent powder around eyes should work,
NYX Matte Blotting Paper
is a total bargain at £4, and torn in half, makes a perfect on-the-go eyelid mattifier.
How to de-stress in a flash
If you still find the idea of aromatherapy a bit 'flower child' for your tastes, try this. We promise you'll be converted.
Aveda Blue Oil Balancing Concentrate
is a cute little rollerball that will take up next to no room in your clutch bag or coat pocket, yet is so much more than the sum of its parts. It's packed with essential oils like calming chamomile and uplifting peppermint, so the next time the deadlines pile up and the phone won't stop ringing and you stub your toe on the doorframe, whip it out, pop it on your temples and... breathe.
How to make lipstick last the night
As with so many beauty tips and tricks, this one's all in the prep. First of all, use a lip primer. Our Beauty Director Jo Glanville-Blackburn swears by Guerlain KissKiss Liplift, and we reckon ELF Lip Primer & Plumper is pretty good too - both smooth lips, fill lines and make colour stick.
Next, don't rush application, it may take a little longer but you will absolutely notice a difference if you apply colour with a brush, blot, add another layer, blot again, then finish with a final coat. Blotting removes excess oils but leaves colour pigment in tact, making lipstick last the distance.
How to calm an angry blemish
Don't pick, prod or play around with a blemish, no matter how tempted you feel!
The very best action is to apply a topical treatment, ideally from a dermatologist (we love
Dr Nick Lowe Spot Gel
) then once it's all dried in, cover with a super high coverage concealer, like
Amazing Cosmetics Amazing Concealer
, which sets in place and covers all day with no touchy-feely reapplications required.
How to fix streaky tan
Trying to tan at home can be tricky. Always exfoliate first and use a mitt to apply a cream, gel or mousse version to avoid streaking as much as poosible. If you still wake up to discover a patchy or streaky tan, use the St Tropez Self Tan Remover to wipe away mistakes, so you can start again. This is also a good way to banish orange palms and fingernails.
How to disguise red and blotchy skin
Banish red and uneven skin for good, starting with your skincare. Darphin's INTRAL Redness Relief Soothing Serum soothes irritated and sensitive skin, helping to deal with the problem from within. For an immediate fix, use Chanel's new Perfection Lumiere for a light feeling on the skin - but a full coverage that lasts.
How to bare your legs in winter
camouflage body make-up means covering freckles, veins and imperfections on your legs is instantly possible, leaving you with perfect skin and a healthy glow for all of your Christmas parties. Try Sally Hansen's Airbrush Legs for easy application and a smooth, long-lasting result. Simply spray into your hand, apply evenly over legs and wait for 60 seconds before getting dressed.
How to fix tired eyes
Dark circles are tough to cover-up. If you've woken up looking a little worse for wear, try a light-reflecting concealer to give the illusion of brighter eyes. Revlon's PhotoReady Eye Primer will improve the look of tired peepers - just keep the rest of your make-up light and dewy to draw attention away from any darkness under the eye.
How to fix a red nose
Whether it's from a cold, stress or sunburn, a red nose is the last thing you want to wake up to. Calm redness and illuminate the skin with Clinique's Anti-Blemish Solutions Clearing Concealer. The green tint corrects redness in the skin and the smoothing forumla will help to reduce discolouration.
How to reverse product overload
When you're short on time, but have spent ages styling your hair, there's nothing worse than suddenly adding too much serum, cream or wax and ruining your do. But don't dispair, dry shampoo is your saviour. A quick spritz of Batiste's Dry Shampoo will take your hair back to it's beautiful best.
How to touch-up your roots in a flash
When you're natural colour is coming through and you don't have time to head to the salon or re-do your roots yourself, reach for Alterna's 2 minute Touch Up. Liquid colour that brushes on to the roots to blend with your natural colour, it is literally a miracle worker for anyone who struggles to keep on top of coloured hair.
How to fix a broken nail
A perfect manicure need never be ruined by a broken nail again. Keep the Elegant Touch Brush on Nail Glue handy and you can repair your talons on the go. Brush over the broken nail, leave to dry and re-coat with your chosen polish for a flawless look.
How to quickly define your eyebrows
No time to pluck? Try waxing instead. It takes seconds to achieve a perfect eyebrow with Parissa's Wax Strips Brow Shaper. Wax before you jump in the shower, so the warm water can soothe your skin.
How to fix over-plucked eyebrows
There's no need to hide indoors next time you over-pluck your eyebrows. A little stratigically placed makeup will give you full and beautiful eyebrows in seconds. We love MAC's Veluxe Brow Liner, which gives foolproof precision and natural-looking colour for a well-defined brow. Just lightly draw on in feathery motions to mimic a natural brow. Finish with MAC's Brow Set to hold your look all day.