5 Ways Ice Can Upgrade Your Beauty Routine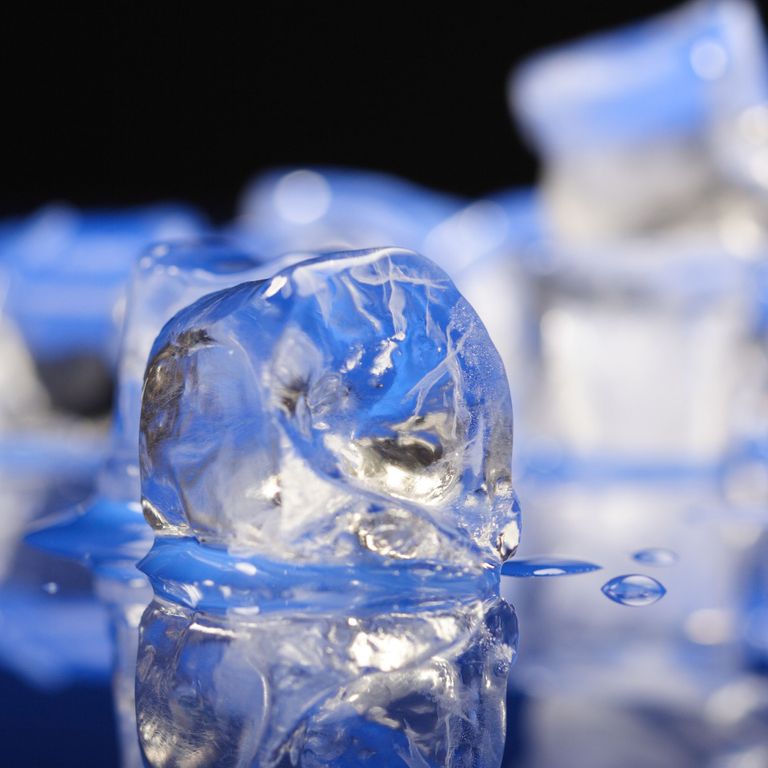 (Image credit: Rex Features (Shutterstock))
Your next big beauty secret is already sitting in your kitchen. Discover how ice can prep skin for makeup, seal pores and boost radiance.
Like many effective beauty solutions, your key to de-puffed contours, soothed under-eyes and tighter pores can be found in a corner of your kitchen. It's ice. Yes, the sub-zero stuff you throw in your drink, massage over gym-induced bruises and – now – smooth across you skin to achieve that much-coveted glow.
Supermodels and Hollywood royalty alike have lauded icing' their skin as an SOS anti-ageing fix for when they want to look more awake. It's a little Joan Crawford in the opening scene of Mommie Dearest, but the likes of Kate Moss and Linda Evangelista have said it works wonders on their complexions.
However, while treating skin straight from the cube offers its own raft of benefits, you can upgrade the chill by harnessing clever, frozen gadgets and popsicles for your pores. Also known as Cryotherapy - meaning cold cure or cold therapy - experts claim that the practice can reduce the appearance of pores, combat wrinkles, tone skin and prep your face for makeup.
There are many ways to incorporate ice into your daily beauty routine, the easiest and cheapest seeing you simply rub a cube across your face. Instantly soothing on stuffy, hot skin, you can upgrade the invigorating boost by freezing your favourite toner or essence into clever, supercharged cubes.
So, are you sold on the idea of an ice facial? Before you dash to the freezer, read our round up of the many ways you can embrace the freeze for clearer, calmer and brighter skin…
Skin Icing: Banish bloat with an ice roller
Many a makeup artist has an ice roller gadget in their kit, to de-puff the contours of clients by simply gliding it over the face and jawline. The roller head is filled with a gel that turns to ice in the freezer, delivering a constant flow of coolness that tightens the skin and tempers aggravation. You may have spotted one in a spa, too; aestheticians use them to calm redness after facial extractions, blemishes and burns from chemical treatments. It's the multi-tasking skin tool you'll wonder how you ever lived without…
Skin Icing: Feed your pores with a nourishing popsicle'
A number of brands have jumped on the icing bandwagon with treatment cubes, which you can pop in the freezer and rub into pores to marry de-puffing with skin-kind blends. Anne Semonin's Express Radiance Ice Cubes, £48 for 8, contain a cocktail of glow-boosting goodies that help brighten dark spots, banish blotchy patches and create a surface-tensing film. Furthermore, Peter Thomas Roth boasts the Cucumber Detox De-Puffing Eye Cubes, £34, which see a blend of cucumbers, arnica, green tea and caffeine ensconced in a freezable pod. Once it's hardened, place the frozen blend in the accompanying pouch, press under your eyes, and enjoy the cooling sensation on the lids and orbital bone.
Skin Icing: Prep pores for a faux tan with ice
When celebrity tanning expert James Read offers up a prep tip, it's time to take notice – which is why we've been rubbing an ice cube over our face before we apply bronzing cream. Read advises doing so in order to lift your complexion, seal your pores, and stop errant flecks of tan from clogging skin or leaving those annoying dots.
Skin Icing: Try Kate Moss' tired skin trick
How does Kate Moss jolt her skin back to life when dealing with late nights and early mornings? The supermodel says that a sink full of ice and cucumber does the trick. She submerges her face in the mix and insists that it tightens everything, making you feel and look instantly awake – which is more than enough incentive for us.
Skin Icing: Soothe eyes with freezing spoons
The humble teaspoon just so happens to be the perfect size and shape to fit your under-eyes, which is why we implore you to keep two metal spoons in your freezer at all times. The freezing cold metal can be used to massage puffy under-eyes, which constricts the blood vessels. This, in turn, takes down the swelling in a pinch, though it is a temporary fix. Another top tip is to keep metal-nibbed eye creams like Origins No Puffery Cooling Roll-on, £24, in the freezer to increase the chill as you slather on the soothing treatment.