This Charlotte Tilbury Setting Spray transformed my makeup routine - plus 3 other setting sprays to try
Could this Charlotte Tilbury Setting Spray be the secret to a healthy glow?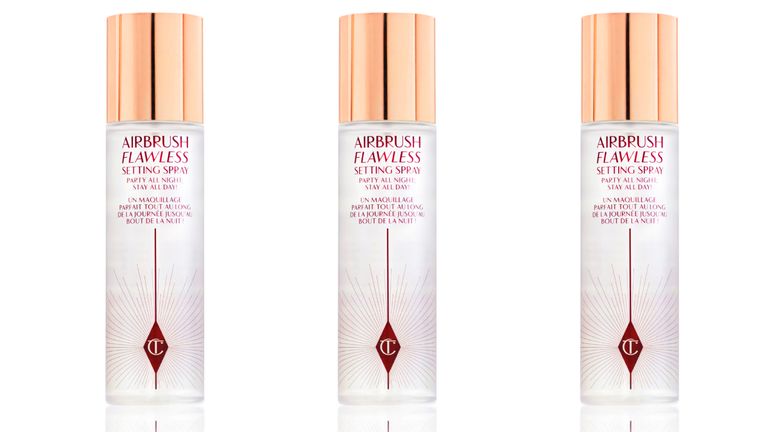 (Image credit: Charlotte Tilbury )
Are you curious about Charlotte Tilbury Setting Spray? No surprises there - when it comes to finding the best mascaras or most coveted palette, Charlotte Tilbury is always right up there with the best. 
For me, the holy grail of makeup essentials has always been a trusty mascara (though, admittedly, I'm slowly weaning myself off it in favour of eyelash tinting). But a relatively new addition to my repertoire is a setting spray – to be more specific, Charlotte Tilbury Airbrush Flawless Setting Spray – and it has revolutionised my routine. 
I wouldn't describe myself as particularly pristine; a bit of a drink spiller, sometimes an eye rubber, definitely a lipstick smudger. If my makeup application takes place at 7am, the likelihood of even the best foundation still all being on my face come the evening is slim to none.
But a setting spray, spritzed on before as a primer and after application, helps keep me looking fresh. Not only that, but using this floral-scented spritz throughout the day is a really easy way to achieve that dewy, just-applied makeup look, without having to delve into your makeup bag. 
Why you need a setting spray
No wonder this Charlotte Tilbury setting spray is generating buzz. Setting sprays have long been an essential part of any Make up artist's kit, with more and more of us enjoying the benefits at home. From Urban Decay All-Nighter Makeup Setting Spray to MAC's all-time bestselling range is Prep + Prime, where the assortment of setting sprays to choose from gets into double digits, from rose and coconut scents to a shimmer effect.
And skincare guru of our times – and author of Skincare – Caroline Hirons is a big advocate for keeping the skin hydrated with a mist throughout the day. The key to maintaining healthy skin is to "spritz, spritz and spritz again!"
Why you need the Charlotte Tilbury setting spray 
So, how does the Charlotte Tilbury setting spray compare? For me, it's the lightness of the formula and instant hydration hit that keeps me coming back to this product. 
The claim is that it will lock in makeup for up to 16 hours, with no melting, fading or creasing – something I've never experienced even after I had leaned how to use face primer – and lives up to its promise. A part of the CT Airbrush family, the finished effect is smoother skin.
"When applied over the top of makeup, setting sprays are actually hydrating the makeup itself to stop it caking. The polymers in the spray set and hold the makeup in place also, to help it last all day," makeup artist Joyce Connor told w&h.
"To get the best result, hold the setting spray at arm's length and spray a light mist, rather than saturating the face. Shake the product before use – this is to make sure the nozzle isn't clogged, so you get a fine mist over the face." 
It's also handy for those very rare (at least, for now) times I'm opting for a full smoky eye or wash of eyeshadow, as dabbing on the spray with a cotton pad before application ramps up intensity ten-fold. This is especially effective with a high-pigment eyeshadow, if you fancy trialling a more-is-more effect for the festive season, even if it will only be seen via Zoom.
Is setting spray good for dry skin?
Yes, setting sprays work well on all skin types. While its namesake would suggest it's only fit for one purpose – setting your makeup – for me this product comes into its own as a makeup refresher throughout the day. This is ideal for those with dry skin who need to keep cakey makeup at bay by hydrating regularly. Not only will your makeup stay put, but your skin will thank you for it, drinking up that extra hydration.
Makeup sprays aren't the daintiest of items to lug around, but travel-sized options are far more handbag-friendly. The Charlotte Tilbury Airbrush Flawless Setting Spray comes in a 34ml version, which is really handy!
Is setting spray good for oily skin?
Along with the best foundation for oily skin, setting spray is a great tool for oilier complexions, as it helps combat shine by mattifying. If your skin is combination, Joyce recommends applying setting spray before makeup in a more targeted way.
"Spray setting spray on to a cotton pad and then pad on to oily areas of the face instead of primer. Apply makeup, then spritz to set again."
In the summer months, Joyce suggests popping your setting spray in the fridge to cool the skin, in order to constrict pores while setting makeup.
The best make-up setting sprays 
Charlotte Tilbury Airbrush Flawless Setting Spray
My top choice, Charlotte Tilbury's setting spray gets full marks for hydration and staying power, as well as having a super-fresh scent. 
Urban Decay All Nighter Setting Spray
The people's choice, this regular award winner has a cult following, thanks to its industrial-strength formula. If your main priority is making sure your makeup stays put, this will do the job. 
MAC Prep + Prime Fix Goldlite Fix + Shimmer
A great illuminating option for the summer months, the pearlescent effect will set off – or fake – a healthy glow. I'm also a big fan of MAC's coconut-scented version for glorious holiday skin.
e.l.f Matte Magic Mist & Set
The smaller size of this mattifying mist is perfect for your handbag and comes in at a really affordable price point. A great option for oilier skins.