Virgo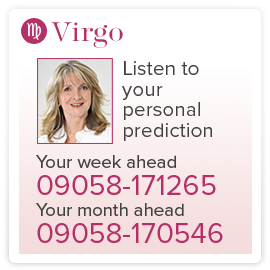 BT calls cost 75p per minute and last about 4.5 minutes. Calls on other networks vary.
The weeks go by and life seems normal, even uneventful, then along comes Neptune and changes the shape of things. It may be subtle, but enough to generate uncertainty about the future of an association or a project.
Clearly, minor problems and differences of opinion are part and parcel of every working or intimate relationship, and rarely does a project go from start to finish without a hitch somewhere along the line. So it may be that you just have to be patient at this time and wait until the mist has cleared, so to speak.
This is also a period in which rumours could be flying and people making incorrect assumptions: be your usual wise and unflappable self.

Check your 2013 horoscope