Virgo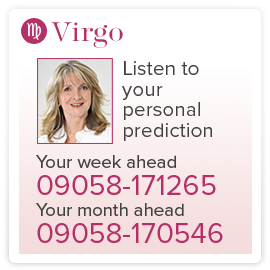 BT calls cost 75p per minute and last about 4.5 minutes. Calls on other networks vary.
On Saturday, Mars enters the relationship zone, setting the stage for some very interesting developments. It will take six weeks for this planet to complete his task, so do not assume that a quiet life is going to remain so.
You find your supporters and your enemies during a Mars transit, and someone always gives you pause to consider his or her purpose in your life. Now is the time to recognise the signals people are sending you, whether they're demonstrating interest or throwing out a challenge.
Do your best to get signatures on paper this week because Neptune's slippery tentacles are reaching into those things that are already as leaky as a sieve.

Check your 2013 horoscope