Scorpio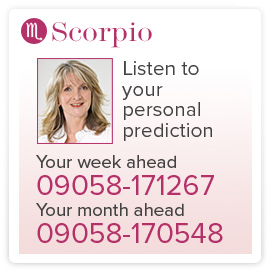 BT calls cost 75p per minute and last about 4.5 minutes. Calls on other networks vary.
Preparation is the theme of the moment, whether you are putting together elements of a project or because you sense that you need to get your ducks in a row. And you'd be right. Next week, Saturn arrives in your sign, and like all imminent house guests, preparations must be made.
Uncertain what I mean? When Saturn transits your sign, all your weaknesses are revealed, so preparation involves sewing up loop-holes, looking hard in the mirror and stockpiling resources.
Should you receive something of an eye-opener this week, don't spend a lot of time emoting about it all: look at what needs to be done and do it! You can't rewind the tape.

Check your six month horoscope