Libra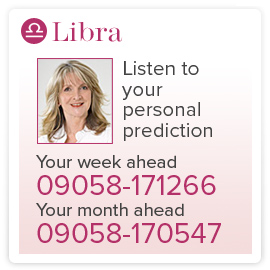 BT calls cost 75p per minute and last about 4.5 minutes. Calls on other networks vary.
No matter how you wrap these aspects up, they're still going to be tough. You are such a diplomat, Libra, and so careful not to rock the boat, but you can't go on compromising your feelings, your talents or your future happiness by remaining on the sidelines. Proverbial push has come to shove.
Maybe you are celebrating a birthday – in which case someone has a big surprise planned – or perhaps there is some other special occasion, but if not this latter part of September is packed with change and the unexpected.
A full moon on the relationship axis either polarises you and a partner or brings you profoundly together. And, one way or another, it's time to face the truth of your feelings.

Check your six month horoscope