Taurus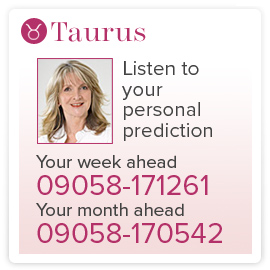 BT calls cost 75p per minute and last about 4.5 minutes. Calls on other networks vary.
There hasn't been this much activity in the cosmos, well, for at least three months! I know, it's been an up-and-down kind of year. So, whatever you have planned, leave a little room for the unexpected.
Now, the unexpected could prove delicious and delightful, but if you run into a little trouble, especially with nature, the elements and uncooperative people, remind yourself that you will live to fight another day, and what seems a huge news story at the beginning of the week is almost always relegated to the back pages by the end of it.
Do your best to have as much rest as you can, and avoid taking certain people's statements or actions personally. Least said, soonest mended.

Check your six month horoscope