Pisces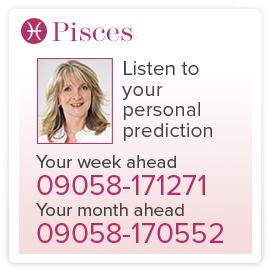 BT calls cost 75p per minute and last about 4.5 minutes. Calls on other networks vary.
One of your greatest gifts is your ability to grasp a complex issue as a whole and avoid becoming confused by each individual part. So, why change the habit of a lifetime? Even if you cannot tell how a situation will ultimately pan out, you can see enough of the picture to make a decent decision.
These influences shape the times we live in, so although you personally may not be looking at any landmark events, you could feel the effects of other people's actions and decisions further down the line.
Between now and the end of the month is a premium period for eliminating the dead wood in order for new and abundant growth in the future. Get out those pruning shears.

Check your six month horoscope