Scorpio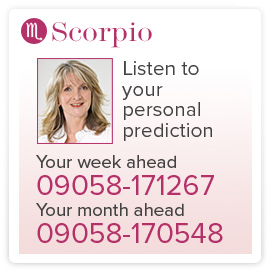 BT calls cost 75p per minute and last about 4.5 minutes. Calls on other networks vary.
I wouldn't call this alignment fun; I wouldn't call it a piece of cake; I would call it purposeful. We need aspects like these to awaken us to a reality and to motivate us to be the best we can be. So, if demands are being made on you, know that you can rise to the occasion.
The chances are, however, that a plan will have to be reworked or a date rescheduled, but whatever the changes, do your best to accept them with grace.
Of course, it could you who realises that a certain state of affairs can no longer continue or that you do not wish to follow a certain course. In which case, don't expect those on the receiving end of your decision to take it lying down.

Check your six month horoscope